10 Best Squarespace Templates for Photographers: Create Your Photo Portfolio (Spring 2023)
Squarespace has a ton of templates for all graphic artists, including photographers. Of all the options, which would be the most suitable for displaying your talent? Read on to find out.
The days of physical portfolios for photographers are long gone. Although you can direct your prospective buyers or employers to your social media to view your art, a website makes you look more professional. A website template will help you breeze through the website-building process. Squarespace is one of the best platforms with myriad template options for photographers.
In this list, we have rounded up the 10 best Squarespace templates for photographers, including free and premium options. The templates made our list because they are all tailored to meet a photographer's needs by offering a place to display their talent, engage their audience, and meet new clients. Top on the list is our Editor's Choice – the Matsuya template. It is the best free template for portrait photographers. Let's take a closer look at the other nine options.
Top 10 Squarespace Templates for Photographers
Name
Nomination
Overall rating

1. Matsuya

A free template that allows you to display up to 15 images on the homepage allowing visitors to browse through your best work easily.

Editor's Choice
9.9

2. Quincy

A free template with unique and elegant layouts, fonts, and colors suitable for individual photography like professional wedding photography.

Best for Wedding Photographers
9.8

3. Balboa

A first-rate template with amazing portfolio layouts and clean, white background that make it ideal for professional event and lifestyle photography.

Best for Lifestyle Photographers
9.7

4. Gates

A simple, professional-looking template for photographers who are looking to attract clients that could use their professional help.

Best for Architecture Photographers
9.6

5. Tepito

A template with an adventurous theme that is suitable for travel or outdoor photography and a location feature for web users to find you personally.

Best for Travel Photographers
9.4

6. Beaumont

A simple, professional template with features that make it ideal for showcasing sample product photos used in commercials.

Best for Commercials
9.2

7. Talva

A template that incorporates a blog section for photographers who love to write and a simple grid-style layout for showcasing work samples.

Best for Landscape Photographers

9.1

8. Minetta

A simple template with a dark theme that gives professional vibes, and about and contact pages that let you add text and a picture.

Best for Food Photographers
9.0

9. Pazari

A free template with four different photo categories for displaying people's portraits photos, and pictures of things in the outdoors, indoors and the city.

Best for Portrait Photographers
8.9

10. Avenue

A Squarespace template with an orderly display of photos in the homepage and a blog section for the photographer who doubles as a writer.

Best for Minimalistic Photography

8.7
Matsuya is the ultimate Squarespace template if you want a lot of your work displayed on the homepage. You can put up to 15 images on the homepage in different shapes. The only downside is that you can't add a title or description to any of your images. The template has three menus: overview, which is the default homepage, people, things, and contact section. People and things are photo categories. You can display photos of humans in the people category and non-human photos in the 'things' category. The contact page is for displaying your email or contact address and some details about your company.
Compared to other free templates like the famous Quincy, Matsuya stands out as the best template for portrait photography as prospective clients can see much of your work on the landing page. It is a fantastic choice if you work with fashion models or people who need a creative photo shoot.
What we liked:
Up to 15 photos on the homepage;
Convenient photo section categories.
What could be better:
No title or description for photos on homepage.
Quincy is a popular option among individual photographers. Its elegant layout and attractive colors and fonts make it the best Squarespace template for wedding photographers. Its homepage is like a landing page and you can upload one photo, which could be yours or one of your best works. The page has a view portfolio button which leads your audience to the page with your work. The best thing about Quincy is that you can display your photos in relatively large sizes. You also get 'About' and 'Contact' sections for displaying your work details and contact information. Moreover, you can link your social media handles with the icons on the top left so people can share your work.
Quincy stacks up well against other templates designed for portrait photography like Pazari and Matsuya because of its unique and elegant features that make it ideal to showcase your work as a creative. Plus, couple that want to work with you can see your work clearly in relatively large sizes.
What we liked:
Displays photos in relatively large sizes;
Elegant fonts, colors and layouts.
What could be better:
Only one photo on the homepage.
The Balboa template is the best theme you can get as a lifestyle photographer. It has superb features and professional layout that will allow you to showcase your talents in the lifestyle photography niche. It comes with a work section for displaying your sample works and projects. You can display up to three photography projects on the homepage and give them titles and descriptions. The view project button will lead your audience to the project page, where they can view all of your work. Another praiseworthy feature of the Balboa template is the ability to display either your business logo or personal photo on the 'About' page. Also included is an Instagram section that redirects users to your Instagram page.
The Balboa template is unmatched when it comes to the lifestyle photography niche because of its simple, yet clean and professional layout. It is a better option than Matsuya if you need room for text in your work showcasing.  
What we liked:
A professional look;
It has room for text;
Direct link to Instagram.
What could be better:
No page for contact information.
Gates is one of the best free templates for professional photography on the market. The close spacing of its photo sections has a mosaic effect that makes it a perfect choice for architectural photographers. The mosaic effect makes the website visually attractive. The template has a centralized menu with only two options: work and contact. 'Work' is the default homepage and the 'Contact' page is where you display a built-in contact form and information about your work. On the homepage's top right and footer section are social media icons that you can link to.
Gates comes second to none in the architectural photography niche. Very few templates allow the display of many photos on the homepage. It is better than other templates with a professional layout like the famous Beaumont because you can display over 20 photos of your best works on the homepage.
What we liked:
Allows over 20 photos on the homepage;
Visually appealing mosaic effect;
Clean, professional look.
Tepito is a fantastic template for travel photographers. A photojournalist working with a publishing company or an author could also make the most of the template's adventurous theme. On the homepage, you can upload a professional photo of yourself and write a short description of your work and experience as a photographer. Below the profile, you have space for displaying four of your best works. Moreover, you can display your location so that prospective clients can find you personally if they want to.
Tepito's adventurous vibes make it stand out among all the other templates on this list as the best Squarespace template for travel photography. Talva would be its closest competitor when it comes to showcasing travel photos, but it still wins because of its show-stopping landing page.
What we liked:
Great adventurous design;
Allows location display.
What could be better:
Only 4 photos on the homepage.
Very few templates are better suited for product photography like the Beaumont template. The template has a clean look with light, but stylish serif fonts. The Work section is for showcasing your work samples together with their titles to catch your visitors' attention. Below the sample photos sections, you can post some information about yourself or your business, leaving in-depth details for the About page. The 'About' and 'Contact' pages are for displaying information about your skills and how you can be reached. Also featured are social media icons for prospective clients to contact you via twitter or Instagram.
The Beaumont template remains an unparalleled option when it comes to commercial photography. Unlike other popular Squarespace templates like Matsuya, it has the perfect layout with room for text to describe your product photo samples to your audience.
What we liked:
Professional-looking layout;
It has room for text;
It has About and Contact pages.
The Talva template is another ideal option for adventurous photographers. It has a homepage, 'About,' and 'Contact' sections. You can display images on the homepage and have information about yourself and your business in the About page. The About page is unique with a stylish, two-section overlay. Besides the contact page, visitors can reach out to you via Instagram or Twitter. The icons are on the template's top and bottom right.
Talva and the Matsuya template have a lot in common, including the fact that you can display up to 15 photos in rectangular and square styles on the homepage. However, Talva stands out with its blog section. The blog section makes it an ideal choice for photographers who like to tell a story about their photos. The blog layout is also simple and you can showcase content in grid style. If you are into landscape photography, the Talva template is your best bet.
What we liked:
Stylish layout;
It has a blog section;
Up to 15 photos on the homepage.
What could be better:
No profile section on the homepage.
Minetta is an excellent option for a food photographer. Its dark and elegant theme makes it the best template for displaying your best works for business owners who want to have the best photography for the foods you are selling. The template features an About page and a Contact page. You can display up to 25 photos on the homepage. The contact page has a contact form that your visitors can use to get to you and the About page has room for text and a picture. The 'Let's Work Together' button will redirect your visitors to the contact page.
The Minetta template has a lot in common with the Beaumont template. They have similar menus: Work, About, and Contact, plus a profile section below the photos section where you can display information about your skills and experience as a food photographer. The only difference between the two templates is Minetta's dark theme which makes it a better option for food photography.
What we liked:
Attractive dark theme;
Up to 25 photos on the homepage;
Room for text below the photos.
What could be better:
A dark theme can be hard to work with.
The Sofia Pazari template is the best an all-around portrait photographer can get. Its homepage has four rectangular layouts that represent different photo categories. Your visitors can browse through your best works in each of the categories. Navigating between the categories is super-easy with the Next and Previous page navigations. Your visitors can connect with you via Instagram and the contact page. The Instagram icon is available on the page footer and the contact page.
The Pazari template is pretty similar with our Editor's Choice: the Matsuya template. They are both great choices for portrait photography. However, Matsuya is a perfect option if you want your website visitors to see most of your work at once on the homepage. The Pazari template is an excellent option if you take different types of portrait photos because of its multiple photo categories.
What we liked:
Various photo categories;
Easy navigation.
What could be better:
No profile section;
No About page.
Avenue is a Squarespace Version 7.0 template that has stood the test of time. It features a blog section which you can access from the blog option in the menu and an About page where you can provide information about your skills and work experience. The template allows you to display up to 15 photos on the homepage. As there is no contact page, you can only provide all of your contact details on the About page. There isn't an option for social media either, but you can provide your details in the About page.
Avenue is a perfect choice for a minimalistic photographer. Compared to all the templates on this list that allow the display of multiple photos on the homepage like Gates and Beaumont, it is the most orderly. You can display three photos per row along with their titles. The order makes your website visually appealing.
What we liked:
Up to 15 photos on the homepage;
Blog section;
Room for text.
What could be better:
No contact page;
No option for social media.
Things to Consider
Choosing a Squarespace template that suits your needs can be an overwhelming experience, especially if you have zero knowledge about website templates. This section has a detailed guide for choosing a template that will help you showcase your talents as a photographer in the best way.
What Is Squarespace?
According to an article by Forbes, Squarespace is an all-inclusive website builder with stunning designs for establishing an online presence, setting up an online shop, or managing a website. The platform is popular for its exceptional designs, intuitive interface, and affordable pricing for individuals and businesses.
Are you in the market for a website builder and have no idea what to choose? Check out our articles on the best website builder for restaurants and best website builder for therapists for top-rated, all-in-one solutions.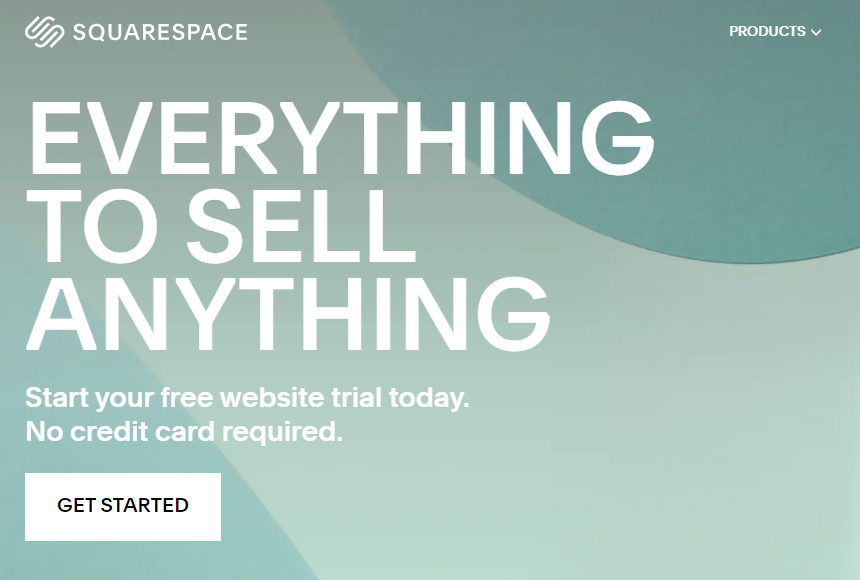 Reasons for Using Squarespace Templates
Squarespace is one of the most popular website builders for all the right reasons:
Ease of use: Squarespace's most liked feature is its drag-and-drop editor which makes customizing the templates a breeze. You wouldn't need any coding skills to make the most out of Squarespace templates.
Affordability: Squarespace has plenty of amazing free templates for different types of websites. Even the paid options are incredibly affordable for both individuals and businesses.
Things to Look for When Choosing the Best Squarespace Templates
The crucial aspects to consider when choosing the best Squarespace template include:
Design
The design style is the first thing you want to consider when choosing a template. You have to ensure that the template's design suits your brand. Consider the aesthetics: fonts, colors, and page layouts and ensure they resonate.
A Professional Look
Some templates like Gates and Beaumont have a professional look that is suitable for photographers who want to reach out to professionals who may need their services. Make sure the template you choose will represent your brand appropriately. Professional-looking templates will have neutral colors and simple, yet elegant fonts.
Sensible Navigation
Easy navigation should also be a top priority if you want your website's visitors to stay and browse through all of your best works. Choose a template that allows users to move from one page to another with ease.
Room for Text
Although a photography website should have more images than text, room for text is crucial, as a title and a short description of your photos can go a long way in keeping prospective clients hooked to your website. It also makes the website look professional and unique.
Pricing
You can enjoy a wide range of packages from Squarespace. There are plenty of free templates that you could use. The premium options are reasonably priced, and like every other website building tools, you could save a lot more if you got annual subscriptions. According to the Squarespace website, a personal plan goes for $12 per month if you pay annually and $16 if you pay monthly. The cheapest eCommerce plan is $26 per month if you pay annually and $30 if you pay monthly.
Ease of Use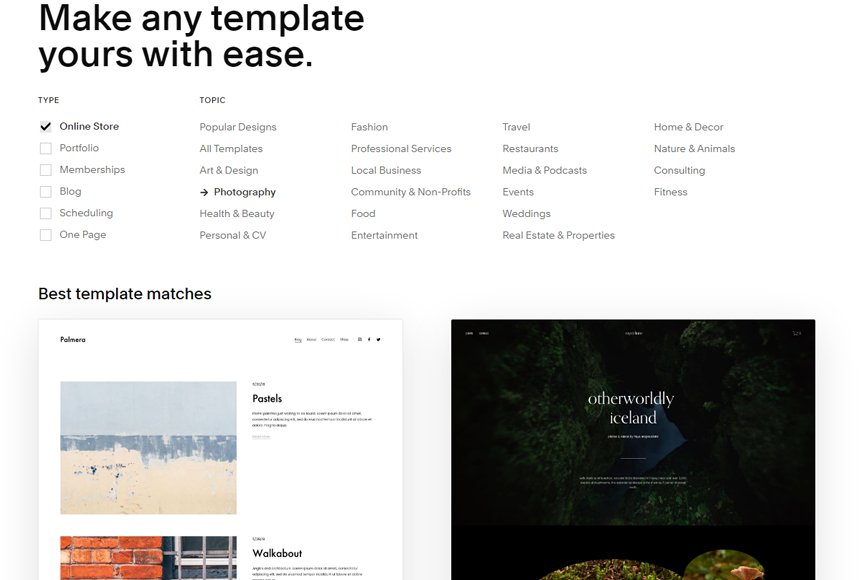 Choose a template that you can easily play around with to build an appealing website that will display your work and represent your brand well to your prospective clients. You should be able to add images and content to the template easily.
How to Use Squarespace Photography Templates
Before choosing a Squarespace template for your photography website, you need to establish what you want to achieve with the website. This will help you build a website that fits your goals.
Choose a photography template that emphasizes images over text. A customized photography-specific template will provide different ways of displaying images. You can upload as many images as the gallery sections of the template allows. You should be able to customize the gallery sections to display the photos in different shapes, add a caption, change the text color, and add a lightbox option to position the images at the website's forefront.
Most Squarespace templates for photographers have an all-in-one portfolio option that you can tailor to highlight specific projects, integrate a contact page, biography, and all of your social media accounts.
FAQ
Are Squarespace templates mobile-friendly?
Virtually all Squarespace templates are mobile-friendly, but there are some that have more mobile settings that allow you to optimize your site on the go.
Which version of Squarespace is better: 7.0 or 7.1?
Squarespace recommends the version 7.1, which is the most recent platform. It has up-to-date features that are regularly being improved. Plus, Squarespace promises new releases and functionalities that could benefit all users.
What is the most customizable Squarespace template?
The Brine 7.1 version is the best customizable Squarespace template. It is versatile and can be used for various purposes thanks to its many layout options that you can customize to suit your website needs.
But if you don't want to use templates but want to use other website builders, some coding skills are required. Read our article on the best programming books for a detailed buying guide and a product list with the best-rated options.
Our Verdict
Choosing the best Squarespace template for photographers from the myriad options available can be challenging. You shouldn't have any trouble after going through our detailed buying guide and product list.
Our best pick, Matsuya, is one of the best templates for portrait photography. It stands out because it is customizable and allows you to display up to 15 photos on the homepage.
Our second pick, Quincy, is a prime pick for a wedding photographer. It has an elegant layout and attractive colors and fonts that make it suitable for displaying wedding photos.
Our third choice is Balboa, the best Squarespace template for a lifestyle photographer. It has a clean professional look and room for text, so you can provide a short description of your photos.
We hope you were able to find the best Squarespace templates for photographers.
References
Kathy Haan. Forbes ADVISOR. Squarespace Review: An Ideal All-Around Website Builder. https://www.forbes.com/advisor/business/software/squarespace-review/
Squarespace. https://www.squarespace.com/pricing