8 Best Website Builders for Therapists Reviewed (Spring 2023)
If you're a therapist, you've probably been stuck in the same rut for a while. You want to find new clients online and make more money. But you don't know where to start. We have good news for you if you have been looking for the best website builder for therapists to start getting clients online. There are some excellent options out there that you can work with. Some are free, while others need a subscription.
In this article, we have narrowed down our list of the best website builders for therapists to eight of them. And even though they're all different, they have one thing in common: they'll help you make an impact on the world. In our ranking, we considered such features as ease of use, mobile responsiveness, SEO friendliness, speed, etc.
Name
Nomination
Overall rating

1. Therapysites

Therapy sites builder has been around since websites were revolutionary for any health profession. Hence, they have the experience and everything you need for a successful site

Editor's Choice
9.9

With BrighterVision, you won't need to drag anything with your mouse. Their team will do website customization for you at affordable rates!

Premium Pick
9.7

3. WordPress

WordPress is a free Content Management System (CMS) that powers over a third of the internet. You can't go wrong with this CMS as it is supported and has detailed documentation all over the internet

Best Value
9.6

Counseling Kit has several pre-made templates for therapists and related fields. The templates can be edited to match your specifications without any limitations

Best Website Templates
9.4

5. Empathysites

Kat Love runs empathysites builder. The site offers therapy website insights and other details. Kat helps you get content to your site once you have launched it

Best for Therapy Site Content
9.3

6. Zyro

Zyro is a drag-and-drop platform that will allow you to build professional websites without previous coding knowledge. All you need to do is drag and drop elements

Best Drag-and-Drop Builder
9.0

7. Site123

Site123 handles everything for you, so you can focus on creating content for your site. The builder is more efficient than most drag-and-drop builders on the market

Best Efficiency
8.8

8. WIX

Wix is a drag-and-drop website builder that requires no coding. The platform uses Artificial Design Intelligence to build your websites on a tap

Best Artificial Intelligence Designer
8.5
Top 8 Website Builders for Therapists Reviewed in Winter 2022
Features:
Starting price:$59 per month
Templates: yes
Modification: yes
More features: free trial, all-in-one package, built-in SEO, designed for therapists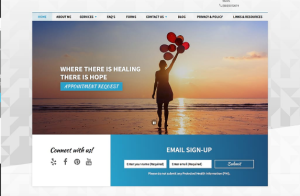 Therapy site is a web design and development company that has been in business for many years. The platform was already operational when therapists didn't know they could harness the power of the internet to get new clients. They specialize in making websites for therapists, psychologists, and counselors. Their website is easy to use and lets you build it within minutes. You can also choose from hundreds of templates to start your site immediately.
We chose this builder because it has a ton of templates that let you get started in less than 10 minutes. They have been around for a long time, so they are well-respected and experienced. They also have templates that allow you to create a site for almost any type of therapy business: massage therapy, counseling, acupuncture, and more. Their pricing model is simple: there are no various packages to choose from. It's just one package that has everything. You can get started with their tools and templates for free for two months, then decide if you want to keep using them or not. If you decide to keep using the toolset after your trial period ends, there are no hidden fees or charges. The only thing left to do is make sure your project looks great!
Compared to the other best website builder for therapists reviews on this write-up, Therapy sites offers several templates that can get you started in less than 10 minutes. Their free trial is two months long, so you can see if it works for your business before committing to a longer contract. That's long enough than any other paid tool in this write. Plus, the free trial has no commitments or restrictions. You access full features for free!
What we liked
Two months free trial with no commitment
Tons of pre-made templates that allow you to make your website in less than 10 minutes
SEO friendly
Mobile-friendly, as it is responsive and works well on all devices
Easy to use, you only have to choose the right template
24/7 online support
What could be better
Their online support agents can't some of your questions. They are not knowledgeable and will tell you to leave your Email or phone contact to get answers to simple questions
The tool would be better if their support team were knowledgeable and able to handle anything
Features:
Starting price:$59, $99, $129 per month
Templates: yes
Modification: yes
More features: HIPAA-compliant, free tools, and resources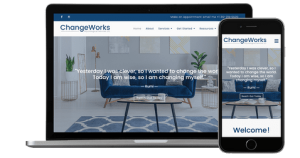 One of the best website builders for therapists is BrighterVision. As a therapist, you need to be able to easily create a professional website that reflects your brand and helps you attract new clients. This website builder was created for therapists who were frustrated with other builders' limitations, so they decided to build something better.
If you've tried using DIY builders or other site-building tools, you know how hard it can be to get what you need out of them. The developers may not understand your needs or be too busy to help with any issues that arise during design. And if they do offer good service, it might take them weeks or months before they're ready to build your site for you. That's why we chose this as our premium pick for the best website builder for therapists. It focuses on helping end users as much as they can! And because their website builder is built by developers focused on helping their customers, you know that your site will be built in a way that makes sense for your business—and not just thrown together with technical shortcuts.
BrighterVision is way more advanced than all the other tools in this listing. You do not have to do any clicking to have your website ready. Their developers will take care of that. They also have great tech support—the developers are always available for questions! They also offer free SEO optimization, Email, and SSL. This builder is for you if you want to add some extra flare to your website.
What we liked:
You don't drag or drop anything; they will be built the website for you
Freebies like SEO optimization, SSL, and Email
Proactive technical support
Setup is easy as you don't need to do anything on your part
HIPAA compliant
What could be better:
They charge a setup fee of $100 and, on top of that, a recurring monthly subscription
Since you are a long-term client, it would be better if they scrapped the setup fee
Features:
Starting price: free, $4, $8, $25, or $45 per month
Templates: yes
Modification: yes
More features: no code building, professionally designed themes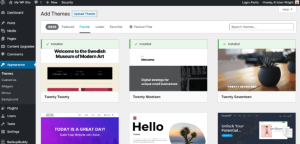 WordPress is a popular website builder that has been around since 2003. It is one of the world's most widely used and trusted content management systems (CMS). It is used by people worldwide to create websites and blogs, which is why it is one of the best website builders for therapists—the CMS powers over a third of the internet. You can be sure that it is properly documented and supported.
We chose WordPress because it is an open-source CMS platform that allows you to customize your site to run your business or practice in whatever way you see fit. This makes it flexible and easy for therapists to create a website that works for them and their clients. The great thing about WordPress is that it offers so many options for customization. You can choose from a variety of different themes, including ones that are designed specifically for therapists and therapists' websites. Themes are like the skin of your website, so they are very important in making sure your website looks professional and beautiful. Another great feature of WordPress is its simple interface—it's easy to use and understand, so you won't have trouble figuring out how to make changes or add new features to your site. This is especially important if you're just getting started with website building!
WordPress can't be compared with any other builder on this list. For starters, it allows you to have a custom theme. You can customize your site by choosing a theme that suits your brand or business image. Themes are very easy to use and allow you to create an entire website from scratch without knowing HTML or CSS. The majority of the themes are free, while a few are paid. Those that are paid cost less than $50. And that's a one-time fee!
What we liked:
Free CMS, no charges or any money needed to use it
Properly documented over the internet. If you encounter any problem, you need to Google; boom, you have answers.
Thousands of themes are available. Some are free, and others paid
Drag and drop website builders that let you create pages
Blazing fast
Hundreds of thousands of free plugins that let you add extra features to your site
Best for SEO
Allows self-hosting
What could be better:
You need a lot of plugins for extra features such as SEO and so on
Requires frequent theme and plugin updates
Thousands of themes and options to choose from; hence you might be confused about which theme to use
Your theme could have code issues and conflict with other plugins
No live chat support
Features:
Starting price:$49 per month
Templates: yes
Modification: yes
More features: easy to use, online therapy tools, blogging tools, helpful support, free trial, optimized for attraction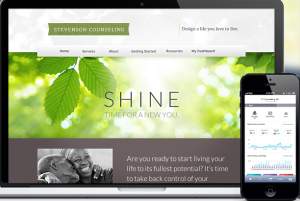 The Counseling Kit provides optimized templates for attracting clients and tools for booking appointments, securely sharing files, and more—all from within the same platform! The features are easy to use and intuitive; no additional software or plugins are needed. And if you're looking for SEO-friendly design, this website builder is perfect because it's been designed specifically with SEO in mind, so your content can rank higher on search engines like Google and Bing!
We ranked this builder on our list because it is designed to be easy to use and even has a personal assistant that helps you create your website's content. The other great thing about this builder is that it has many features for therapists, including optimized SEO and search engine optimization, which means that your site will rank higher in Google searches. All this means more clients for you. Another great feature is the ability to use private chats with your clients, allowing them to share their thoughts without having to worry about the public nature of social media or Email. You can also book appointments directly through the app—no more sending out reminders via Email or text!
Compared to WordPress, this tool is specifically designed for therapists. Unlike WordPress, which is general and can fit any industry. The tool allows you to create private chats, bookings, and Secure Sharing features. These features are important because they allow therapists to interact with clients more personally than simply by emailing them or answering their questions on their Facebook page. As for WordPress, you'll need countless third-party plugins to add all these features to your site.
What we liked:
SEO Optimized
It contains tons of tools that are beneficial for therapists. It has private chats, private file sharing, and so on
Pre-made templates make it simple to build a website
One-stop place for your website needs. It has website hosting, emails, domain names, and so on
Integrates with Google Analytics and other third-party tools
You pay one price to access all the features
HIPAA compliant
What could be better:
They only have ten pre-made pages for each template. It would be better if they had more options
Limited Domain name TLDs. Some country-specific TLDs are not available on the platform
Features:
Starting price: $139 or $219 per month
Templates: not specified
Modification: not specified
More features: easy to build, copywriting available, 24/7 access

If you're a therapist, then you know how important it is to build your business online and get the word out about what you do. But building a website isn't easy—and it can be expensive! That's why we're pleased to recommend empathysites as one of our favorite website content builders for therapists: it's easy to use, inexpensive, and creates SEO content for therapists that will help them stand out from the crowd.
We recommend empathysites for any therapist with a functional website with zero content. Not that empathysites creates content only and not your website. They will work with you to churn out the best content to bring clients your way. We cannot compare this content builder to any other tool on this listing of the best website builder for therapists. This tool specializes in building content and not sites; you get its services after you have a working website.
What we liked:
Simplifies content creation: You can leave all that to them while you focus on being a therapist
All the content is SEO optimized
What could be better:
The writers at this site are always booked to capacity
You'll have to wait for several days or weeks to get a slot
Features:
Starting price: $11.99, $14.99 per month
Templates: yes
Modification: yes
More features: no-code builder, easy to use, 24/7 live customer support, free hosting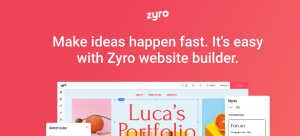 Zyro is a website builder for therapists, making it easy to create professional-looking websites. You can choose from various templates, upload images and media, and add text and links to pages. The site builder also includes social media integration and eCommerce. Once you subscribe, there will be no ads or limitations on how many pages you can create or how many images you can add.
We chose Zyro on our list because it is a no-code builder. It is easy to use even if you have never used an online builder before! They have online tutorials and videos that explain how everything works, so there's no need to worry about getting lost or confused. Zyro also has lots of other features that make it great for therapists. It has a free hosting plan with unlimited space, free domain registration for one year, and free email service for three months. All of these features make Zyro a great choice for therapists who want to start their own business on the web quickly and easily without having to learn how to code or spend hours creating content.
Compared to site123, we feel Zyro is the best website builder for therapists because it provides many useful features without costing too much money or requiring too much setup time. This feature makes it great value compared to some other options out there. Zyro has pre-made templates for therapists, psychologists, social workers, and more. You don't have to start from scratch when using Zyro—you can use the templates already built for you!
What we liked:
It gives you a free domain for one year
You also get free Email for three months
It can be used for eCommerce purposes if you have something to sell
It can be integrated with other SEO tools and social media platforms
Pre-made templates make it easier to launch your site
Online support 24 hours a day, seven days a week
30-day money-back guarantee
The free hosting has unlimited bandwidth, so you can have as many visitors as you need
What could be better:
They charge an application fee for having a payment gateway on your platform
For every transaction you make, Zyro will take 1%. It would be better if adding payment gateways was free like other platforms
A limited number of TLDs. If you are looking for country-specific domains, you might not find them on Zyro
Features:
Starting price: free or 12.80 per month
Templates: yes
Modification: yes
More features: easy to use, website editor, SEO tools, mobile friendly, custom domains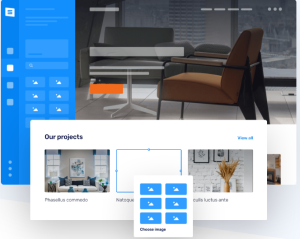 Site123 is one of the best free website builders for therapists. It is perfect for corporate and individual uses. You do not need to pay a dime to use this platform to design your website. You can access all the features without paying a dime.
We recommend this builder as it is perfect for therapists who can't build their sites from scratch. It's also great if you're a therapist who works solo and wants to keep things simple and easy. The site123 website builder is mobile-friendly, so your clients can access your site on their phones or tablets. There are pre-made templates that help you get started immediately, and it comes with free hosting and SEO tools to help your business grow in the long run! You can also use a custom domain name if you want to make your branding–or if you want to change it up completely!
This one has pros and cons compared to other builders, such as Zyro. One of the cons is that there isn't much customization for each page. You can change some text or images, but most of the design on your site will be set in stone. However, this means that once you've gotten used to using site123 and created an awesome website for your business, there will be no need to change it again because everything is already set up!
What we liked:
Free with no caps
The free plan comes with free hosting
SEO friendly
Mobile friendly
No coding experience is needed
What could be better:
The storage space for a premium account is 10 GB. With such, you can't run a resource-intensive website
The bandwidth is limited. Hence, you cannot have more visitors than the capped value
Features:
Starting price:$16, $22, $27, or $45 per month
Templates: yes
Modification: yes
More features: enterprise-grade foundation, promotion instruments built with SEO in mind, accessibility tools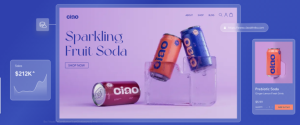 WIX is one of the best website builders for therapists, with over 200 million users. It has many features that can help you create a professional-looking website for your practice. That's why we couldn't leave it out of this list. In addition to the basic tools, such as page templates, content editor, and drag-and-drop page builder, Wix also offers advanced features like video embedding, contact forms, and Google Analytics integration.
We chose to include Wix because it has an impressive collection of templates. You can choose between several different themes to suit your needs. The templates are easy to use, and there are plenty of options for customization, such as changing colors, backgrounds, and fonts. Wix has an intuitive user interface that makes it easy for anyone who uses it to build a website using its drag-and-drop interface. The site builder makes it easy to add pages without prior knowledge about HTML code or designing websites yourself.
Wix is comparable to world-class platforms such as WordPress. The two have a lot of similarities. They can power blogs and ecommerce sites since they are so much customizable. However, Wix is much easier to use and can be designed in various ways easily. It also has technical support, unlike WordPress, where it is missing.
What we liked:
24/7 online chat support
It has much design flexibility
Drag and drop, so there is no coding
AI website builder makes the process even simpler
Four different plans. Hence you can choose the one that has the features you only need, saving you money
Pre-made templates
What could be better:
Slow page loads. It would be better if it were faster
Wix dashboard doesn't have deep analytics. You need third-party tools like Google analytics for better data
Once you go live, you cannot switch between templates
Things to Consider
If you are stuck on which website builder to purchase, this section will help you make up your mind. Creating means of connecting with prospective clients interested in learning more about what you do or how they can get started working with you.
How Can Therapists Benefit from Having a Website?
Therapists can benefit from having a website by:
Enhancing the quality of their services through better marketing and communication.
Build trust with clients by offering them opportunities to interact with you authentically.
Providing a space for them to share their personal stories and experiences. All these may help develop a working relationship with them.
Important Features
When looking for a website builder, there are some features you should look at. Depending on your requirements, these features will determine the best match for you.
Easy to use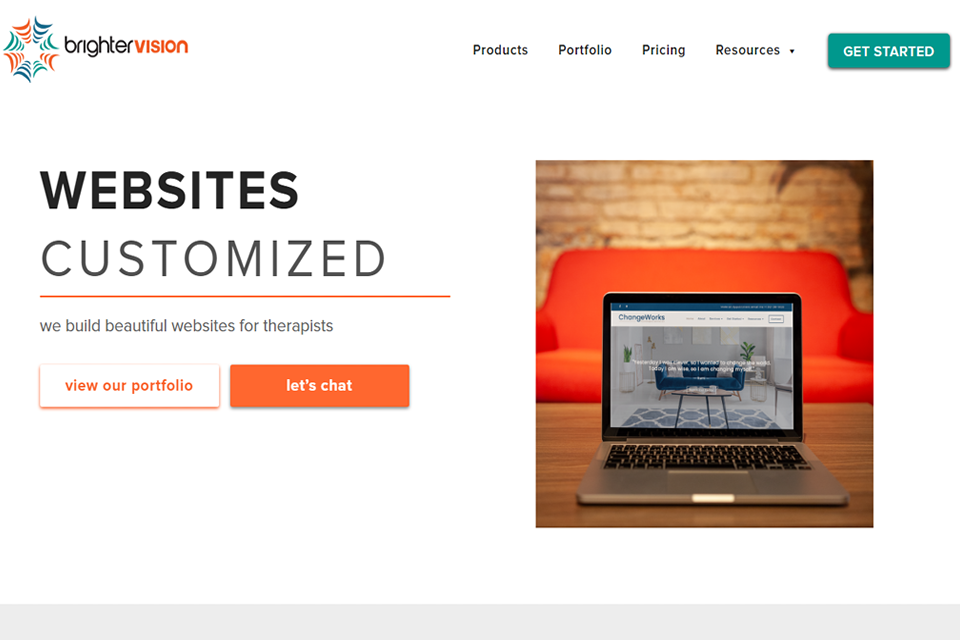 When choosing a website builder, you want one that is easy to use. Easy-to-use software is the key to your success as a business or organization. You don't want to spend hours figuring out how to use the software and then have it break down on you during that time.
This is why you should ensure that the website builder you choose has an interface that is easy to understand and navigate. The last thing you want is your site to go down because of a poorly designed interface! The easiest builder on our list is the BrighterVision tool. With this builder, everything is taken care of. No need to drag or drop anything; the website will be built for you.
Templates
When choosing a website builder, you'll want to look for templates that are easy to use and customize. The templates should be easy to use because you don't want to spend time learning how to use them once you're set up on your website. It's also important that the templates are easy to customize because if they're not, you'll end up with a site that looks like everyone else's. When looking at the templates, it's also important that they have many customization options so that you can make the site exactly how you want it.
Customization options
When looking for a website builder, you should know the customization options offered. A good website builder will have a wide range of features that you can use to customize your site's look and feel. For example, if you want to create a blog, a good site builder will allow you to easily add widgets, such as a newsfeed or social media links. If you want more control over your design, look for a site builder with an interface that allows you to customize everything from colors and fonts to images and backgrounds. For this, we would recommend WordPress. With this CMS, you can design anything you can imagine.
In-built tools
When looking for a website builder, one of the most important features to check is whether the tool has any in-built tools that can help you take your business further. For example, if you want to grow your practice and attract new clients, you might look for a website builder that offers private chats with clients or private file sharing. These features allow you to communicate directly with clients and offer them more personalized care than you could otherwise. The best site builder with many in-built tools is the Counseling Kit. It has over ten useful in-built tools for therapists.
Promotion help
When choosing a website builder, it's important to look at its tools and features. One feature you'll want to check out is their promotion help. Promotion help is a feature that allows you to promote your website on social media. It can be useful if you want to increase the visibility of your website so that more people come across it and like it.
You can do this by using the tools provided by the site builder—or even better, by an SEO-optimized website builder! These tools allow you to set up automatic posts on social media sites such as Facebook and Twitter, which are sent out when certain conditions are met. The best builder for this kind of integration is Zyro. This tool integrates with most analytics tools and social media platforms for promotion. It is also SEO friendly.
Pricing
The price of your website builder is one of the most important factors when choosing a website builder. You want to make sure that you get what you pay for, and you also want to make sure that you don't spend too much money on a product that doesn't meet your expectations.
There are two types of pricing: upfront cost and monthly rate. The upfront cost is usually charged immediately when you sign up for the service, while the monthly rate will be charged at the beginning of each month after your purchase date.
If you choose an upfront cost, it will give you access to all features and updates for life—but this can be costly if you're not willing to commit to paying a monthly fee. If this is the case, an ongoing subscription might be a better option as it allows users to pay only for what they use each month instead of paying for all features upfront with a one-time payment followed by regular payments after that (which generally incur more fees).
The best-priced tool is the Counseling Kit. You pay only one price to access all the features. There is no setup fee or hidden charges – everything is transparent.
Overall design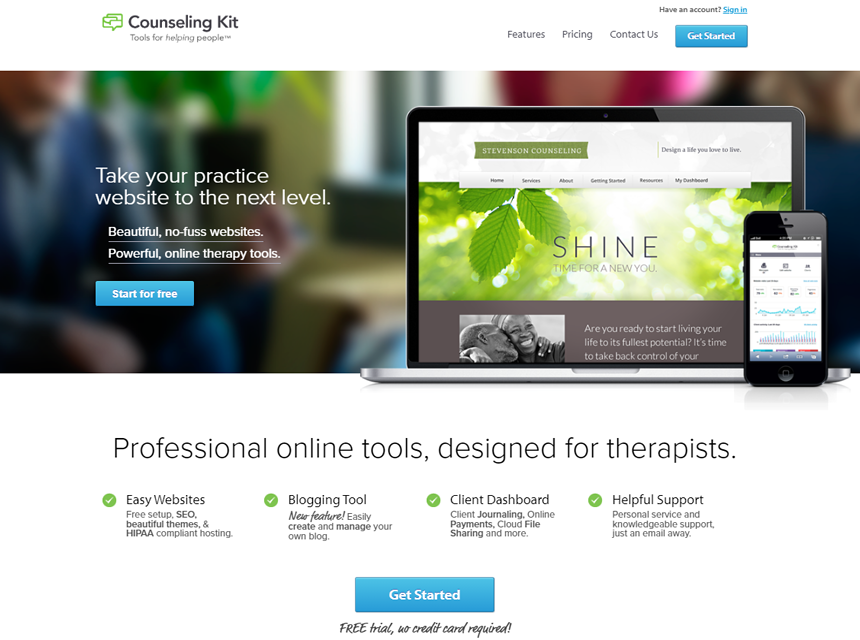 The overall design of your website is a big deal. It's the first thing people see and sets the tone for everything else on your site, including content and functionality. The design should be clean, simple, and easy to navigate. It should be consistent with the brand identity you want to portray. You should also ensure that the design is responsive and looks good on all devices (desktop, laptop, and tablet).
The overall design of your website can make or break it, so you want to keep an eye on it. You want a site that's easy to use, easy to navigate, and clear in its messaging. We recommend Counseling Kit builder, which has visually appealing templates.
FAQs
What's important for therapists to have on their website?
The most important thing for therapists to have on their website is a list of services they offer. This will help potential clients get a feel for the kinds of services you can offer and your prices. This can help you attract new clients and build trust with existing ones. It's also important to be honest about any limits on your services so that clients know what to expect from you.
Another important thing for therapists to have on their website is testimonials from past clients who have used their services. These will give prospective clients peace of mind in knowing that other people have had positive experiences with this therapist and will make them more likely to sign up with you.
How do you manage a website?
Managing a website is a way to keep it updated and in tip-top shape. It's also the key to attracting a new audience and retaining your current one.
Update your website regularly.
Keep it up-to-date with the latest technology, so people won't get bored looking at it.
Add more information about what you do, where you're located, and who your customers are. Also, include social media links so people can follow you on Twitter or Facebook.
Make sure everything looks good on all devices—this includes mobile phones and tablets as well as desktop computers and laptops!
Our Verdict
If you're a therapist, you know how important it is to have a website that connects with your clients and communicates your message in the best way possible. But when you're the one building it, the process can be overwhelming and confusing. However, with the best website builder for therapists, this task is a piece of cake.
Our Editor's Choice, therapysites, has been around since websites were a new concept for therapists. It has seen it all and knows what works and doesn't work for therapists. Hence you can trust them with your site. Our Premium Pick, BrighterVision, is arguably the best website builder for therapists. With this tool, you don't need to drag or drop anything. Developers will set up your site while you focus on your therapy work.
WordPress is the builder that gives you the best value. This CMS is freely available to anyone. It can be self-hosted and twerked to anything you can imagine. There are tons of page builders and themes that can help you do so at an affordable price.
References:
https://www.namecheap.com/wordpress/history-of-wordpress/#:~:text=WordPress%20was%20launched%20on%20May,most%20popular%20of%20its%20kind.