March 10, 2023
Posted by:

Anna Rosenkranz

Category:

Blog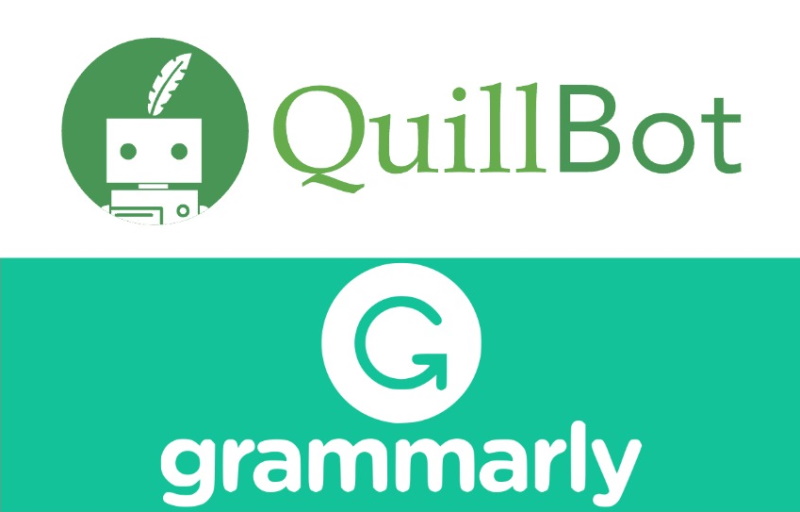 Quillbot vs. Grammarly: Which Is Better? (Spring 2023)
In-depth Quillbot and Grammarly comparison with key benefits of each one and their differences.
Writing is not easy, and keeping up with all the rules governing English grammar can be daunting, especially when you are in the middle of your creative flow. Thanks to proofreading tools like Quillbot and Grammarly, you can easily check and correct all the flaws in your content. Quillbot vs. Grammarly, which is worth investing in? This article compares the two tools by looking at their features.
Grammarly and Quillbot are the most popular writing and proofreading tools out there. Quillbot is famous for paraphrasing and uses AI technology to increase efficiency, while Grammarly is known for proofreading and checking grammar and spelling corrections. Both tools offer more than just proofreading and paraphrasing capabilities. They have a couple of features in common and a few that set them apart. Read the head-to-head comparison to see which of the two tools suits your writing needs.
What is Grammarly?

Grammarly is like a writing assistant that helps you check written text's spelling, grammar, clarity, conciseness, and punctuation. The cloud-based application uses artificial intelligence to detect and correct flaws in written content. It is a perfect tool for writers who hate to spend several hours proofreading their content, as it quickly highlights mistakes and suggests ways of fixing them.
Just because Grammarly checks grammatical errors does not mean that it can be used as a replacement by someone with poor grammar. You must have a fair understanding of grammar to make the most of the tool, as it only helps identify errors quickly.
Grammarly caters to a diverse market, including students, content publishers, fiction authors, and business owners. Besides checking spelling and grammar errors, it features a built-in dictionary, a plagiarism checker, and tone detection. The business version has snippets and a consistent brand tone.
Reasons to Use
According to Forbes, Grammarly has steadily grown in popularity in the past few years, and its founders are billionaires. Here are some of the reasons why it is a top preference for many users.
Ease of use: Grammarly has a super-friendly user interface. Although you cannot use it to perform offline checks, it is incredibly easy to use on the web editor, word, or Google Docs. What's more, you can use it on any browser.
Most popular proofreading tool: Grammarly currently claims to have 30 million active users. The high number of users is enough proof that the application does a great job at helping people replace outdated, repetitive, and complicated with correct, engaging, and concise ones that are efficient.
Correct error checking and explanations: Grammarly is one of the best proofreading tools that go beyond just checking the grammar and spelling mistakes in written content. It offers error explanations, showing you what is wrong with your sentences and what you can do to improve them.
Customizable: another great thing about Grammarly is that you can customize it to get suggestions based on your writing needs. You can customize it to give you suggestions for making your content sound formal or informal.
What is Quillbot?

Quillbot is an online paraphrasing tool made to improve your writing. It was created in 2017 and ever since its marketing has always been inspired by the idea that writers should focus on their creative flow rather than their method of writing.
Quillbot uses AI and machine learning to transform your text into a better version without altering the original meaning. Besides its rephraser, Quillbot has other useful features like a grammar checker, citation generator, and summarizer. It can also help you find suitable synonyms for your work.
Quillbot is perfect for professionals and students concerned about the content in their documents sounding great and unique. Unlike most proofreading tools that only stop at correcting grammar and spelling errors, Quillbot goes overboard to improve your writing experience in various ways. Moreover, it is one of the few writing tools with SEO features.
Reasons to Use
Here are some of the benefits of using Quillbot:
Ease of use: the best thing about Quillbot is that you don't have to sign up to use it. Moreover, it has a dashboard that makes navigating the site a breeze. You will find features like the Rephraser, Grammar checker, and summarizer pretty fast. Another huge plus is that you don't have to switch apps when writing because Quillbot has extensions on Microsoft word, Google Docs, and Chrome.
No more writer's block: Quillbot has seven modes on its premium plan that allow you to rephrase sentences without any errors. It is perfect for any beginner writer looking for a tool to kick-start their writing career. Moreover, the tool has a feature for comparing the original text with the rephrased version to see the changes. Once you are done using the paraphrasing tool, you can use the basic grammar checker feature to check and correct all grammatical errors in your work.
Saves time: According to Quillbot, it has saved up to 75% of writers' time, and over 50 million active users rely on it to improve their content.
Target Audience
Quillbot
Quillbot is best suited for SEO writers and marketers who would want their content to sound better than that of competitors. Professionals in the media and news industries can also benefit from the application because it offers a convenient way of enhancing summarized content. If you write press-related content, this application can help you sound unique.
Students and academics could also make the most out of Quillbot, especially when they need to avoid using too many direct quotations. If you have a hard time paraphrasing references in your assignments, Quillbot is all you need.
Students and academics can also take advantage of the summarizer to write abstracts for research papers and dissertations. As if that's enough, you have the option of consulting the citation manager for a proper in-text citation.
Grammarly
As mentioned earlier, Grammarly is suitable for a wider market. It caters to writers in all fields, including students, academic professionals, authors, content writers, and marketers. Both native and non-native English speakers can benefit from Grammarly, provided they understand English grammar well.
A blogger concerned about maintaining higher reader retention can use conciseness suggestions and sentence-type variety to avoid sounding boring and monotonous. The two features can also help the blogger adjust their work to be more conversational and engaging.
Academic professionals and students can also make the most of Grammarly's conciseness suggestions and plagiarism checker to improve their academic writing. The plagiarism checker verifies the originality of academic work before publishing or submitting it.
Digital marketers, content creators, and business owners can also benefit from Grammarly, especially with the business version. The business version has a snippets library that allows viewing, adding, and editing of keyword-based snippets for search engine optimization.
Comparison Criteria
Here is a detailed side-by-side comparison of Quillbot and Grammarly:
Free plans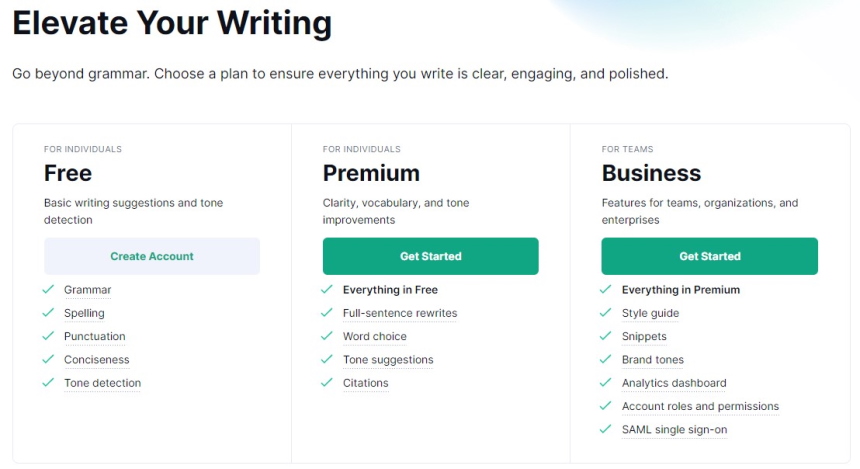 Quillbot has a free version that you can easily access by going to Quillbot's official website, www.quillbot.com. Unlike many online writing tools, Quillbot has no annoying hidden fees or limited-period free trials. Although it is entirely free, the free version has a few limitations. For instance, you can only paraphrase 150 words with two writing modes.
Grammarly also has a free version that you can easily access without hidden fees. The free Grammarly version allows you to choose your preferred dialect, correct spelling and punctuation errors, and tone detection.
You can integrate the free Grammarly version on MS Word, Chrome, and Google Docs. You can also proofread on the main website for a few minutes. Although it is useful, Grammarly free is limited compared to Grammarly premium.
Premium plans
If you upgrade to Quillbot premium, you will access all the features, like the summarizer, and be able to paraphrase an unlimited number of words. You can also compare modes side by side and freeze words. The best thing about Quillbot is that it is affordable. It comes in three subscription modules, with the monthly subscription going for $7.95, the semi-annual subscription going for $4.99 per month and is billed every six months, and the annual subscription at $3.33, which is billed every 12 months.
The annual subscriptions offer better value for money since you pay a slightly higher amount than the other modules, yet you get unlimited access to all the features for a whole year. Moreover, unlike most writing tool subscriptions, Quillbot allows its users to pause their subscriptions and save money if they are not using it regularly.
Grammarly premium allows you to use all the robust features, like advanced genre-specific suggestions. You can even get an analytic report on your performance. Grammarly has three subscription modules: a monthly subscription at $30, a quarterly subscription at $60, charged every three months, and an annual subscription at $144, charged yearly. You can pay for your subscriptions in your local currency, and Grammarly will do all the conversions for you.
Paraphrasing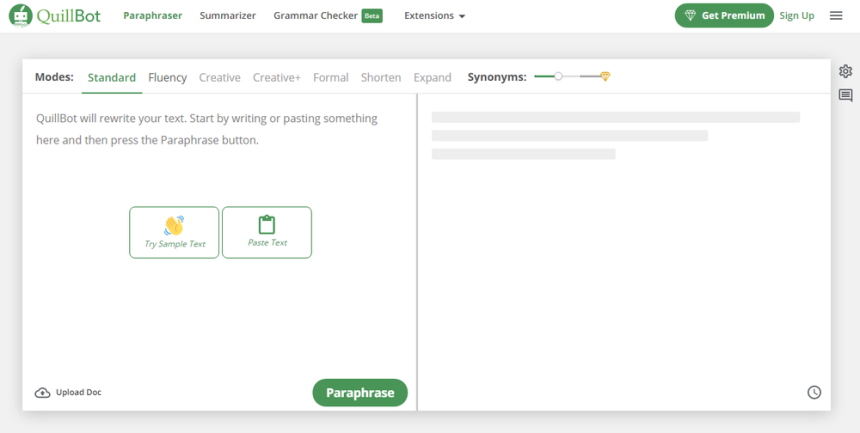 Quillbot is a better paraphrasing tool. It has a variety of modes that allow you to customize the way text is paraphrased. You can choose to shorten or expand your text or make it sound formal when paraphrasing. Besides being adept at re-writing old content, Quillbot has a hand article and essay summarizer that can create an abstract for a research paper or an article. Moreover, the extraordinary paraphrasing program is super easy to use. It only requires you to type in your sentence and press the 'Para' button. It will re-write the sentence and turn it into pure excellence without changing its original meaning and context.
If you are using the free Quillbot version, you get two writing modes to complement the paraphrasing feature. The premium version offers seven modes with more benefits. Here is how the modes will benefit you:
Standard mode: allows you to change the text while maintaining its meaning.
Formal mode: for making your content suitable for formal use.
Fluency mode: will fix grammar issues for you.
Simple mode: makes your content easy to read.
Shorten mode: for conciseness.
Creative mode: for making your content sound completely different.
Expand mode: increases your word count and length of sentences.
You can apply the different writing modes on different types of writing to make paraphrasing a breeze. For instance, if you do business writing, the formal mode would be more ideal. The shorten and expand mode are the most valuable modes, especially for beginner writers.
Although Grammarly can also paraphrase sentences, with zero mistakes, Quillbot is a better paraphrasing tool. What's more, with Grammarly, you can only rephrase the sentences detected by the tool yet with Quillbot you can rephrase a text however you like.
Plagiarism and Grammar checker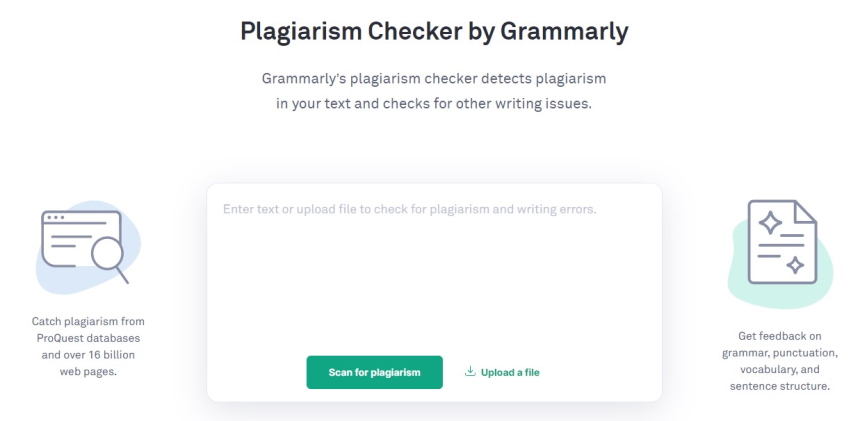 Quillbot has a basic grammar checker that you can use to proofread your work before submitting. You can use it to correct spelling and grammatical errors in British, Australian or American English. It may not be as advanced as Grammarly's grammar checker, but Quillbot's grammar checker is way better than other basic checkers like Google Docs and MS word. It is an affordable way of making your writing sound more native.
Quillbot also has a plagiarism checker that content writers can highly benefit from to increase their search engine rankings. You can paste or upload your text for the tool to give you a report of any content that matches yours. The report contains percentages of text matches and links of the sections to the original source of your content. It also shows duplicate words and color-codes all identical and omitted words.
No writing tool beats Grammarly in spotting spelling and grammatical mistakes. It offers suggestions for fixing your text's tone, conciseness and delivery, ensuring you sound exactly like you intend to. Unlike Quillbot's grammar checker, you can review each suggestion on Grammarly and accept or decline the corrections. With Grammarly premium, you can correct more than spelling, punctuation and grammatical errors. You will get reports on passive voice, non-inclusive language, formal language, repetition, dangling modifiers and context-specific word suggestions.
You will get an overall score for your work, which according to Grammarly is based on deliverability, correctness, engagement and clarity. Another fantastic feature is the plagiarism checker which performs significantly well. According to an article by Business Wire, it is one of the best plagiarism checkers that scan your work against billions of sources. It will detect duplicate content in your work and highlight any part that has similarity with another source.
Citation manager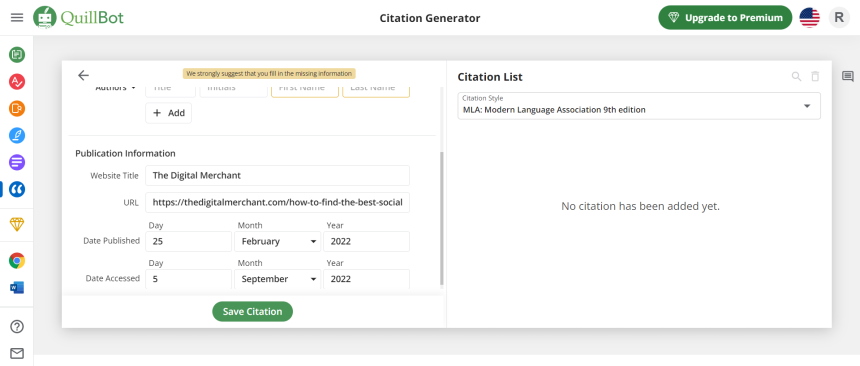 Quillbot has a citation generator that is suitable for students and academics who need to cite sources in their works. It make editing a breeze as you wouldn't have to create your bibliography manually. The writing assistant offers dozens of style guides including MLA, APA, Harvard, and Chicago among others. All you have to do after choosing a style guide is enter the necessary information like contributors, title, resource type and date published.
Grammarly on the other hand, does not feature a citation manager. With Grammarly you would haveto create your Bibliography manually or rely on MS Word.
SEO tools
SEO tools are the most powerful feature that Quillbot has and is lacking in Grammarly. The SEO tools help writers to optimize their content for search engines and get a wider audience reach. Any content writer, digital marketer or business owner can benefit from the SEO tools in Quillbot. They will help you adjust your content to make it reader-centric and increase engagement and impressions. With a larger audience, your website's traffic and business potential grows.
Extensions and add-ons
With Quillbot, you will enjoy easy workflows as you can integrate it with MS word, Chrome and Google Docs. The add-ons will help you write your document easily without the need of opening other apps.
Grammarly offers five different ways of being used for both free and premium users. You can use it as aweb tool, or download it as a desktop app on your PC or Mac. The best option is connecting Grammarly to MS word to get suggestions as you type. You can also do the same for emails, Google Docs, and social media by installing the browser extension. As if that's enough, Grammarly offers a mobile application for both iOS and Android devices. It will give you suggestions for enhancing your text messages and emails when composing them.
Overall convenience of use
Both Quillbot and Grammarly are incredibly easy to use as they are easily accessible via MS Word, Google Docs and browser extensions. However, Grammarly is a better option if you like reduced workflow because you can use it in real-time while writing your content. It is more convenient than Quillbot which only allows you to work on your document after you are done writing.
Quillbot is a top preference for many because it does not require signing up. It also comes with a clean dashboard for navigating the site easily. You will access the main features like summarizer, grammar checker and rephraser in no time.
Customer Support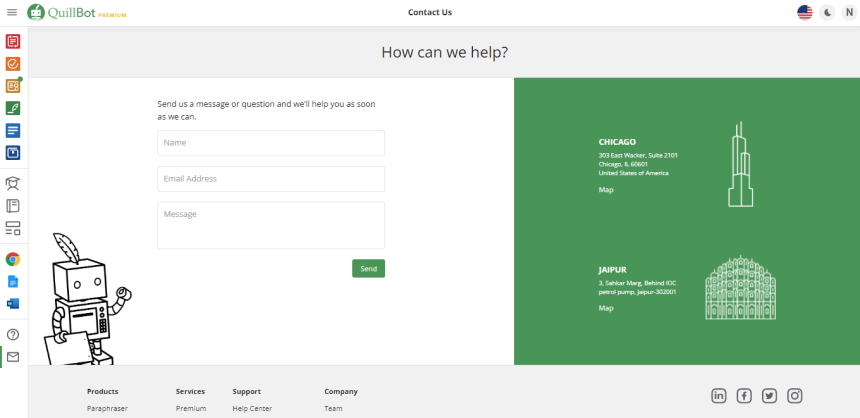 A solid customer support service is essential for any writing tool as users tend to run into issues often. Grammarly has phone support for answering queries about users' subscriptions. The help desk resolves users' concerns as soon as possible to ensure maximum customer satisfaction.
Quillbot offers two types of customer support: phone calls and live chat. You can choose to contact the customer support team directly or use the live chat option to text them about your issue. Compared to Grammarly, the customer care at Quillbot has a longer reaction time. Nonetheless, the support team will always ensure your issue is solved.
Key Differences
Grammarly
Quillbot
1.       It has a technology that is adept at correcting spelling and grammatical errors.

2.       Not adept at paraphrasing.

3.       Reads and repairs faults in your writing.

4.       It does not have SEO tools.

5.       Offers phone customer support with a quicker reaction time.

1.       It is less adept at correcting grammatical errors.

2.       Adept at paraphrasing.

3.       Does not remove faults in your content.

4.       It has SEO tools.

5.       Offers both phone and live chat customer support with longer reaction time.
Final Thoughts
Quillbot and Grammarly are both useful writing tools that make editing easier for different types of writers. Although the tools cannot replace a human editor or writer, they are worth the investment because they can significantly improve your writing and help you save time. From our Quillbot vs. Grammarly comparison guide, it is pretty apparent that Grammarly is more feature rich and accurate at checking grammar and plagiarism. Quillbot, on the other hand is an unbeatable paraphrasing tool.
As a freelance writer, content marketer, student or business owner, you could benefit from both tools to improve your writing. However, Grammarly is a better all-around option if paraphrasing is not your primary concern. Quillbot is better suited for students and academic professionals who write essays and academic papers.