March 2, 2023
Posted by:

Anna Rosenkranz

Category:

Blog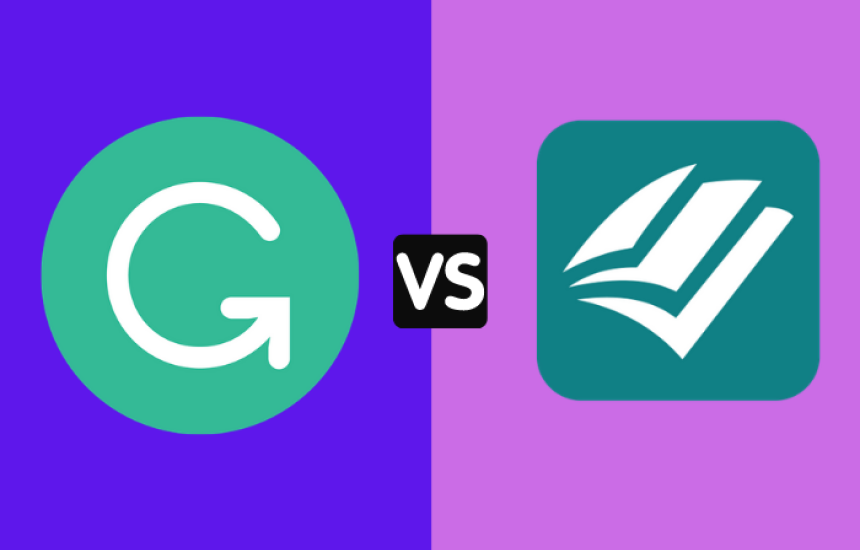 ProWritingAid vs. Grammarly: What to Choose?
ProWritingAid vs. Grammarly- Are you curious to find which one is the best? This article has got you covered.
You may feel the need to spend several hours proofreading your content, whether it is an assignment or an essay. It is common for writers to find several mistakes in their written content while giving it a read after it has finished.
Correcting spelling and grammatical errors can take up much of your time. Additionally, it nearly feels like you are re-writing the content all over again. Writers usually use the same amount of energy and time correcting the errors in an article as they did when writing the content.
Therefore, online writing checkers exist to do the job for you. ProWritingAid and Grammarly are the best and most reliable online grammar checkers. However, there are significant differences between them that make equally unique. Nevertheless, both online writing checkers save you the time-consuming process of proofreading and correcting your content.
ProWritingAid vs. Grammarly – What Is the Difference?
Grammarly and ProWritingAid are widely used writing enhancement tools offering excellent grammar checks. Let us look at some of the key differences that distinguish the two.
Type
Grammarly helps improve your written content by offering grammar, syntax, and vocabulary suggestions. You can accept or decline the suggestions, depending on what you want out of the article. Meanwhile, ProWritingAid offers world-class style and grammar checks. Additionally, it offers an in-depth report for your content, which helps improve and strengthen your writing skills.
Best For
Talking about the key differences between Grammarly vs. ProWritingAid, both online writing checkers have different specialties. Grammarly focuses on providing suggestions that help improve the content's accuracy. On the other hand, ProWritingAid offers suggestions for fragmented dialogues and sentences. For that reason, many experts compare Grammarly Premium vs. ProWritingAid. That said, not all recommendations are always correct. Moreover, Grammarly is best for shorter writing pieces, whereas ProWritingAid easily handles long-form content.
Mobile Support
Mobile support is available for Grammarly so that you can correct grammatical errors and spelling mistakes in your emails and messages. Grammarly's mobile version is available for both Android and iOS. In contrast, ProWritingAid does not have a mobile version.
Interface
Comparing ProWritingAid vs. Grammarly, let us not forget the interface. Typically, Grammarly has a clean and user-friendly interface and design. ProWritingAid's interface is quite cluttered compared to Grammarly.
Fiction
Grammarly is the better option for non-fiction writers, as it provides more accurate suggestions for non-fiction content. Comparatively, ProWritingAid is a helpful tool for fiction content.
Suggestions
Regarding the types of suggestions on Grammarly and ProWritingAid, both writing enhancement tools are pretty different. Grammarly typically searches for all types of writing errors in a piece of content, showing the most important ones only. Meanwhile, ProWritingAid provides long lists of suggestions for better content improvement.
Plagiarism Checker
Grammarly plagiarism checker vs. ProWritingAid plagiarism checker– the two have a tough competition due to their excellent quality and results. However, the plagiarism checkers on both tools are only available for premium users.
Free Version
ProWritingAid and Grammarly have free versions available for new users, with different conditions. Grammarly's free version requires making an account, and you can use the tool for as long as you want. However, you can only use limited features on free Grammarly. Grammarly Premium offers more suggestions related to grammar, clarity, and delivery. Meanwhile, ProWritingAid's free version is available for seven days only.
ProWritingAid Review

ProWritingAid is an online written content editor famous for its world-class proofreading and grammar-checking abilities. It also provides in-depth writing style reports, making it a useful tool for fiction writers. This tool provides detailed reports for all sections of your articles.
ProWritingAid scans your content and provides overview reports to help improve your content's readability. Besides correcting spelling mistakes and grammatical errors, this writing checker checks your sentences for repetition, clichés, stickiness, and overuse. ProWritingAid displays the content for length analysis and variations to provide your content with the proper format.
The editing software providing suggestions for structural issues is available as a plug-in and desktop application. It can integrate with GoogleDocs, email, Google Chrome, and Microsoft Word.
How Does ProWritingAid Work?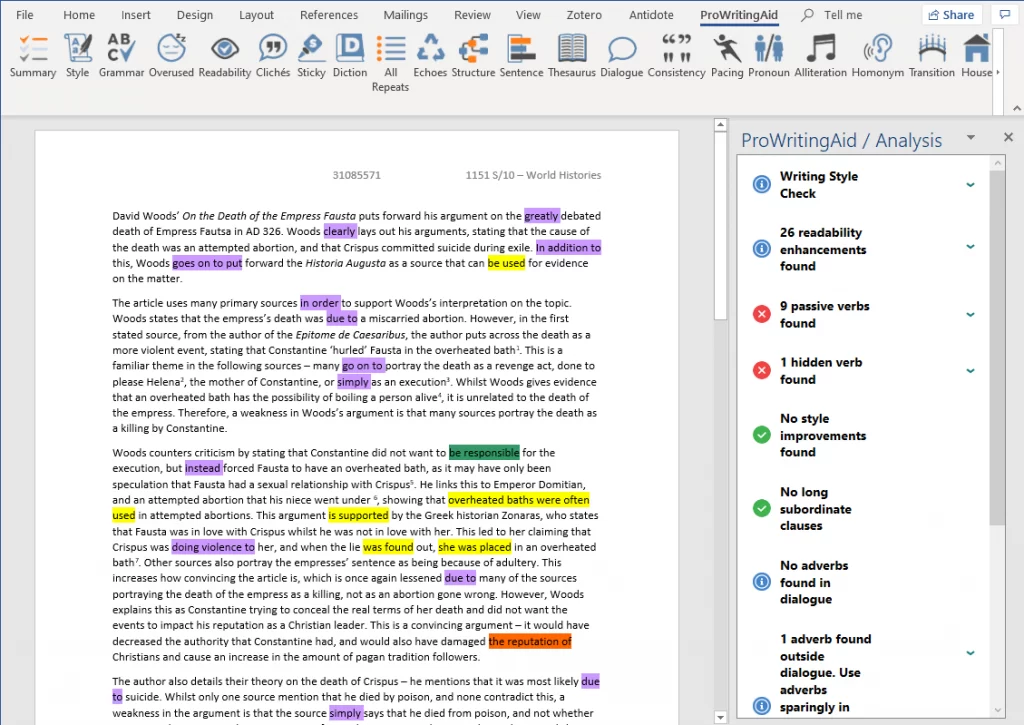 ProWritingAid is a robust online editor; it is one of the best ones compared to the competition. It schemes the content to flag down typos and help make corrections. Additionally, the online editor also alerts writers in case of issues like hard-to-read sentences, overuse of words, wrong word choice, etc.
The excellent editing platform offers free and premium versions. Depending on your specific needs, you can choose between ProWritingAid free and ProWritingAid Premium.
ProWritingAid Free Online Version: You only need internet access to run your content on ProWritingAid for correction. However, it will not scan more than five hundred words.
ProWritingAid Premium Version: You may want to upgrade to ProWritingAid's premium version if you need to edit documents lengthier than five hundred words. It scans bigger documents and unlocks the license add-on tool for Microsoft Word. This way, you can edit your work at the source.
ProWritingAid gives users a chance to request a free trial. The best part is that you do not need to share your credit card details to avail yourself of the 14-day free trial at ProWritingAid.
ProWritingAid Features
ProWritingAid provides multiple features besides grammar check, making it one of the best online editing tools for writers. Let us go through the features one by one.
Thesaurus Support
Typically, a thesaurus is usually the most underrated feature in any application or software. However, it is just as essential as other features in a grammar-checking tool. ProWritingAid's thesaurus support helps understand how different words have similar meanings.
Not only can it add a variety of vocabulary to your content, but the thesaurus may help improve your skills for future assignments. For instance, a certain word in your essay may repeat itself several times in your article to the point that it becomes overused.
In that case, ProWritingAid's thesaurus support will provide you with suggestions showing synonyms of the overused word. You can pick words from the suggestions and replace yours.
Style Enhancement
Developing a writing style is difficult, and many writers struggle with maintaining it throughout their content. With ProWritingAid, you can neglect all such scenarios, improving and enhancing your writing style.
If your creative mind squeezes different styles in the same piece, it can create quite a mess in your content. The online tool uses a style enhancement feature that helps make written pieces more consistent in style and structure.
Sticky Sentence Removal
Sticky sentences are those types of sentences that slow down the reading experience. While some sticky sentences are necessary for the content, others account for a slow and boring read.
ProWritingAid offers a "glue index" feature that provides a report on the number of sticky sentences in your content. The report also highlights how your sticky sentences affect the quality of your writing piece. The online AI editing tool uses a small/ big approach to flag the irregularities and shows their general effect on the content.
Sticky sentence removal is a follow-up feature for eliminating unwanted words, phrases, and clinches from sentences. Often, writers miss out on sticky sentences during manual proofreading, which makes ProWritingAid a great tool.
Detailed Writer's Report
What would be better than receiving a detailed report on your writing achievements and failures? Without a doubt, it can help improve and enhance your writing skills for the future while correcting the flaws in your current content.
ProWritingAid has a detailed writer's report feature for bloggers, authors, and professional writers. The AI tool provides a visual data analysis report for your uploaded content. The report covers important areas of writing, including error detection, correction suggestions, and how the errors and corrections affect your content's quality.
Your detailed writer's report by ProWritingAid will show your accuracy and suggest a readability score. With its help, you can identify the areas that need correction for improvement. Editing with ProWritingAid will teach you where you need to pay more attention in the future.
Multiple Integrations
You may write a variety of content, including essays, assignments, emails, texts, job applications, etc. As such, you may need professional writing assistance to impress your readers and recipients.
Uploading your content on a separate editing tool before submitting/ sending it can feel like a chore. Nevertheless, proofreading your work is essential. You cannot skip such an important step, which is why ProWritingAid provides its users with an integration option for multiple applications.
You can access the online editing tool via various web browser extensions, including Edge, Google Chrome, Firefox, and Safari. You can also integrate ProWritingAid as an MS plug-in for Outlook, Microsoft Office, and Microsoft Word. Using it in integration with Google Docs is also possible.
Grammarly Review

Founded by Alex Shevchenko and Max Lytvyn in 2009, Grammarly is one of the top writing enhancement tools. It is popular among writers for its ability to detect the tiniest of spelling mistakes and grammatical errors.
This online word editor offers suggestions and corrections for grammatical, spelling, syntax, and punctuation issues. The excellent AI-induced software also checks for numerous writing styles and genres. Grammarly has over 250 grammar rules in the functions of the resource. What is more, users can pick their preferred variation of English.
The tone-detection feature tells whether your content sounds more formal or casual. Grammarly's plagiarism checker tool helps detect duplicated content that appears scrapped from existing content on the internet.
Users can run their written content on Grammarly via the website or browser extension. It is also available as an app that you install on your computer. It is a well-designed online editing tool with a clean and simple interface. Plus, it is mobile-friendly, so you do not necessarily need a laptop or PC to use it.
How Does Grammarly Work?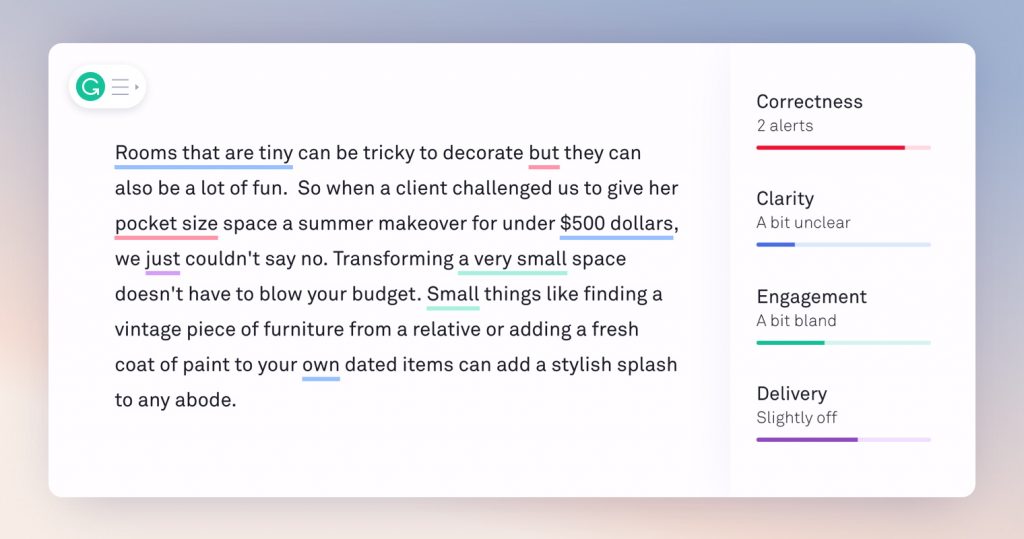 Grammarly is an editing software that offers several plans for its users. Users can edit their documents via the free version or use the Grammarly premium plans. The open plan allows users to install an add-on extension to their browser.
The free version allows you to detect minor errors in your content to make it more readable and improve the writing style, etc. Grammarly extension is excellent for editing social media texts before sending them. It highlights complex sentences, spelling mistakes, and grammatical errors when you write anything on the browser. Grammarly's add-on extension scans your writing piece to flag down errors.
Grammarly Writing Desktop App Add-on Extension
Downloading and installing the add-on extension is free. It does not matter if you are using the free or premium version. As already mentioned, the add-on extension highlights the errors you make while writing any kind of content on the browser.
You can download the Grammarly extension from its website and install it like any other extension. After installation, you need to sign up using your email address or sign in with the credentials of your existing account. The extension will immediately kick into gear and start scanning any and everything you write. It highlights the error in the bottom-right corner.
It is important to note that the number and kinds of errors shown on the extension depend on your choice of Grammarly plan. Besides rectifying run-on sentences, spelling, and grammatical errors, the editing tool highlights passive voice.
A dialogue box appears on the right side of the page when you place the cursor on the highlighted words. You can hover your cursor over this box to rectify the content. Moreover, Grammarly is available on platforms like Google Docs, WordPress, and Microsoft Word. It is also available on other sites where you may create content.
With the Grammarly extension activated, you will no longer make mistakes while updating your social media status- whether you are using your PC, laptop, or phone.
Grammarly Web Tool
The Grammarly browser extension is easy, fast, and straightforward. In other words, the online editing tool aims to save you time. The web version, whether free or premium, highlights grammatical errors, structural issues, and spelling mistakes in real time.
That said, many writers do not appreciate real-time editing, especially when the content material is over a few paragraphs. That makes Grammarly's web interface an ideal editing platform to run your essays, assignments, and professional work to proofread your finished pieces and detect errors.
When using Grammarly's web tool, you only need to copy your document's content and paste it into the interface. If you want to activate the plagiarism checker while editing, you can select the column on the left side of the page. Here, you can also activate vocabulary enhancer settings to highlight any other mistakes.
Grammarly Add-In Feature for Microsoft Products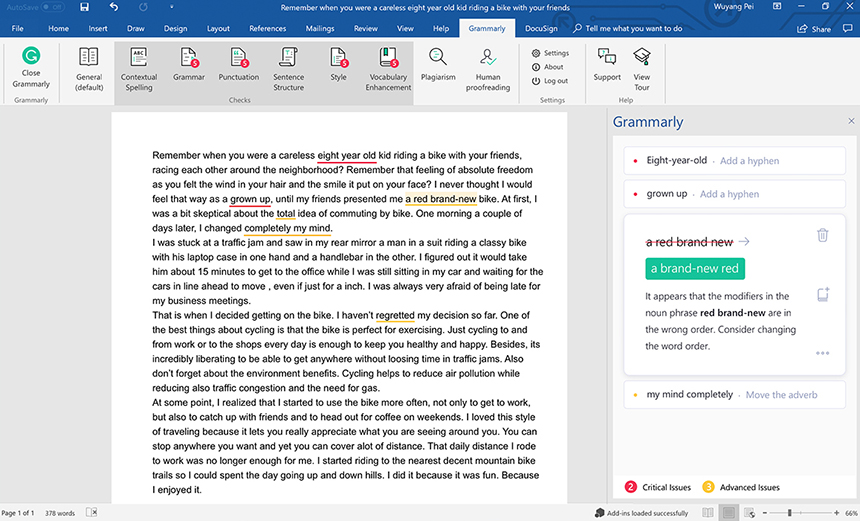 Do you use Microsoft products like Microsoft Word, Microsoft Office, Outlook, etc.? If yes, you can use the Grammarly add-in feature as a Word, Office, or Outlook add-in. It is an excellent option that enables you to see all the wrong vocabulary, grammatical errors, spelling mistakes, and punctuation marks in your content.
The Grammarly add-in feature for Microsoft Products helps get rid of redundant words. It does not only proofread your content, but the add-in Grammarly feature ensures that your final piece is as close to perfection as possible.
Vocabulary Enhancer Feature
Grammarly's vocabulary enhancer feature scans your essay, assignment, or article and repeatedly highlights words you have used. Then, the editing platform will suggest other words with similar meaning.
You can replace the overly used words in your documents with words that have the same meaning. The Grammarly enhancer feature allows you to pick one of the provided words in the suggestions to change your document quickly. The feature helps add variety to your articles.
You can activate this feature from the sidebar on the left hand of the Grammarly web tool or app. Simply move the button to the right to activate the vocabulary enhancer feature.
Plagiarism checker Feature
Unlike most grammar-checking tools, Grammarly offers more than just a grammar check. This online editing tool steps out of the grammar world and breaks the stereotype by providing a plagiarism checker. In fact, it is one of the most crucial features of Grammarly. Many Grammarly users use the grammar checker to check for plagiarism. You do not want to get fined, after all, do you?
Grammarly Plans: Free and Paid Plans
Grammarly's online editing software offers two separate plans or packages. While many people think the free version is sufficient for their work, other professional users prefer the premium package.
Grammarly Free Version
The free Grammarly plan checks up to hundred software points of a grammar checker, including contextual spelling and punctuation errors. Essentially, Grammarly Free is a robust, super-charged word editor focused on punctuation, spelling, and grammar. The free version works well with Mozilla, Safari, and Google Chrome extensions.
Grammarly Paid Plan
Grammarly's paid plan is called Grammarly premium, which unlocks multiple additional features. These typically include the plagiarism checker and vocabulary enhancer feature. You can buy Grammarly premium at the cost of paying $29.95 every month. Annual payers are required to pay a monthly fee of $11.66. Grammarly also offers users to pay a quarterly fee of $59.95, meaning a monthly fee of $19.98.
Advantages of ProwritingAid
Let us have a look at the perks of using ProWritingAid to edit your essays and assignments.
It helps save your time and effort
It supports more integrations options
It is available for use in Windows and mac Desktop versions
The platform provides the most information, even in the free proofreading software version
It is cheaper than most online grammar checkers
ProWritingAid helps analyze your writing by providing you with detailed reports.
It provides over twenty different reports for potential improvements, helping you enhance your writing skills.
The online editing software has a unique lifetime plan that you can choose if you plan on a lifetime writing career ( you will never have to pay for an editor)
It offers small/big-picture feedback to help enhance and strengthen your writing style.
It is compatible with Google Docs.
Advantages of Grammarly
Let us look at the benefits that compel Grammarly users to upgrade from the free version to the premium.
It works with all types of websites with ease
Grammarly offers a useful foundation of grammar knowledge for learning
The online editor offers a quick check for your writing to help the essays and articles flow better
Grammarly add-on extension makes text corrections across different websites and platforms
You can find multiple basic features of a word checker free of charge
It offers indirect cloud storage, saving the documents as you edit them
It helps find common errors in the writing as you make them, teaching you to avoid those mistakes further in the article
It allows you to correct a variety of spelling mistakes and grammatical errors
Grammarly helps enhance your writing style, helping you maintain the same tone in an article
The editor is great for improving your vocabulary
Grammarly provides suggestions for framing sentences more appropriately, eliminating any chance of structural issues
It provides specific suggestions for different writing styles and genres
It has an extension that is compatible with all major browsers
The suggestions help enhance the readability of your document
It is excellent for detecting contextual mistakes
Running your content through Grammarly can help correct most punctuation, grammatical, and spelling errors.
Disadvantages of ProwritingAid
All software has some drawbacks. Let us look at the cons of using ProWritingAid to edit your written work.
This online editing software has a slow crawling process compared to many other grammar-checking tools
It lags and becomes slower when you paste a large portion of text to check for errors.
The plagiarism checker is only available for users with the paid (premium) plan
The word checker does not offer a mobile version for Android and iOS
Disadvantages of Grammarly
Just like other online editors, Grammarly is not perfect. Let us look at some disadvantages of Grammarly to help you make a more informed decision.
Grammarly's free version is excellent for checking your documents for basic spelling mistakes and grammatical errors, but it is not ideal for advanced (professional) writing
The extensions and web tools tend to stop working until you reopen the document (ity may not detect any errors at times)
It is quite pricey on monthly billing, so users need to opt for an annual subscription package
Some Grammarly features are not available on Mac
Grammarly's Microsoft Office extension is not available on Mac
It does not provide a free trial for the paid plan (premium version)
The online editor does not offer users a personal dictionary
Who Should Use ProWritingAid?
It is not always possible to purchase two grammar checkers at once; they can be extremely expensive, after all. So, you will need to decide whether you should get ProWritingAid or Grammarly. While both are excellent editing software, you should find one that best suits your needs.
ProWritingAid is ideal for the following tasks:
Long-form writing (e-books with lengthy chapters)
Fiction
Professional reports
You will appreciate the features of ProWritingAid if you often write large pieces of text that need editing. This online tool can help you save a considerable amount of time.
Who Should Use Grammarly?
Truth be told, Grammarly checks for basic errors in your writing. It detects issues like structural problems, grammatical errors, and spelling mistakes. It is excellent for the following tasks:
Non-fiction writing (blogs, articles, essays, etc.)
Emails, messages, and job applications
Casual and semi-formal writing
Grammarly's free version is usually enough for detecting basic mistakes and getting suggestions to correct them. However, you may want Grammarly Premium for its excellent plagiarism checker and vocabulary enhancement feature.
Conclusion
This ProWritingAid vs. Grammarly review can help you see that while the two platforms offer similar services, they attract different groups of writers. ProWritingAid focuses on books and manuscripts, whereas Grammarly is ideal for short essays, assignments, and articles.
ProWritingAid has specific features that help writers make the most necessary changes to their drafts. In doing so, the online editor ascertains not to change the voice or tone of your content. On the other hand, Grammarly uses features like a plagiarism checker to alert you of important issues so that you can alter your work accordingly.
References
https://www.guru99.com/grammarly-vs-prowritingaid.html
https://becomeawritertoday.com/prowritingaid-vs-grammarly/