March 8, 2023
Posted by:

Maksim Zavarin

Category:

Blog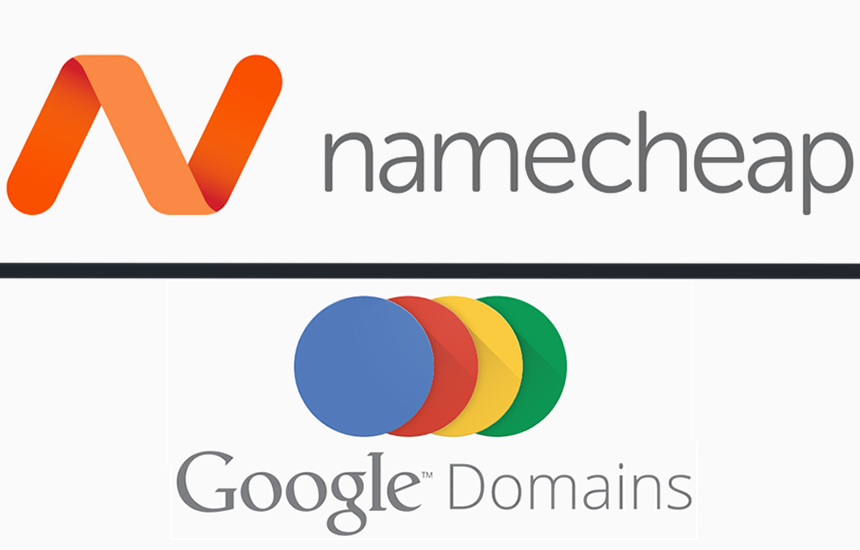 Namecheap vs. Google Domains: Which Domain Registrar Is Best for You? (Spring 2023)
In this article, we compare Namecheap and Google domains by 7 different aspects and make a conclusion which one is best for which purposes.
The Namecheap vs. Google domains debacle has been going on for long because the two companies are the best-rated in the industry and have earned a good reputation over time. Both domain registrars offer similar services at competitive prices. Namecheap is popular for its reasonable pricing, and Google for its wide range of features like domain forwarding and custom DNS.
Choosing between the domain registrars shouldn't be difficult if you have already established your needs. For instance, if you only need a domain name, Namecheap would be your best bet, but if you need a hosting plan and DNS, Google is the prime choice. When it comes to which is better, there isn't a clear winner between Namecheap and Google, as they both have pros and cons. This article compares the domain registrars' strengths and weaknesses in various aspects to help you pick one for your needs.
Reasons to Choose Namecheap or Google Domains
As mentioned earlier, Namecheap and Google are the most popular go-to domain registrars for people looking to register and manage their domains.
Namecheap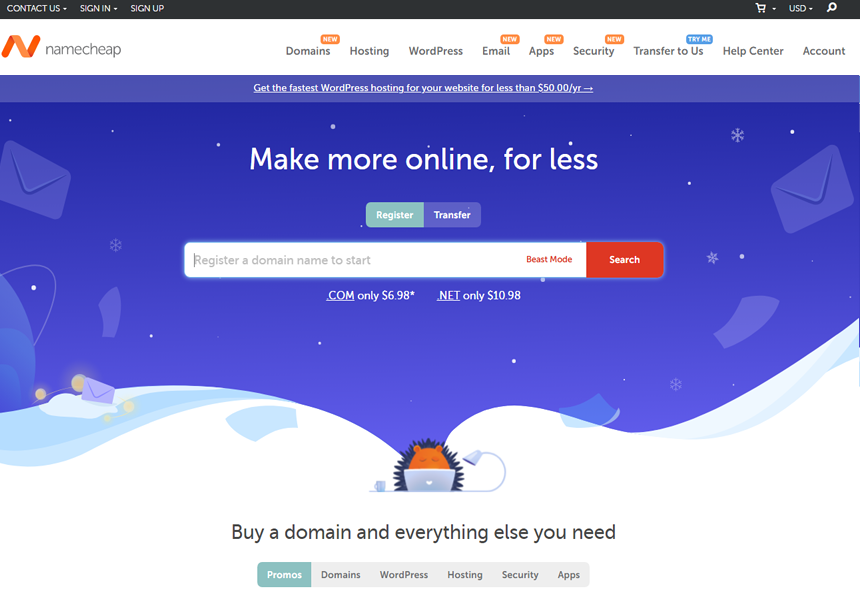 Namecheap is a top choice for many because it is a fully scalable website-building solution. The company has been in business since the year 2000. By 2018, it was one of the fastest-growing companies in the domain trade. Currently, Namecheap has over 10 million domains under its management and has served 11 million users since it was founded. Some of Namecheap's top advantages include the following:
Affordable: Namecheap offers domain names and other services at relatively cheap prices. The value of what the platform offers in terms of performance and features outstrips the competition.
Tight security: Namecheap is one of the few domain registrars that offer SSL certificates to protect users' identity. It also offers free privacy protection for the first year.
Google Domains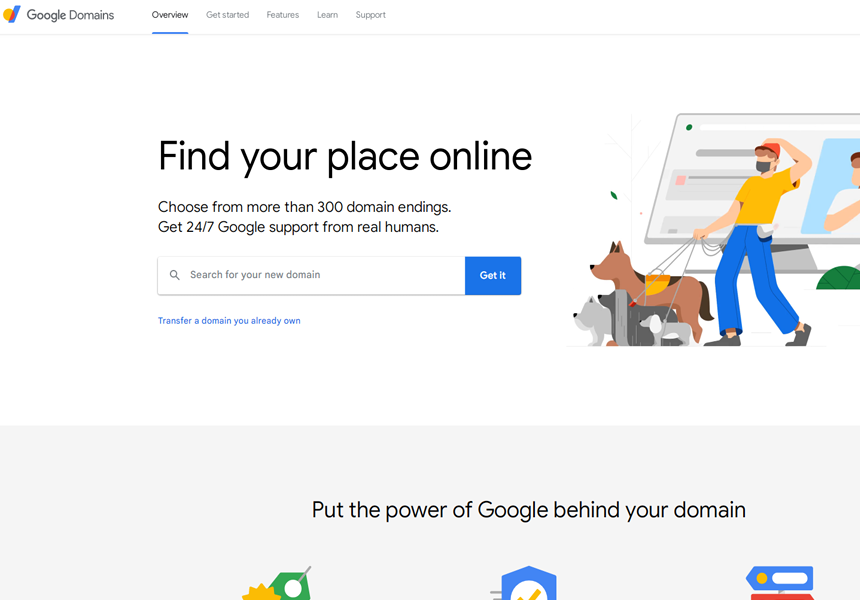 Google Domains is pretty recent compared to its contender, Namecheap. It was founded and managed by its parent company Google, and although it is still in the beta stage with many other Google's services, it is fully functional. Some people shy away from Google Domains because Google has a history of discontinuing its services after some years. If this is your biggest fear as well, consider Google domains for the short term. Google Domains does not offer anything beyond domain registration and management, but it is doing well, especially in comparison with older companies. Here is why you should use Google domains:
Easy to setup and use: Google domains remains a top choice for many users because it has a clean interface that is easy to understand. Unlike other domain registrars, the platform is not cluttered, and since it is well-designed, there are less chances of users having any issues.
Allows sharing of domain administration: You can share your domain's details with your team for easy management.
Secure: Google Domains offers free privacy protection and 2-step authentication for protecting your domain from all external threats.
The Comparison Aspects
Here is a comparison of the most prominent aspects of Namecheap and Google. The different viewpoints should help you choose the one that suits your needs.
Domain migration
According to a beginner's guide by Hostinger, domain migration is moving a website from one domain to another together with its content and resources. Certain things must be considered during the migration to ensure the website's performance in search is not jeopardized. Your domain registrar should offer options for transferring your old domains and managing them alongside your newly bought domain names. Namecheap and Google domains both offer domain migration.
Namecheap
Domain migration from another place to Namecheap is super-easy, plus it comes with a ton of benefits. Namecheap will help you with the domain migration process at zero costs. You will only pay for your annual renewal price. As if that's enough, Namecheap guarantees zero downtime and a free lifetime WhoisGuard privacy protection, so your website continues to run smoothly without any interruptions. The waiting time is relatively short: it can be as short as 30 minutes or as long as six days.
Google Domains
Like Namecheap, Google domains domain migration is hassle-free. The only difference is you have to pay for registration for an extra year upfront. On the bright side, the process is such a breeze, and you get support that is available 24/7. All you have to do is get an authorization code from your former domain registrar to enter in the Google domains then wait for approval. Compare to Namecheap, you would have to wait a little longer for the migration process to end. It can take from five to seven days.
Conclusion
The clear winner in this category is Namecheap. Its domain migration services are faster and cheaper compared to its rival Google Domains.
Integrations
Integration tools are a crucial consideration when choosing a domain registrar. A domain that is not attached to a successful website is worthless unless you are in the business of reselling domains. An easy access to integration tools allows you to connect your domain with important business-oriented services.
Namecheap
ONE OF Namecheap's best attributes is that it is a fully scalable website building solution. It offers a full package of tools for creating a whole professional online presence. It offers the best hosting services and points your domain to Namecheap's DNS servers. In addition, you get one-click installs for popular website builders.
Other fantastic offers are a professional email registrar for all of your email marketing needs and an incredibly fast CDN for boosting your SEO efforts.
Google Domains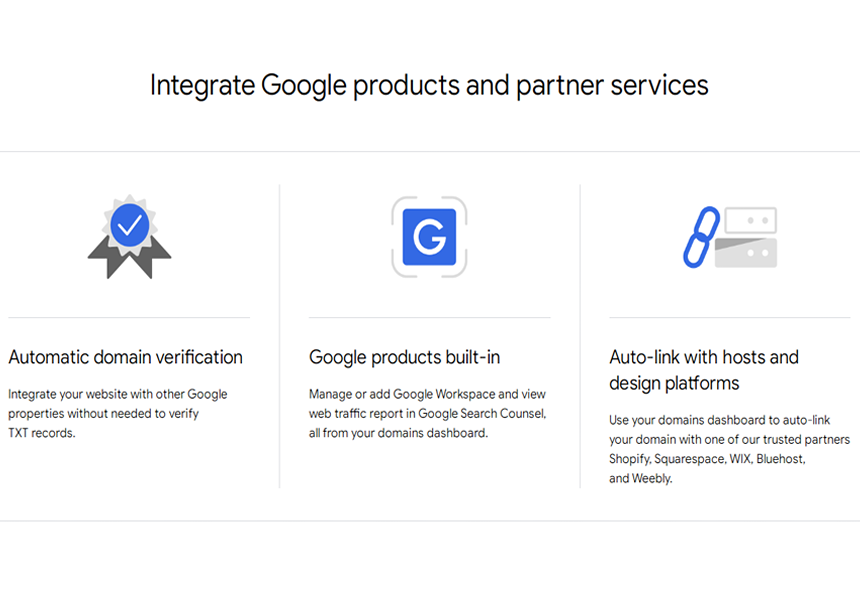 Google domains offers various useful integrations with other Google services and trusted partners. You will get automatic domain verification when you sign up for services like Google app engine, Google search console, and Cloud run. You can also easily access Google workspace if you need professional email services and collaboration tools. Furthermore, you can attach your domain to a blog, eCommerce website, or landing page by connecting with Google's partners like Wix, Shopify, WordPress or Squarespace.
Conclusion
In this category there is no winner. Both Google domains and Namecheap offer integration with top-quality tools that can help you manage your website easily and drive high traffic to it.
Security
According to a journal article on network security by Science Direct, domain security is critical because domains play a crucial role in establishing and maintaining brands online. That said, you have to ensure you only use a domain registrar that is fundamentally secure and constantly upgrades their systems to protect your domain from external threats.
Namecheap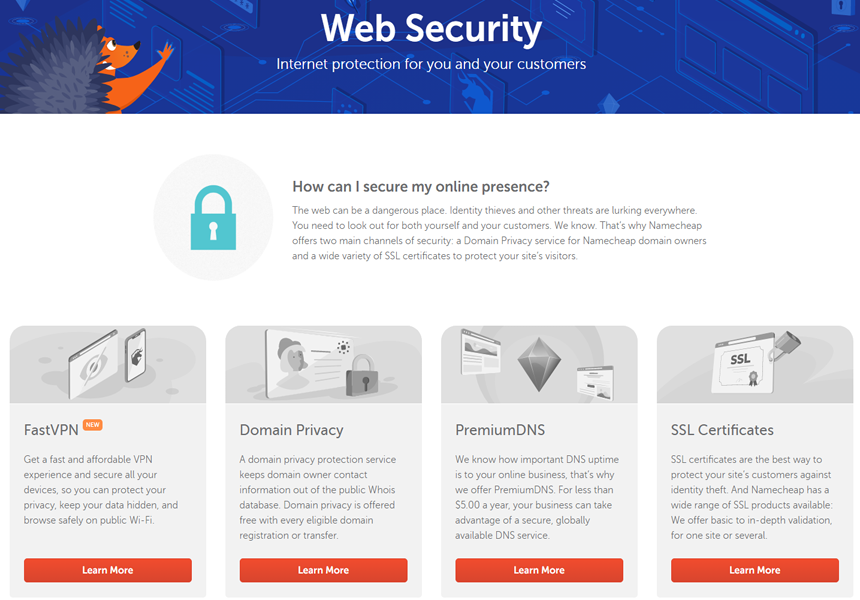 Namecheap has two primary channels of security to protect you and your customers from external threats like identity thieves and cyber attacks. The first important security channel is SSL certificates which instill trust in your website visitors, guaranteeing them that their identity is safe when using your website. The second security channel is WhoisGuard privacy protection. The service ensures that your contact information is safe and private from spammers.
Google Domains
The best thing about Google domains is that you can rely on Google's vast infrastructure, like the free Cloud DNS support that could help you meet your site's traffic demands. In terms of safety, Google domains has RDAP and Whois for free privacy protection. Also included in the safety package are useful options for protecting your domain from DNS threats like spoofing and cache poison attacks. The whole security package could be better if Google Domains offered the SSL certificates feature for protecting your customers' identity.
Conclusion
Google Domains offers excellent security services that ensure your information and data is safe. However, since they don't offer SSL certificates, Namecheap takes the win.
Ease of use
User experience is a crucial aspect to consider when choosing a domain registrar. Some domain registrars make the whole process of buying and registering a domain look like rocket science when it is supposed to be the simplest part of the website building process.
Namecheap
Since Namecheap offers a wide range of services besides domain registration like logo making, professional email registration and hosting, navigating it can be a bit confusing. The interface is simple, but it can feel cluttered because of the multiple services. The domains section also has advanced options that can make registration and management a bit daunting, especially for novices. The platform's design needs a little getting used to. Funny enough, after buying the domain, the account panel is pleasantly uncluttered and intuitive.
Google Domains
Google never disappoints when it comes to ease of use. Virtually all Google tools have unmatched consistency and seamless synchronization. Google Domains is no exception, plus, it offers no additional services that may cause confusion. Google Domains has a smooth user experience as all it requires of you are a few clicks to reach your final destination.
Conclusion
Both domain registrars offer an effortless user experience, but Google domains is less cluttered and simpler than Namecheap. Google Domains wins in this category.
Pricing
Fact: Domain prices are influenced by the popularity and desirability of the name you want. Many people assume that domain prices are determined by the service where they make the purchase. The difference in pricing among domain registrars comes about with renewal prices.
Namecheap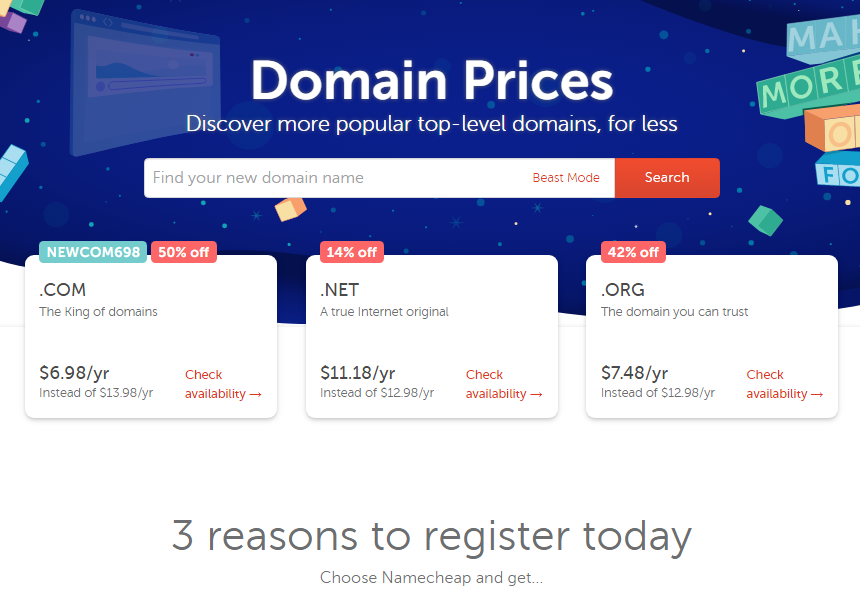 Namecheap has a domain renewal fee of $8 per year whether you buy a domain from them or migrate to the platform. Registering a name that has no value is more affordable ad you can get one for $10. You would have to dig deeper into your pockets for a popular domain name. Some like cookies.com can go upwards of $10,000. The best thing about Namecheap is that they offer a free domain name in the first year if you use their hosting service.
Google Domains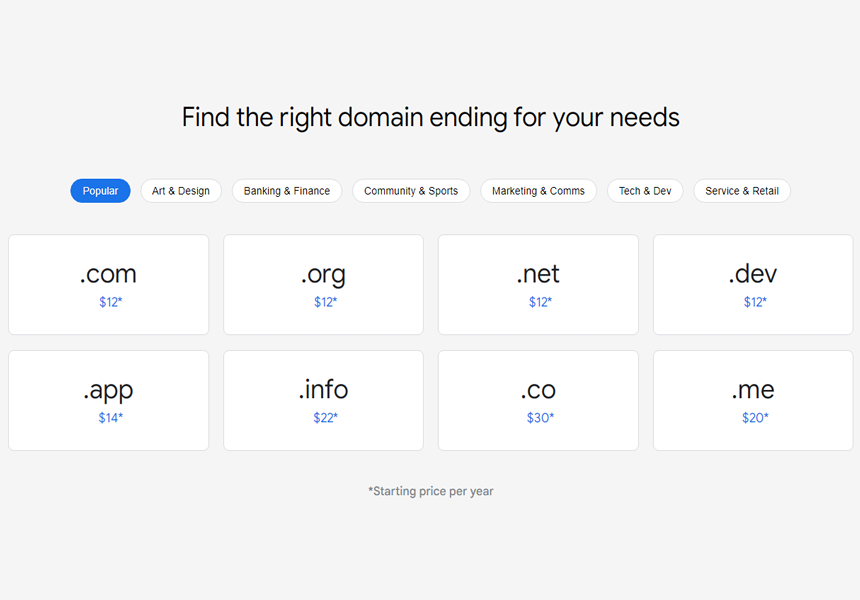 Google domains charge $12 per year and upward for renewal. This is a bit pricier than Namecheap, plus, they don't offer premium domains. You would have to search for a domain elsewhere if you want something popular.
Conclusion
Namecheap wins as the registrar lives up to its name with affordable renewal prices. Moreover, it offers better scalability when it comes to domain management than Google Domains.
Customer support
A highly skilled customer support team can come in handy when you encounter problems with your domain name. In the domain trade, problems are inevitable, you never know when they will show up.
Namecheap
Namecheap prioritizes excellent customer care. You can talk to a real person and get prompt assistance through live chat. Alternatively, you can submit a ticket with a description of all the issues you are facing and you will get fast response.
In addition, Namecheap has a wide selection of how-to videos, knowledge base, and guru guides that you can check out and learn how to fix some issues.
Google Domains
The likeliness of encountering issues with Google Domains is minimal because Google does not play when it comes to getting thing right. Moreover, Google Domains only offers domain management services, which reduces the risk of anything going wrong. Nonetheless, the platform has a full-time support system that you can reach via email, live chat or phone calls. You can also check the useful articles at the help center to learn how to solve a few issues.
Conclusion
This is another tie for the rivals. Both domain registrars offer exceptional customer support with reliable teams that ensure short response time.
Extra features
Additional features are the easiest way to attract more customers. Namecheap and Google Domain have incredible extra features that are highly beneficial. You will realize how useful some of the features are much later.
Namecheap
Namecheap is like the king of extra features in the domain industry. Some of the amazing extra features on the platform include: marketplace, bulk domain name search, and Whois Lookup. The marketplace feature allows you to buy and sell domains. Essentially, you can browse to discover the coolest domains as well as offer your own to make an extra buck.
The bulk domain name search allows you to browse and discover the right domain name for you. You can enter as many as 5000 keywords to get a suitable domain name within your budget. The Whois Lookup feature will show you the person or entity that owns and manages a particular domain name. You will be able to see their contact information, including name, address and phone number.
Google Domains
Google Domains also offers extra features, though not as many as Namecheap. The most useful extra features on the platform are the domain name credibility suggestion and searching tips. You can choose from up to 300 domain endings and the platform will tell you which one suits your brand the most. Another amazing feature is the option for sharing your domain access with your team as it makes management easier.
Conclusion
The obvious winner in this category in Namecheap. It offers more useful, high-value extra features than Google Domains.
FAQ
Is GoDaddy any good in comparison to Namecheap and Google Domains?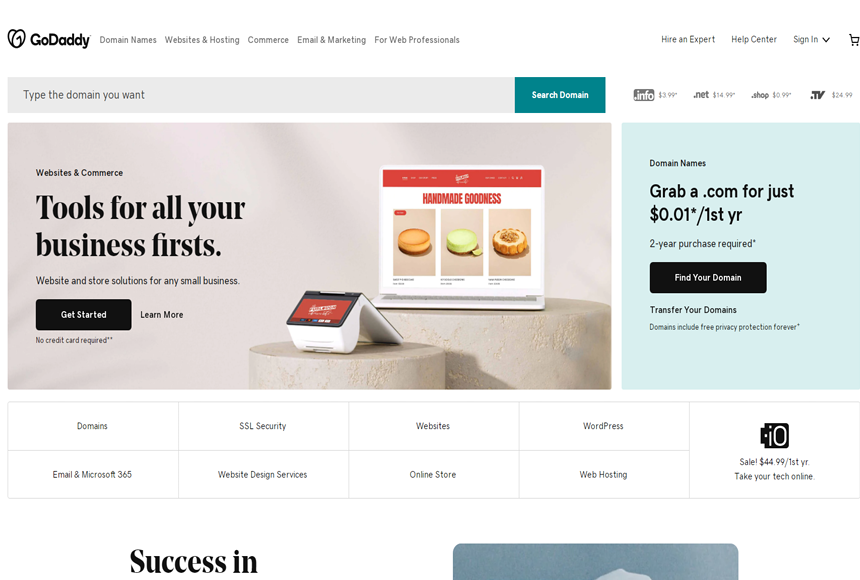 Regarding the Google Domains vs. GoDaddy vs. Namecheap comparison, GoDaddy is only an attractive option because of its relatively cheap discounted price for the first year. In the second year, the renewal price shoots higher than Namecheap and Google Domains. Therefore, GoDaddy is only a viable option if you are only looking for short-term ownership. If pricing is your main concern, you better go with Namecheap as they also have incredible discounts in the first year and the second the renewal pricing is cheaper than GoDaddy's. For a simple, more elegant and sublime user experience, Google domains is a better option than the cluttered GoDaddy. GoDaddy's domain registration process is cluttered and confusing.
Can you fully buy a domain name forever?
It is not possible to buy a domain name forever. You can only lease and renew it as per the domain registrar's requirements. The standard minimum registration period is one year and if you wish to continue using it, you can pay the renewal fees before the lease expires. You can opt for a long-term lease that goes for up to 10 names. Some domain registrars promise lifetime registration, which is impossible because ICANN (Internet Corporation for Assigned Names and Numbers) only allows a maximum time of 10 years.
Final Thoughts
Namecheap and Google Domains stack up well as the best domain registrars in the market. They are both popular for different reasons. That said, choosing either should entirely depend on your needs. In our Namecheap vs. Google Domains comparison guide, Namecheap is a better option if pricing, domain migration, extra features, and security are your primary concerns. If a sublime user experience is your main concern, Google Domains should be your prime pick.
As for integration and customer support, both registrars shine. Namecheap takes the crown with 4 points and is a top recommendation if you need other services besides domain registration and management. On the other hand, Google Domains is the ultimate option if you hate to deal with clutter and need a seamless registration process.
References
https://www.hostinger.com/tutorials/what-is-a-domain-name
https://www.sciencedirect.com/science/article/abs/pii/S1353485819301321