March 5, 2023
Posted by:

Anna Rosenkranz

Category:

Blog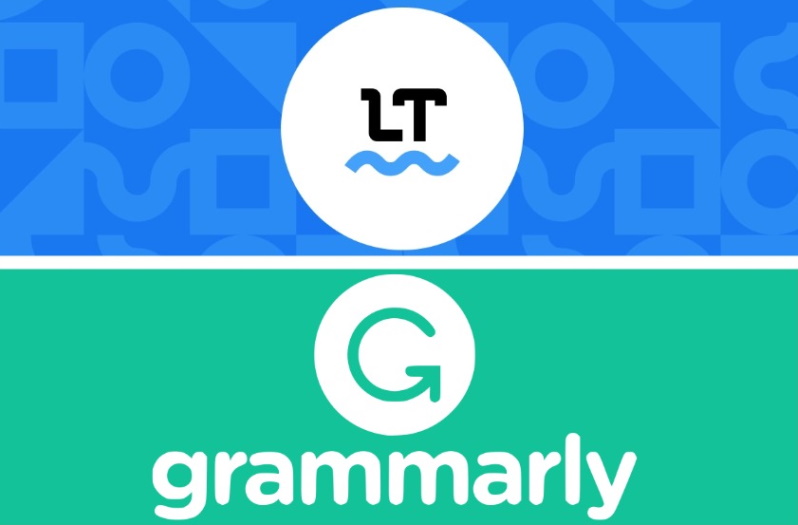 LanguageTool vs. Grammarly: Which Is Worth It? (Spring 2023)
In-depth LanguageTool and Grammarly comparison with their key features, prices and free plans.
A lot of writing is required of us on a daily basis. It could be writing an email, a job application, a thesis or even a presentation. We cannot do without writing.  To improve your work, you need to review it. Yes, there are tips to make your work better without using tools, for example reading it out loud or reviewing it while fresh (say early the next day), but they are not as foolproof as tools.
Technological advancement has made reviewing work ABS easy. At the moment there are various grammar checkers that can save you time and guarantee you perfection at the same time.
Key among the checkers is the LanguageTool and Grammarly. Although these tools are useful, many people often wonder which tool to use since both offer their set of advantages and disadvantages.
In this article, we'll give you a detailed comparison between LanguageTool vs Grammarly to help you make the right decision.
What is LanguageTool?

LanguageTool is an open-source grammar checker offered as a web service, desktop application, and browser extension.
This tool was created by a team of software engineers and language enthusiasts who wanted to make it easy for individual and professional users to proofread, check and correct grammatical or stylistic errors in their work.
The tool also provides synonyms for various words when you double-click them. Additionally, it features a personal dictionary where you may register your own words.
Apart from English, LanguageTool can detect grammatical mistakes in 20 different languages, including German, Russian, Portuguese, Italian, French, Spanish, and Polish.
Pros
It supports many languages
The software has an accurate grammar checker
It's compatible with various document apps and browsers
The tool exists separately as an open-source offering
It can detect incorrect names, numbers and email titles
Cons
The tool is quite expensive, considering the features it offers
It doesn't have a plagiarism checker
low character limit
It's not very accurate
The grammar checker only offers rule-based recommendations
What is Grammarly?

Grammarly is a popular online grammar checker used by students, professionals, and people from various backgrounds.
This tool uses deep learning, machine learning, artificial intelligence and cutting-edge technology to detect grammatical and spelling errors in your work and help you make real-time corrections. Additionally, it can help you fix the tone and structure of your sentences. All you need to do is accept the suggestions with a single click. If you're not sure about the suggestion, read through the detailed explanation in the recommendation. Sometimes, Grammarly gives the wrong suggestions. In such instances, delete the suggestion and proceed to correct the rest of the test.
Just like the LanguageTool, Grammarly has a personal dictionary and synonym suggestion features. If you have the premium plan, you can check for plagiarism. The tool also integrates with several apps, including Gmail, LinkedIn, LinkedIn, Twitter, Google Docs and Facebook.
Pros
The software can detect plagiarism
It is compatible with various apps and devices
This tool offers weekly writing reports
It automatically saves your work
Quite comprehensive and accurate when it comes to detecting mistakes
Easy to use
Cons
It doesn't support other languages
The premium plans are quite expensive
You need to upgrade to the premium version to use the plagiarism checker
It focuses on suggesting rule-based recommendations
The tool does not offer direct API access
Key LanguageTool Features
LanguageTool comes with several features, as discussed below.
Grammar and spelling check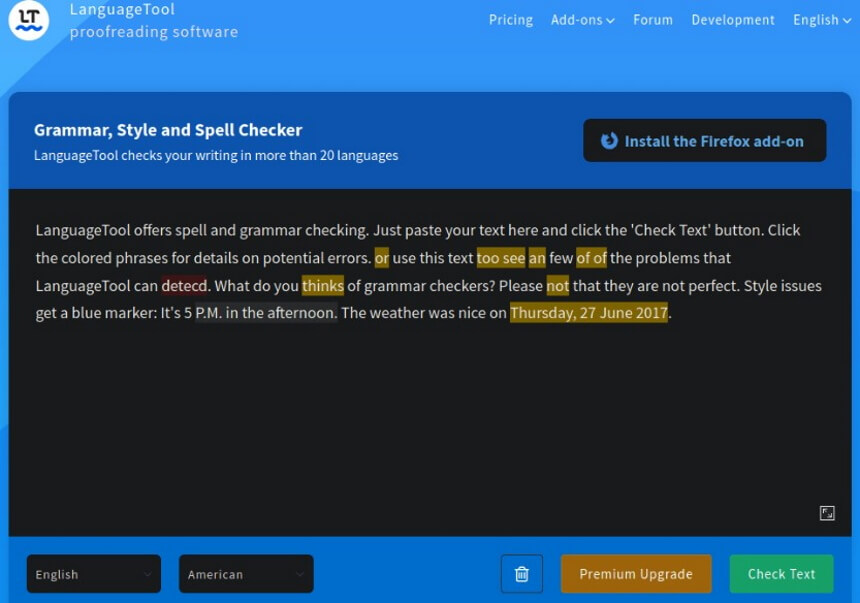 Grammar and spell checkers are two of LanguageTool's fundamental features. It quickly identifies problems with your writing, such as punctuation, spelling, style, and grammar errors. Additionally, the tool can identify omitted writing faults like hyphenation.
Although the LanguageTool is better than most language checkers, it does not identify some mistakes. For instance, the tool does not detect passive voice.
English variations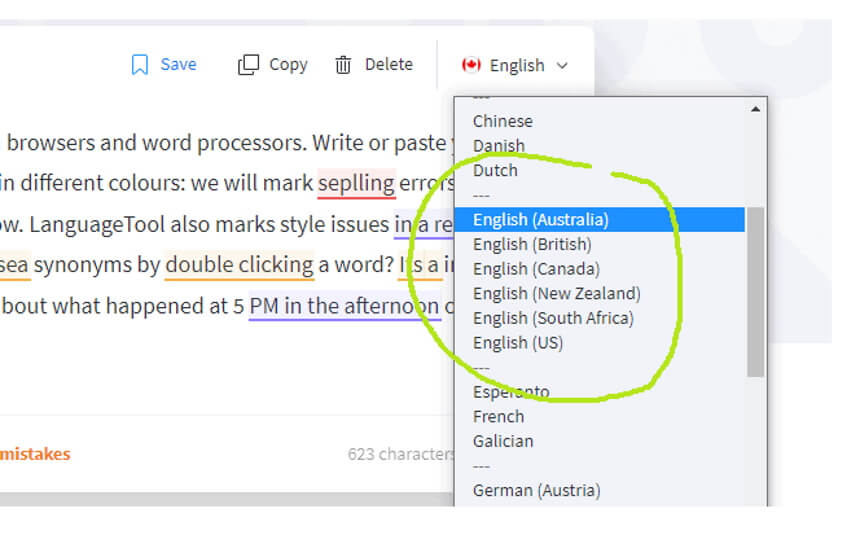 LanguageTool adheres to fundamental grammatical rules and detects English language variances through artificial intelligence technology.  This feature fosters excellent communication between the reader and writer because it can tell you the proper spelling for British or American English. If you're an author writing for different audiences, this feature is helpful.
Personal dictionary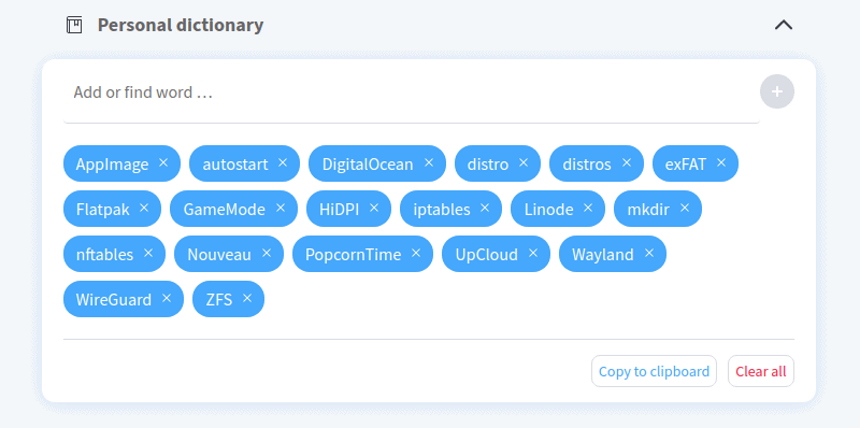 One feature that makes LanguageTool stand out among other language checkers is the customizable dictionary. The dictionary allows you to add invented words and names. Therefore, the next time you use these words in your text, LanguageTool will not mark them as misspellings.
Multiple language choices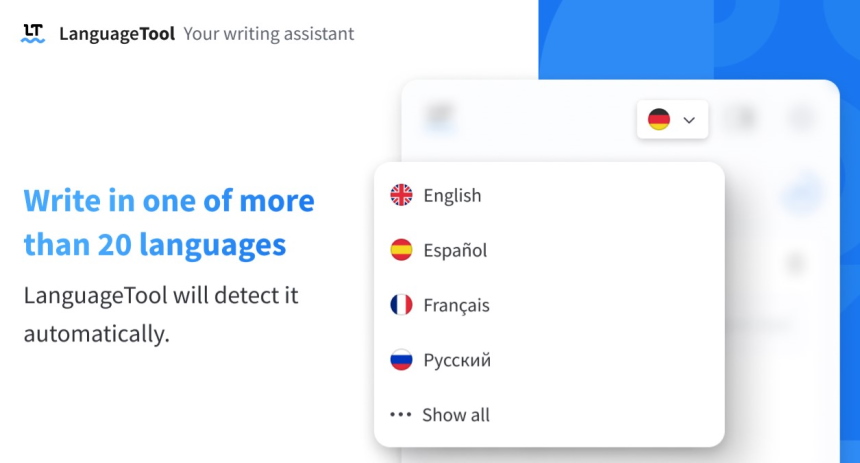 LanguageTool can detect grammar mistakes in other languages, including German, Russian, Portuguese, Italian, French, Spanish, and Polish. This feature makes the tool unique since most grammar checkers don't detect mistakes in other languages. What's more impressive is that you can set the software to autodetect other languages.
Platform versatility
LanguageTool is a flexible tool since you can use it on several platforms like Chrome, Docs, Firefox, LibreOffice, Firefox and Word. To use the tool to proofread work on these platforms, install plugins and add-ons such as Android and CheckMate. However, you should be extra careful when using the plugins since the tool itself does not offer plugins.
LanguageTool Desktop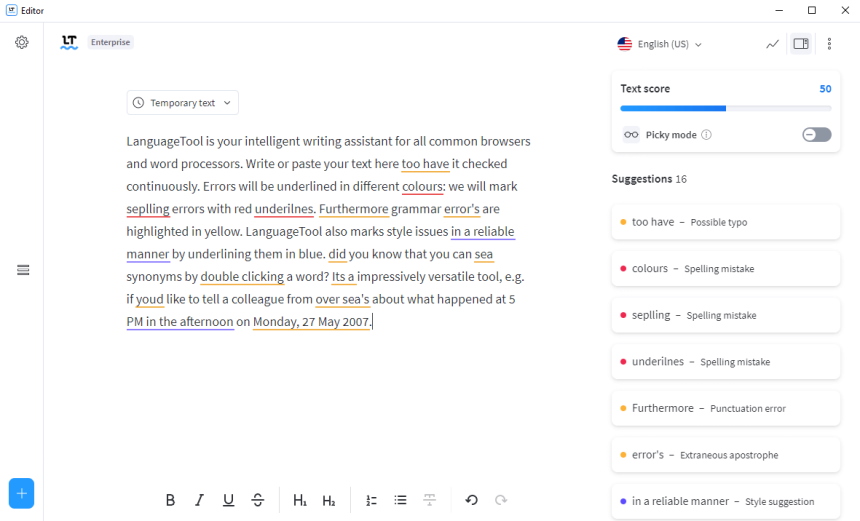 Offline users can use LanguageTool's desktop version. However, you need Java 8 or later, which only works if you install extra data. Otherwise, it will work just like the online version. After downloading the zip file, unzip it, then double-click the languagetool.jar file to launch the program.
Keyboard Shortcuts
The LanguageTool keyboard shortcut comes in handy when you want to proofread your writing quickly.
Forum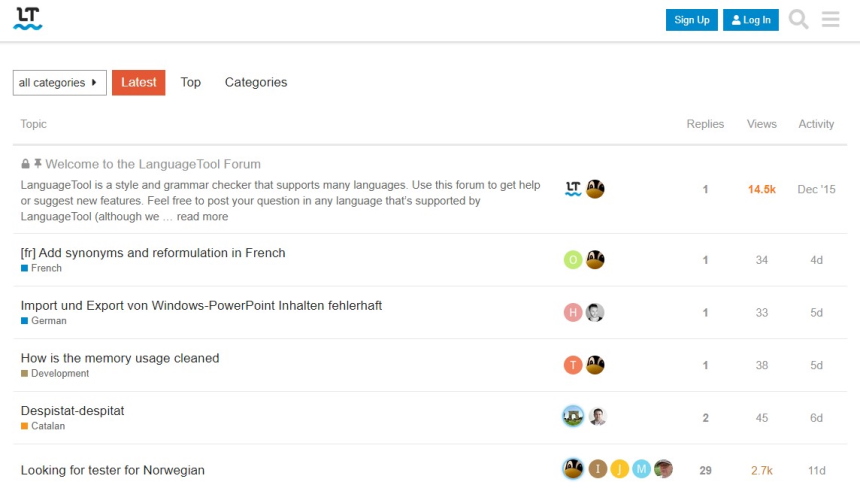 If you encounter issues when using LanguageTool, don't worry too much because the platform has a forum that acts like customer service. No matter the question, you will find the answers you desire on the forum. To find what you're searching for, click by the thread or search using keywords.
Key Grammarly Features
Grammarly has several features that make it unique. Some of the features are discussed below.
Goal setting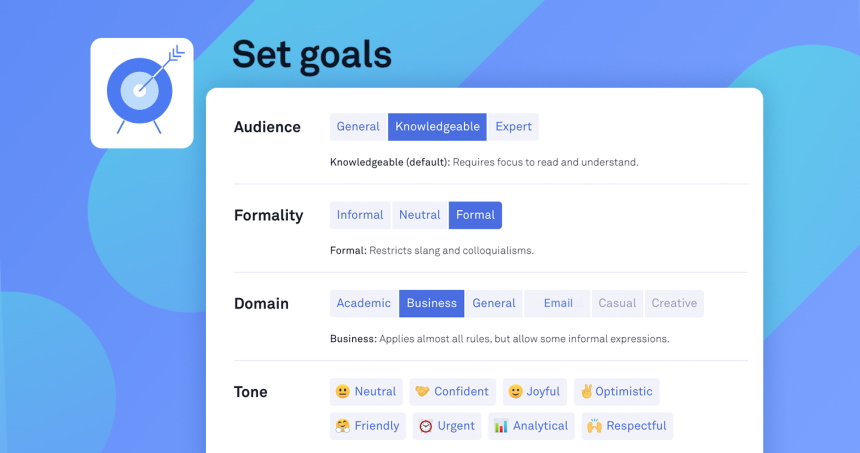 Goal setting makes Grammarly unique among other grammar checkers. Through its goal-setting function, Grammarly provides writing style tests for many genres.
Set your writing goal, audience, emotion, and domain so that the recommendations will be pertinent to these demands. Goal-setting also allows Grammarly to do more precise grammatical checks according to the specifications of each writing task.
Plagiarism checker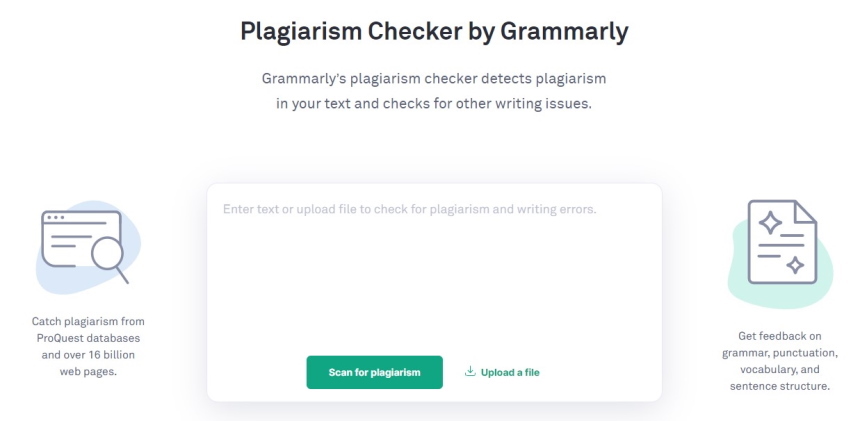 Grammarly comes with a plagiarism checker which checks your work against several websites for duplicate content or other forms of unoriginal content. If the tool detects plagiarism, it will cite the source. This helps to reduce the cases of accidental plagiarism.
Plagiarism can land you in trouble. If you're a student, you may get a lower grade, fail the course or get expelled at worst. On the other hand, if you upload plagiarized content on your website, your SEO score may drop. Customers may also stop trusting your website. However, you need to upgrade to the premium version to enjoy this feature.
Grammar and spelling check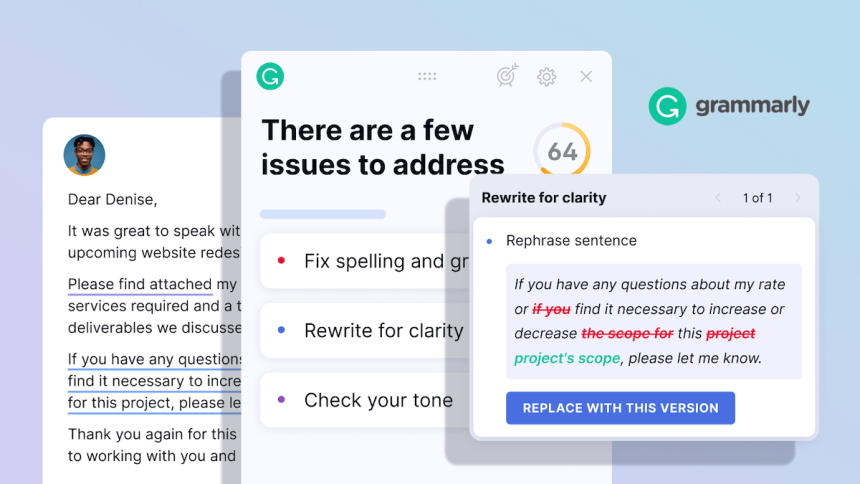 Most students and freelance writers prefer using Grammarly to check for grammar and spelling mistakes due to its advanced suggestions feature. Apart from correcting spelling and grammar mistakes, the software also corrects complex language mistakes like passive voice, punctuation errors and wordy phrases.
Another feature that makes Grammarly unique is that it recommends sentence rewrites while emphasizing clarity. It compresses your sentences to improve readability without losing their original meaning. Grammarly Premium offers suggestions for courteousness, confident writing, and sentence variety.
To improve the quality of your work, accept Grammarly's recommendations until the performance score in the upper right corner reaches 100.
Language Varieties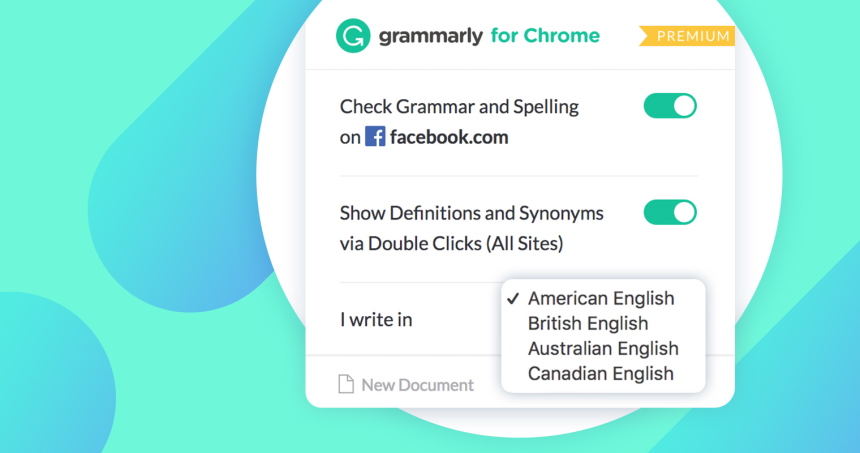 Unfortunately, Grammarly does not detect grammatical or spelling mistakes in other languages. However, the software uses AI technology to test English language variances. For instance, it supports English variances like American and British English.
Upload Documents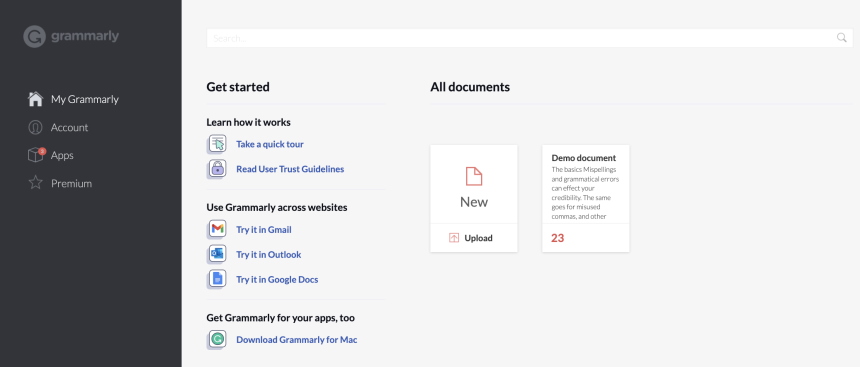 Unlike most grammar checkers that only use the copy-and-paste method, Grammarly allows you to upload the document you wish to correct directly from the dashboard. After that, you can edit the text in the Grammarly editor.
Customized Dictionary

When using Grammarly, you can add your own words to Grammarly's dictionary. By doing this, Grammarly will not mark the words as misspelt the next time you check a document for mistakes.
Security
When using Grammarly, you don't have to worry about security. The platform uses secure systems and industry-standard data protection to protect your work. It also uses third-party verification to tighten security further.
Additionally, Grammarly uses Amazon Web Service (AWS) to host the virtual private cloud. This means that the cloud is protected by Web Application Firewall, AES-256 and TLS encryption. Therefore, you don't have to worry about unauthorized parties using your data for marketing.
If you use Grammarly for business, you have access to cutting-edge security features like two-step authentication, Team Administration, and SAML single sign-on. Additionally, the tool allows you to access the special security team, internal training, and monitoring.
Platform Compatibility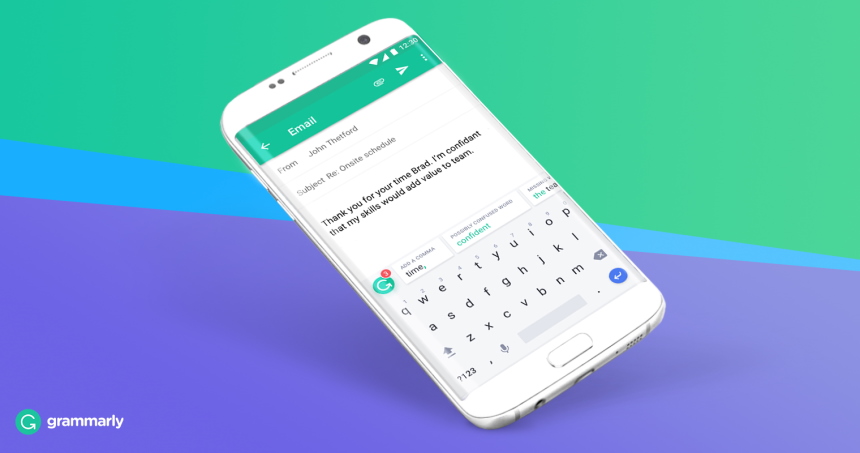 You can use Grammarly on various web browsers, including Chrome and Firefox. The software can be compatible with Microsoft Word and Google Docs if you use an extension.
One of the best things about this grammar checker is that it has a mobile app that can work on Android and IOS devices. The app is quite different from the website. Unlike the website version, it serves as a Grammarly keyboard that double-checks your spelling and grammar. The app is ideal for people who usually send emails from their phones.
Expert Writing Service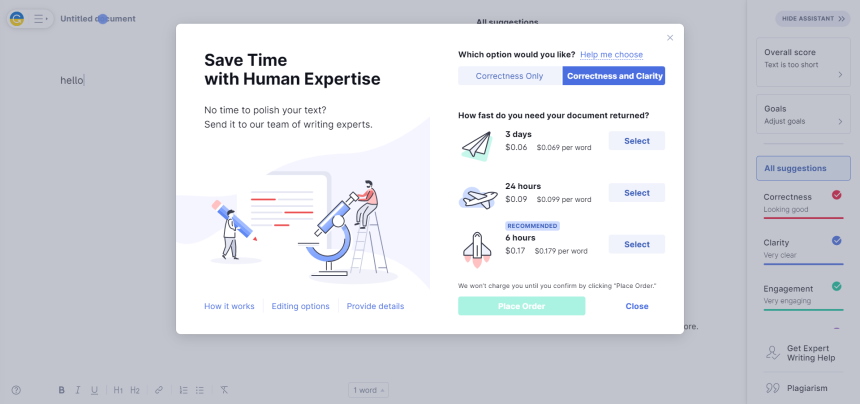 After writing and reviewing a text, you may need an extra eye to double-check your work and ensure everything is perfect. That's where the Grammarly expert writing service comes in. This feature allows you to access Grammarly's team of writing professionals who review and fix any issues in your work. If you want to enjoy this feature, upgrade to the premium version.
Report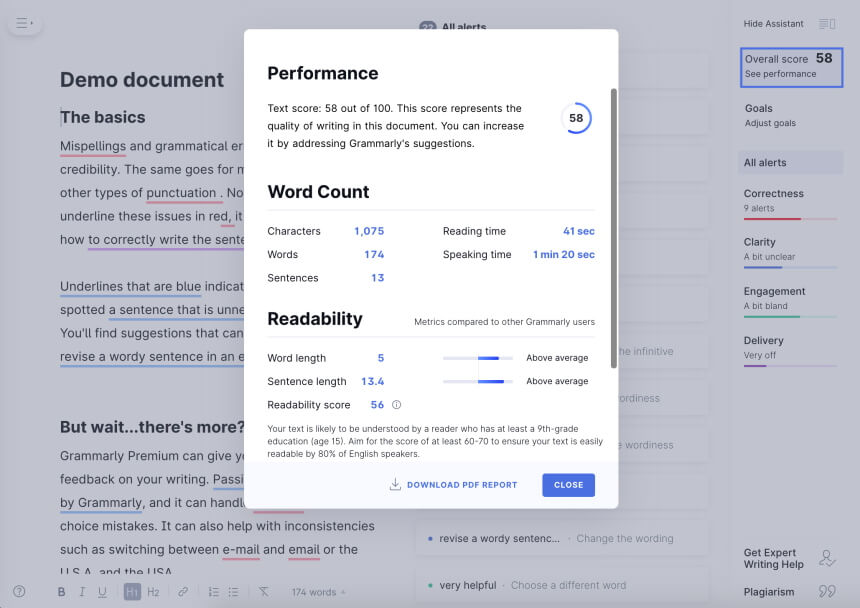 When reviewing your work, Grammarly also analyzes your performance. First, the tool shows you the overall text score out of 100. Next, it generates a vocabulary word count and readability report.
The readability index measures word and sentence length and computes a readability score, while the word count section shows how many characters, words, and sentences are in your text. Finally, the vocabulary section displays the number of uncommon and unique words in your work.
Customer Support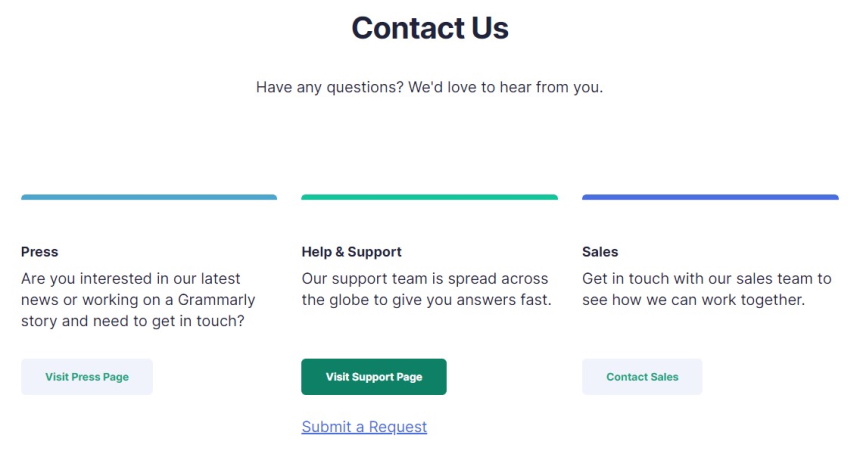 Grammarly offers reliable customer service. If you experience any issues, you can contact them at any time through tickets, Live chats and emails, and they will respond within a short time.
LanguageTool Pricing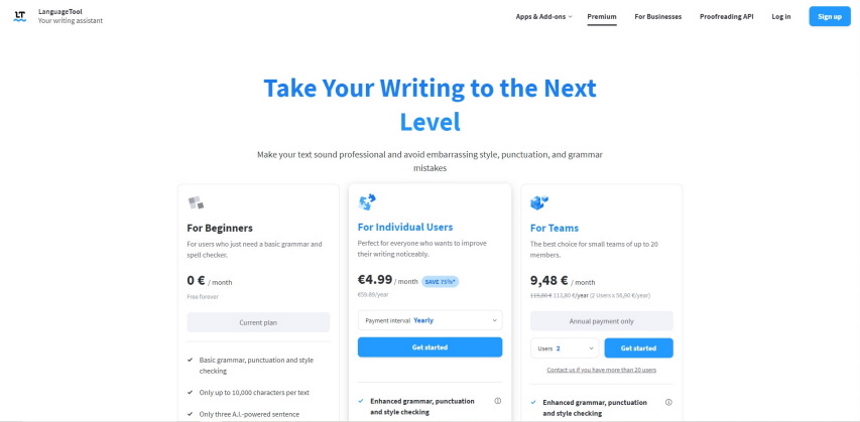 LanguageTool is a free grammar checker. With the free version, you can check up to 20,000 characters. If you want to check more characters, you need to upgrade to the premium version, which allows you to check up to 40,000 characters at once.
The premium LanguageTool has three payment plans. For the monthly subscription, you'll have to pay $5.01. If you want to pay quarterly, you'll pay $9.50. Finally, the annual subscription costs about $14.93.
Grammarly Pricing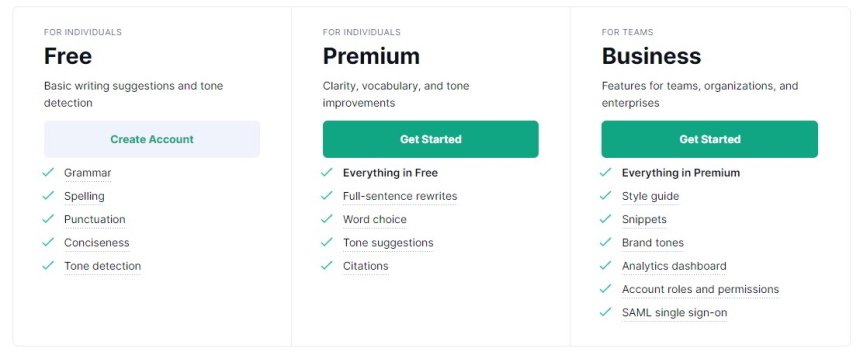 Just like LanguageTool, Grammarly is a free grammar checker. Nevertheless, the free version is quite limited. If you want to access extra features, upgrade to the premium version.
The premium version allows you to check your text against plagiarism. Moreover, it allows you to use the writing feature.
Grammarly's monthly subscription costs $29.95. The quarterly subscription costs $60, while the yearly subscription costs $135.99.
When using the Grammarly business plan, you'll pay according to the number of users, as seen below.
3-9 users: $180 per user annually or $15 per month
10-49 users: $174 per user yearly or $14.50 per month
50-149 users: $150 per user annually or $$12.50 per month
Free Versions Comparison
Both Grammarly and LanguageTool come with free versions allowing you to check texts at no cost. In this section, we'll compare the LanguageTool vs Grammarly free versions.
Character limit
The LanguageTool free version only allows you to check up to 20,000 characters. Conversely, the Grammarly free version does not limit the number of words or characters you check. Therefore, Grammarly can be the best tool if you're a novelist or long-form content writer.
Suggestions
Both Grammarly and LanguageTool free versions offer similar spelling and grammar suggestions. With Grammarly's free version, you can enhance your grammar, spelling, and punctuation, but it won't guarantee accuracy. Additionally, it doesn't offer vocabulary improvements or clarity-focused rewrites.
The LanguageTool Free version only provides simple grammar and style suggestions. This means your text won't appear more professional or readable.
Multilingual feature
LanguageTool's free version offers basic grammar checks for several languages, including French, Italian, and German. To receive additional 5,000 checks, upgrade to the premium edition.
Grammar checks in languages other than English are not available on the Grammarly Free version. Even if you have a paid subscription, the grammar checker won't proofread anything written in a different language.
FAQs
The following are the frequently asked questions.
What are the similarities between Quillbot and Grammarly?
Quillbot and Grammarly are software that use machine learning and artificial intelligence to facilitate the self-editing process. These tools can identify grammatical errors and unclear text and give you suggestions on how to correct them, improving the quality of your output. Moreover, both tools are free. If you want to access advanced features, upgrade to the premium versions.
How is Grammarly Compared to Turnitin?
Grammarly is a comprehensive writing tool that checks your text for spelling, grammatical, and punctuation errors and gives better suggestions. The tool's premium version can check your text against plagiarism. On the other hand, Turnitin primarily focuses on detecting plagiarism. Although both tools can check your text against plagiarism, Turnitin is a far better plagiarism detector. Nevertheless, the tool you choose depends on your needs. Turnitin is ideal if you only require a plagiarism checker for academic purposes. If you want to check your text for grammatical, spelling, tone, writing style and plagiarism, use Grammarly.
Is ProWritingAid Better than Grammarly?
ProWritingAid is an excellent tool for detecting sentence structure and grammatical and spelling errors in a text. Nevertheless, the software is much slower when it comes to preparing reports compared to Grammarly.
Final Thoughts
All students, authors, business owners and freelance writers need an easy-to-use grammar checker to create error-free content.
Both Grammarly and LanguageTool writing assistants can help you produce error-free content. Nevertheless, both they have their pros and cons. If you're looking for a comprehensive and accurate grammar checker, consider using Grammarly. The software also helps to detect plagiarism in your content. On the other hand, LanguageTool checks grammar mistakes in several languages and is quite affordable. Therefore, the tool you choose depends on your needs and budget.
If you carefully read our LanguageTool vs Grammarly article, you'll be able to make an informed decision at the end.