March 10, 2023
Posted by:

Anna Rosenkranz

Category:

Blog
How to Embed Youtube Video in WordPress Post Easily
3 different ways and plugins to embed a YouTube Video in WordPress post with reasons to do so.
Embedding a YouTube video on a WordPress site shouldn't be a hassle, as making a video is already a time-consuming and tiring process. Thanks to a few advancements, you don't need any extra plugins or creativity to do a YouTube video embed.
Adding videos to your WordPress website is a fantastic way of capturing your visitors' attention. You can embed any video, whether you have uploaded it on YouTube first or not. Before we get into how to embed a YouTube video in a WordPress website, let's look at the pros of adding a video to your website.
Why You Should Embed YouTube Videos on Your WordPress
As mentioned earlier, adding videos to your WordPress blog will make your visitors engage with your content longer. Videos can easily spark conversations and engagement about your content. Moreover, many internet users prefer to watch videos to reading written content.
Although you can upload YouTube videos directly to WordPress, it is not recommended, especially if your blog uses a shared WordPress hosting account. According to an article by HubSpot, your videos may take up a lot of the blog's resources, and if they get a lot of traffic, the website is likely to crash.
Furthermore, posting videos directly to your WordPress blog would mean you are missing out on traffic from YouTube users. According to an article by Forbes, YouTube remains the most dominant social media platform currently and is the world's second most popular search engine. If YouTube does not strike your fancy, you can upload your videos to other video platforms like Wistia and Vimeo.
How to Embed a Youtube Video in WordPress Page
Here are different ways of embedding a YouTube video in a WordPress page
Block Editor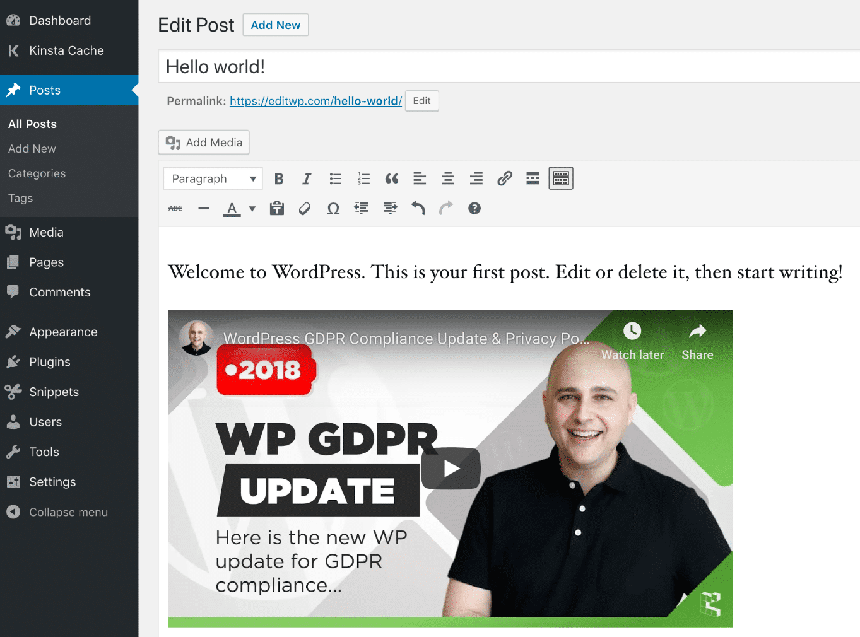 WordPress has the auto-embeds feature, which allows your website to automatically get the embed code of popular videos from various video hosting services like YouTube. All you have to do is copy the video URL and paste it into the WordPress editor. With the content editor open, you can paste the video URL anywhere, and WordPress will fetch the embed code and display the YouTube video where you pasted its link. Save the post by clicking on 'Update' or 'Publish,' and voila! You have the embedded video in your web post.
Old Classic Editor
WordPress maintains that the old classic editor will be fully supported and maintained as long as necessary. Therefore, it is still relevant. If you are using the classic editor, the procedure for embedding videos on your website is similar to that of the block editor.
Copy the video's URL for a video hosting site, then paste it into the classic editor. The visual editor will show you a preview of the video. The only difference is that the WordPress block editor has great options like width adjustment that the classic editor does not offer. Click 'Update' or 'Publish' to make your changes live.
Sidebar Widgets
Besides WordPress posts and pages, you can embed videos in sidebar widgets, and the process is equally easy. All you have to do is go to Appearance in the Admin section and then choose widgets. Click on the plus sign, then search for the video you want in the search bar. Click on the block to choose the type of video you want from the options. It could be YouTube, Vimeo, TED, or any other.
Next, paste the video URL into the box, then click 'Embed.' The video will be added to the widget automatically. Go to 'Visit website' to see the video live.
Plugins
By now, it is quite clear that you don't have to use plugins to add a video to a WordPress website. However, you can use plugins to improve the video viewing experience on your site. Some of the plugins you could use include;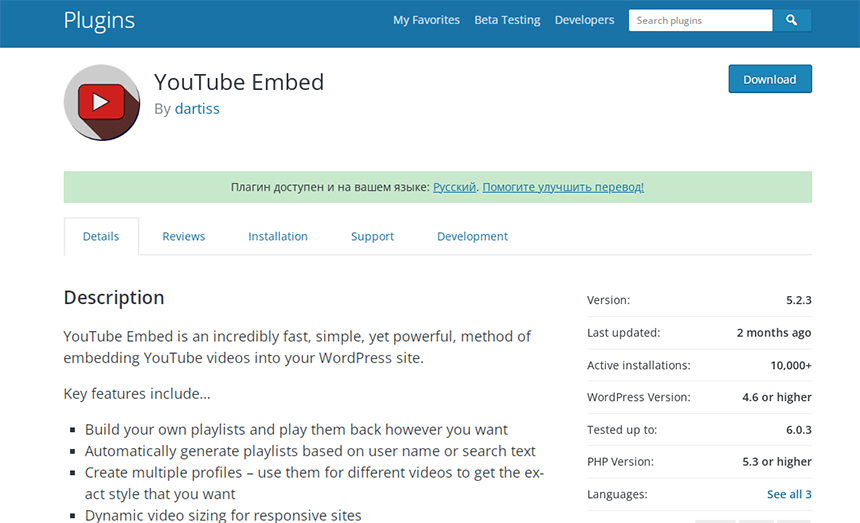 The YouTube Embed plugin has incredible features. You can embed videos through channels and playlists as well as display a video gallery. As if that's enough, the plugin offers Video SEO markup and checks for compatibility with mobile phones.
The Advanced Responsive Video Embedder (ARVE) is a top preference for many website owners because it presents videos without any problems. Besides YouTube, the plugin supports a wide range of video sites including comedy central, TED, and Twitch. The plugin has a free and premium version. You can make the most out of the free version but the premium version has a ton of enjoyable features. For instance, the premium version allows you to lock YouTube's link.
Video pack is another popular plugin for adding videos to a WordPress website. It was formerly known as Video Embed and Thumbnail generator. The plugin will add several fields to all the videos you upload to the WordPress media library and you can create thumbnails from any of your videos. In addition, you can create a popup video gallery and add advertisements to your videos with the video-pack adds premium add-on. Video pack is not compatible with WordPress block editor, so you can use it with the classic editor.
How to Undo Changes on WordPress
There are various ways to undo any unnecessary changes or video embeds. One of the easiest ways to delete an embedded YouTube video is to delete the link wherever it falls on your page. However, for a video that is uploaded on the site, deleting it from the post or page does not delete it from the Media Library. As such you will have to delete it from the media library to completely undo the changes.
Final Thoughts
Over time WordPress has simplified YouTube video embedding on a web page or post. With the content editors, you simply need to copy the video's URL from a video hosting site then paste it in your content. Although it is possible to add videos to your WordPress blog directly, be sure to post it on a video hosting site first. It will not only help you avoid issues on the website but is also an opportunity to make the most out of video sites' traffic.
Learning how to embed a YouTube video in a WordPress post easily is not an option if you have a WordPress site. Many internet users prefer to watch videos more than read written text. Videos can significantly boost your site's traffic and business potential as it would make your audience engage with your content longer.