March 2, 2023
Posted by:

Anna Rosenkranz

Category:

Blog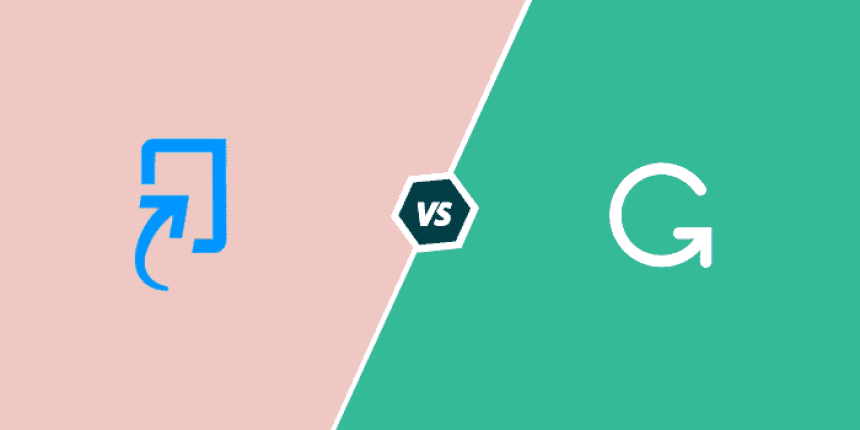 Grammarly vs. Turnitin: Which Is the Best?
Grammarly and Turnitin in-depth head-to-head comparison with conclusion.
The Turnitin vs. Grammarly debacle has been going on for a while among academic students and writers. Both are online tools that make it possible for academics or anyone in the writing profession to publish or submit content that is 100% original. Grammarly is popularly known for spelling and grammar checks, but it can also detect plagiarism. It is suited for all writers looking to polish the readability of their content. Turnitin on the other hand is better suited for those who teach. It has a suite of tools that allows instructors to give students feedback.
The only thing that Turnitin and Grammarly have in common is plagiarism detection. This article compares Turnitin's plagiarism detection software, iThenticate, with Grammarly. Read on to see which tool would give you the most value.
What Is Grammarly?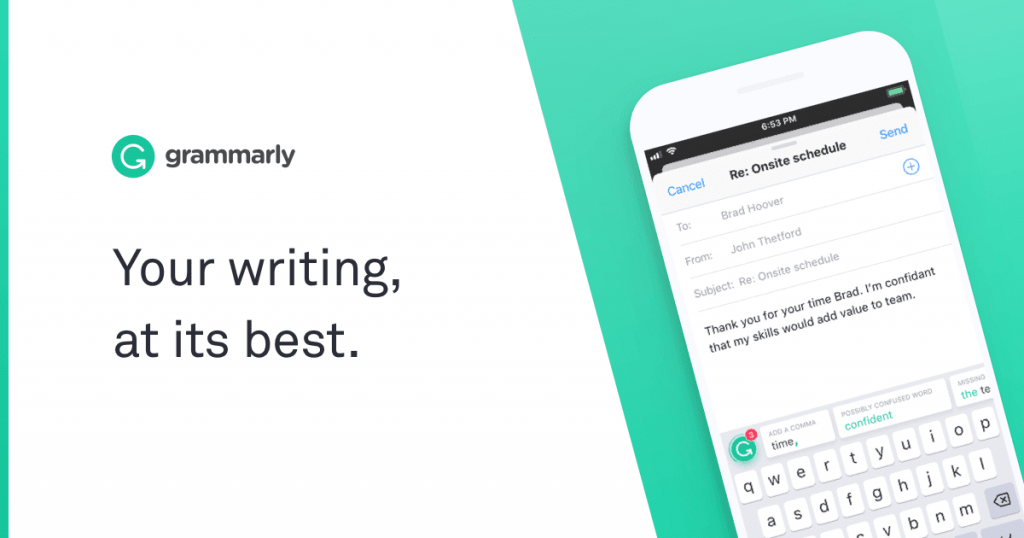 Grammarly is a popular application that is based on 400 rules of grammar and allows users to proofread and check the grammar and spelling errors in their documents. Besides spelling mistakes, the application checks punctuation, unnecessary word input, passive voice, and vocabulary mistakes.
Because of its features, Grammarly is a top preference for many office working people, teachers, and professionals. It has a plagiarism checker and a recently added Add-on feature that is suitable for working with advanced software. Moreover, the AI-powered product is easy to use. It is available in free and paid versions, and as usual, the paid version has more features.
Grammarly is a handy tool for anyone at the beginner level of English. It can help in rectifying mistakes as well as give guidance on how to improve on writing styles.
In a nutshell, Grammarly is the best proofreading tool on the market currently. Moreover, it is the only online proofreading tool that comes close to Turnitin with a reliable plagiarism checker.
What Is Turnitin?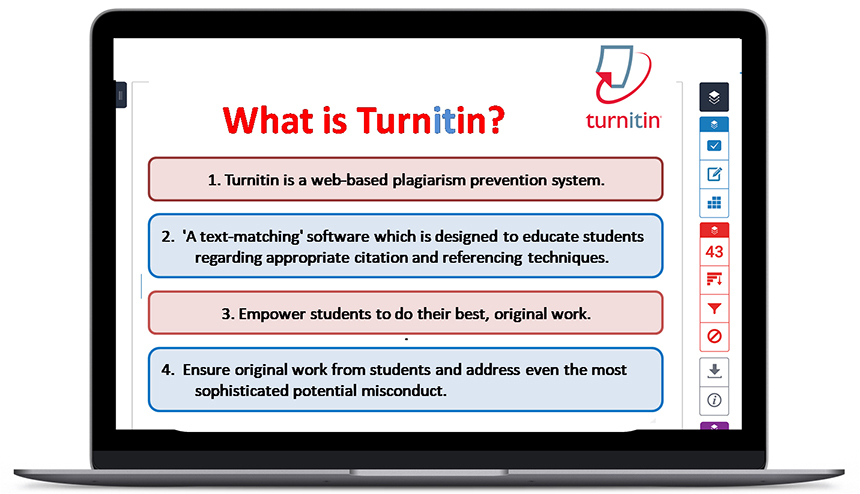 Turnitin is an American internet-based website developed primarily to detect copied content in a document. It was developed back in 1997, and it identifies duplicated sentences in written content and gives alerts with a certain mark on the plagiarized content.
It is ideal for students, teachers, and content writers who work at content marketing agencies or are into blogging and stuff. Besides checking plagiarism, the tool has other features like a reminder via email, which reminds students and other users to complete their assignments.
Another cool thing about Turnitin is that you can submit virtually all types of files in it, including images. Its only downside is that it does not have a free version like Grammarly. All users have to pay to access the application.
Head-to-Head Comparison
Here is a side-by-side comparison that shows the differences between Grammarly and Turnitin. It should help you see the strengths of each tool so you can easily choose one that suits your needs.
User interface
Both tools have an easy-to-use interface. Since Grammarly was initially released in 2009, its user experience and user interface have improved significantly. All its features are easy to navigate and understand.
Turnitin has also worked to improve its user interface to make it more straightforward for users, but it is not as simple and friendly as Grammarly's UI. Grammarly wins when it comes to providing a friendly user interface for its subscribers.
Error correction
This is where Grammarly shines. It shows all types of errors in a text, including grammatical, punctuation, and spelling errors. It helps you refine your text by pointing out all your mistakes that may happen because of normal human error or your lack of skills and knowledge.
Turnitin stacks up against Grammarly when it comes to error correction. Like all the best online proofreading tools, it is exceptional at identifying grammatical, spelling, and punctuation mistakes. If error correction is your primary concern, you won't go wrong with either Grammarly or Turnitin.
Text reader
According to an article by Business Insider, a Text reader is a software program that turns text into speech. It can read word processor files, web pages, emails, and PDF documents out loud. The feature can be handy when you don't feel like reading or are incapable of reading. Unfortunately, neither Grammarly nor Turnitin has a text reader.
Ease of use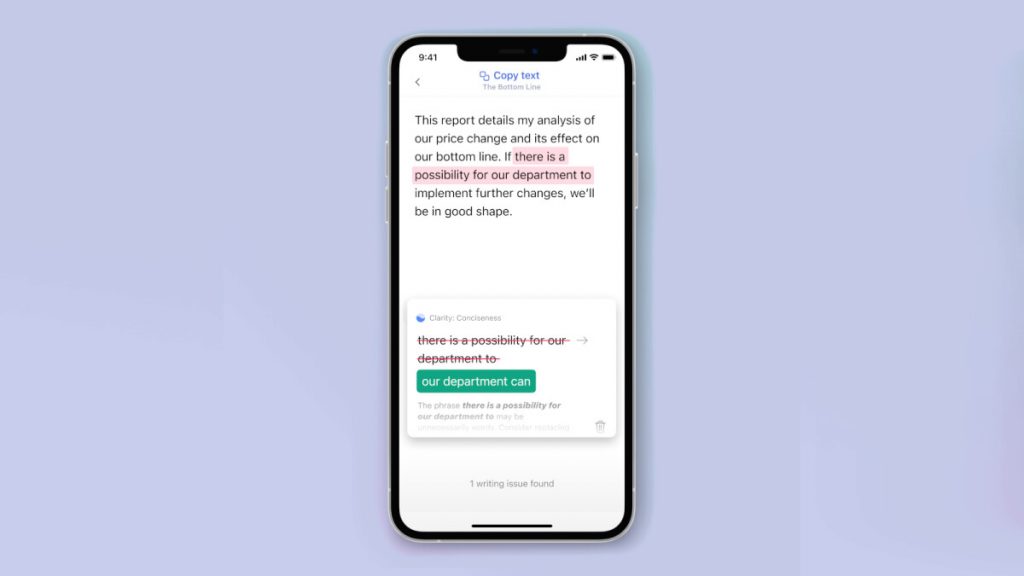 As mentioned earlier, Grammarly is the easiest tool to use on the internet. Its interface is incredibly user-friendly, as it has everything on a single platform. Someone who has never used Grammarly before would easily wrap their head around the application at first glance.
Turnitin does not have all of its features on a single platform the way Grammarly does. It has two sections, iThenticate, and WriteCheck, which are easy to use but more complicated than Grammarly.
Grammarly is the winner when it comes to ease of use.
Translator feature
Content writers and researchers from different parts of the world may need translation for some kind of text. Unfortunately, Grammarly does not have a translator feature as it only supports the English language. However, Grammarly allows you to choose your preferred dialect so that anytime you use its products, it is automatically detected. Dialects in English have subtle variations, especially in the written form. For instance, there are many spelling differences between American and British English, like 'realise' and 'realize.'
On the other hand, Turnitin offers a translator feature. It can check plagiarism for the translated text and is, therefore, a better platform for anyone who is not proficient in the English language than Grammarly. Besides English, the platform currently supports Swedish, Portuguese, French, Danish, Norwegian, German, and Spanish.
Error Explanation
Grammarly will show you the errors in your text and the proper ways to fix them. It does not show the error and move on like most online proofreading tools. With its powerful spelling and grammar checker feature, you will get explanations and suggestions like conciseness, spelling mistakes, grammar errors and punctuation correction from the free version. If you have the premium version, you will enjoy additional tools that will help you improve your writing styles with suggestions about word choice, tone adjustments, fluency, formality level, and clarity-focused re-writes.
Turnitin shows the errors present on a text but its grammar rating is relatively underwhelming. It does not generate a report of spelling and grammatical errors as well as Grammarly does. Unlike Grammarly, Turnitin uses an ETS e-rater to see if users observe grammar rules in their assignments but does not offer an error explanation or help in correcting them. On the bright side, instructors can take advantage of this feature and use it to evaluate students by observing the areas of their work that need fixing and writing the feedback.
Bottom line: Grammarly offers better error explanation than Turnitin.
Tone and context
Both Grammarly and Turnitin show the tone and context of a text. Grammarly will give you a report on your content's tone, whether it is formal or informal and give you proper suggestions for refining it based on the context.
Turnitin also analyzes a text's tone and context before offering suggestions on how to improve it.
Dictionary
Grammarly has an upgraded built-in dictionary that is exciting and easy to use. If you click on a word, you will find its meaning and related synonyms that you could replace it with to improve the readability and quality of your text.
Turnitin does not have a dictionary, making Grammarly the clear winner of this category.
Plagiarism checker
Grammarly has a plagiarism checker which shows how unique your content is. It compares text with over 16 billion sites, private documents and academic papers for ProQuest. However, it detects fewer identical pieces of content on the internet than Turnitin, which has a higher number of sources for potential plagiarism. The only thing that makes Grammarly better than Turnitin is that it allows you to edit your work. Unlike Turnitin, you can upload your document, and if it has any plagiarized content, you can edit it before submitting or publishing it. It underlines the plagiarized paragraph, phrase, or sentence and offers a link to the original source of the content. You can click on the link and add a citation or adjust the text.
The plagiarism checker on Grammarly also gives an originality score that helps you know your work's level of originality. However, be careful not to over rely on the application's originality score. According to an article by Forbesа, the tool displays false positives and flags common phrases as plagiarism sometimes.
Turnitin's main selling point is its text-matching software. It gives a detailed report on the originality of the text you upload on it. The originality report shows all the plagiarized content and produces a rating of the work that is original. Turnitin compares text with over 70 billion sites. It also cross-checks your content against all the previously submitted works. Compared to all other plagiarism tools, it has one of the largest databases. As an instructor, you should turn off citations and quotations so that the plagiarism checker does not flag them as plagiarized content in a student's assignment. Moreover, Turnitin insists that instructors should not 100% rely on the tool because the similarities flagged don't always mean academic dishonesty.
Bottom line: Turnitin has a higher reliability score than Grammarly when it comes to checking and flagging plagiarism. Although Grammarly uses a large set of data in comparing content similarity, Turnitin wins in the Grammarly plagiarism checker vs. Turnitin debate.
Free plan
Grammarly has a free version that can help you catch common mistakes in your text or work before submitting or publishing. It will save you time and give you credibility while ensuring you give the right impression with your writing. With the free version, you can check punctuation, spelling mistakes and grammatical errors in your content. The free version also has a tone detector that helps you adjust your writing to sound how you want it. For instance, if you want to sound friendly, but not overly casual in your mail, or concerned but not angry when asking for help from a colleague, the tone detector will analyze your words, punctuation, and phrasing to ensure you sound like you want.
As if that's enough, Grammarly's free plan offers suggestions about conciseness to help you fix any loose phrasing, ensuring you sound and communicate your ideas like you want to.
Turnitin does not have a free version.
Pricing
Grammarly has a premium version with reliable, practical and helpful features that make it a worthy investment. The features on the premium version help making your writing extra clear to your readers. You will be able to get your delivery right by restructuring lengthy sentences to make them more understandable. You will also get tone adjustment suggestions underlined in purple to help you sound like you want. Furthermore, delivery suggestions will help you sound formal and avoid hedging phrases like 'I think that make you come across as unconfident.
For the Grammarly premium plan, you have to part with $30 for a monthly subscription, $20 for a quarterly subscription, and $12 for an annual subscription per month. If you have a big team at your workplace, you can opt for the business version which is $150 per annum for three members. It has better value for money than paying for everyone in your team separately.
Turnitin only has a paid version and unlike Grammarly, they prefer to sell their services to academic institutions for wide-scale use. They also don't post their prices on the internet, but according to popular user reviews, their prices begin at $7.95 for a single paper plan which allows one paper credit with up to 5000 words and 3 re-submissions. Their semester plan goes $19.95 for three paper credits up to 5000 words and three re-submissions. The graduate plan costs $29.95 for five paper credits up to 5000 words and three re-submissions. For an institution, the prices start at $5000 per annum.
Bottom line: Turnitin is costlier than Grammarly, yet it the latter offers more helpful features. Grammarly wins when it comes to great value for money.
Security
Grammarly guarantees all its users data protection and high-standard infrastructure security. Besides being safe from hackers, the company does not sell any content you save on the application. They use third-party verification for data security, so you would never have to worry about other parties accessing you. Grammarly business users have a different security system that includes SAML single sign-on, a two-step authentication, and team administration.
Turnitin also uses an impressive set of tools to guarantee their users security. It uses a cloud platform that complies with ISO and IEC and keep users' information in safe data centers. You would never have to worry about the plagiarism tool collecting your data for advertising purposes. What's more, you can enhance your internal security by controlling the Turnitin settings on your learning management system.
Final Thoughts
Grammarly and Turnitin are both reliable online proofreading tools that are popularly used for checking errors and plagiarism in texts. Grammarly is a better option than Turnitin because it can check for plagiarism and offers additional features with the option of editing your work. It caters to a more diverse market of users including students, content writers, fiction authors, business writers, ad students. Turnitin is best-suited for academic institutions as its highly-reliable plagiarism checker helps students, instructors and researchers practice academic integrity.
From our Turnitin vs. Grammarly head-to-head comparison, you should be able to choose a suitable tool based on your needs. If you do a lot of academic writing, you may need both Grammarly and Turnitin to refine your work. A business writer or a content writer who works in a marketing agency could wing it with just Grammarly.