March 8, 2023
Posted by:

Anna Rosenkranz

Category:

Blog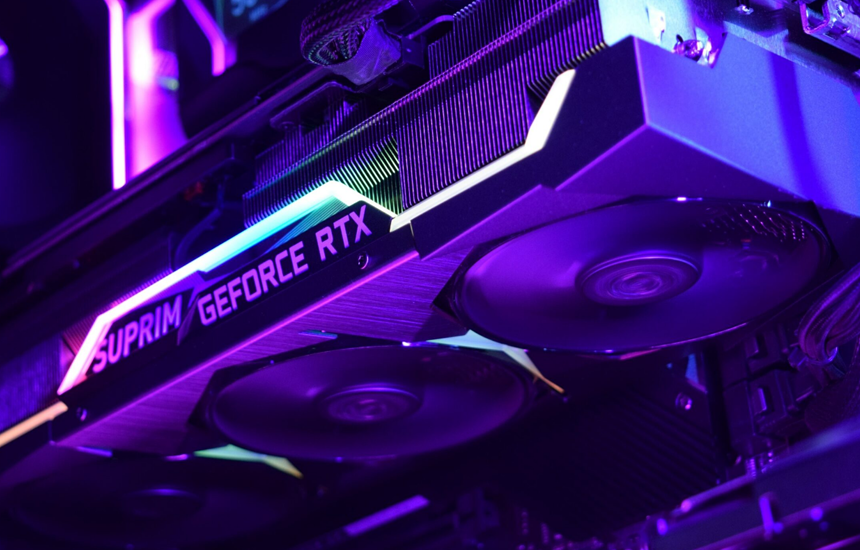 What is a GPU Stress Test: Is There and Effective One?
All the parts of your computer work together but some are more important than others, depending on what you use them for. Anyone who games on their computers or produces video for online content knows how important a GPU is. A graphics processing unit needs to function at its best but how do you know it can do this? Before purchasing a GPU, either a new one or a used one, be sure to perform a GPU stress test. This will test it to its maximum potential. If the GPU passes, then it can survive anything you need your computer for.
What is Stress Test for GPU?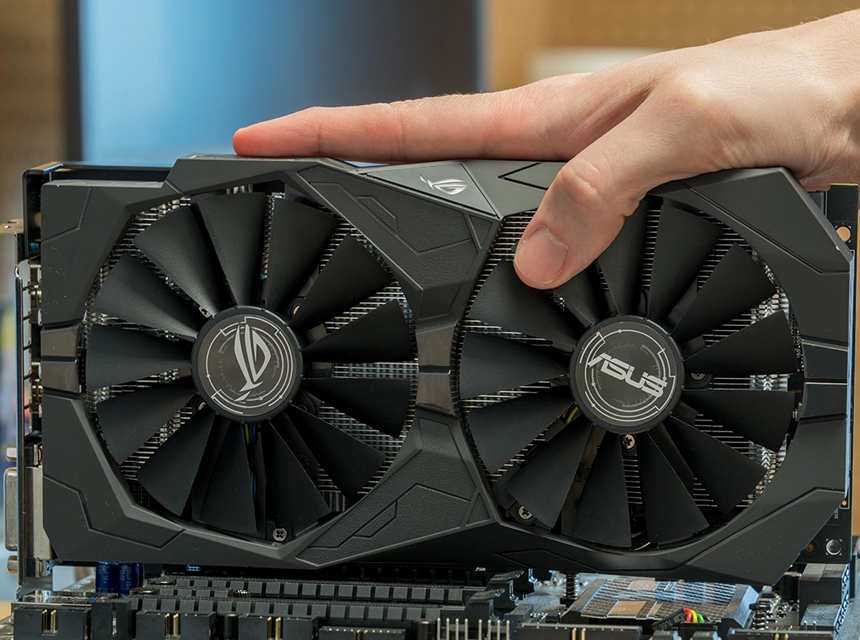 Your graphics processing unit, better known as a GPU, does a lot of work. Without a GPU, you won't be able to game or even use your computer for everyday applications.
You may be aware that your GPU works hard, but even when used for hours on end, with the most advanced graphics, this still is not the extent of what it can do.
A stress test for GPU pushes the graphics card to see where its absolute limits lie. Included in a stress test will be using all of the electrical power as well as the processing power of the graphics card. The cooling system will also be tested as it needs to work in tangent with the high energy and high temperatures produced at the same time.
You might think that your extreme use of a graphics card is a stress test on its own, but this is not powerful enough, so you need to use a separate test.
Despite the uncertainty of the current economy, it seems like video gaming is in its own bubble. If you're willing to cut costs on groceries but not on the games you play, you want to ensure you have the best experience possible.
Reasons to stress test graphics card
The main reason to test your graphics card is to ensure it will work when you need it the most. This might seem counterintuitive, but if you can push the card to its limits and it still works, then that means no matter how you use it, it won't crash.
Videos and graphics are everywhere now. While most people think of graphics with games, even something as simple as viewing ads and social media videos requires graphics. Something as innocuous as this list of the best stock footage needs a GPU that works.
While you should stress test your graphics card if it is new, you should especially do so if it is used. Despite what the previous owner may tell you, you have no way of knowing if the graphics card will hold up until you test it out. The few hours a stress test takes are worth it in the long run.
Types of GPU stress testing
The most common form of GPU stress testing is by using an online application. There are many free options and even if you choose a paid option, it won't cost a lot of money. While some people choose to test their GPU by playing a high-graphics game, this won't fully test the GPU, so it should be more of a supplementary test.
How to Stress Test GPU
Stress testing your GPU is a necessary action and doesn't take very long. You can start with a physical inspection and then continue to run the actual test.
It's best to start your stress test before engaging in any work. Many jobs use graphics. If you are a social media influencer, you might want to check out this list of the best Instagram MP4 video downloaders. Before you work to attract more views to your site, perform a GPU stress test to avoid frustration and anxiety.
Hardware inspection
Before you actually run a program to stress test your GPU, a quick hardware inspection can help you see if there are any major issues.
Your cooling fan is one of the most important components. If there are any issues, then the fan can shut down and your whole machine can overheat. The fan or fans should look like they spin clearly and freely. There shouldn't be any obstructions as this will impair the movement.
You can spin the fans and then gently press your finger on the side. If the fan stops moving right away, it is too sensitive and won't withstand being taxed to its limits.
Another part of the fan to check is the ball bearings. Any pressure on the blades shouldn't result in movement. If there is a rocking motion, it might mean the ball bearings are worn out.
The thermal paste, which helps transfer heat from the GPU and the heatsink, is an important element. However, it needs to be replaced roughly every year, depending on how often you use your computer.
If you purchase a used GPU, you may have no idea when the thermal paste was last replaced. This is an easy and cheap fix, so it should be an automatic step.

Safety advice
While you want to test the limits of your GPU, you don't want to unnecessarily damage it. Make sure everything is connected properly, including the power plugs and the unit itself. Make sure it is securely in the correct expansion slot and always use the right cards and cables for your test.
Online GPU Stress Test
There are many online stress tests you can use for your GPU. They vary slightly in length and durability, so you can select the one you are most comfortable with.
FurMark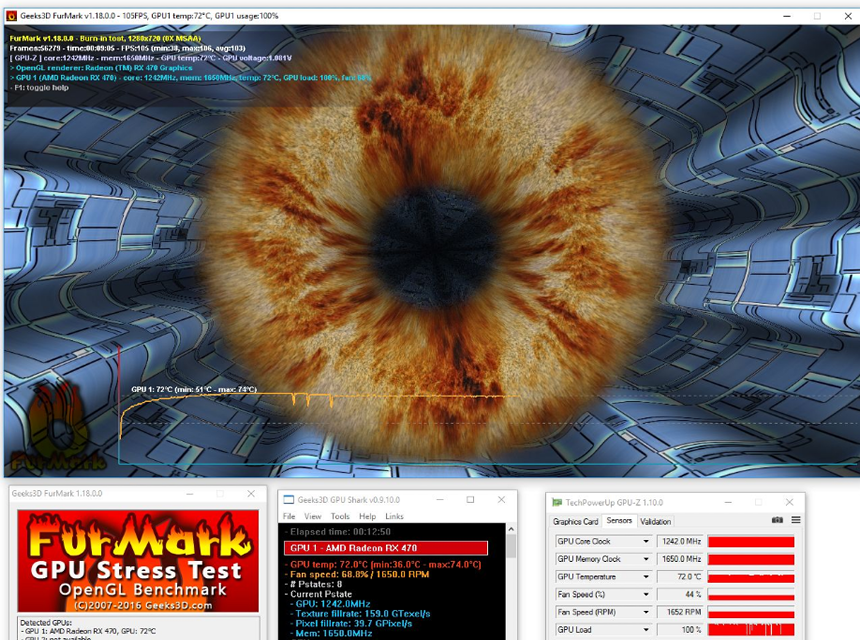 Hands down, the overall best GPU stress test is FurMark. This is the standard that most gamers use, so if you are short on time and just want to get going, you can start and end your search here.
You will need to note that FurMark is pretty extreme. You only need to use it for shorter sessions, about 20 or 30 minutes, so don't plan on testing your GPU for hours with Fur Mark.
This stress test has been around for a while, so you know it will work. It won't glitch and it won't upset your card, so if your GPU can pass this test, you can be assured that it can handle anything you throw at it.
MSI Kombustor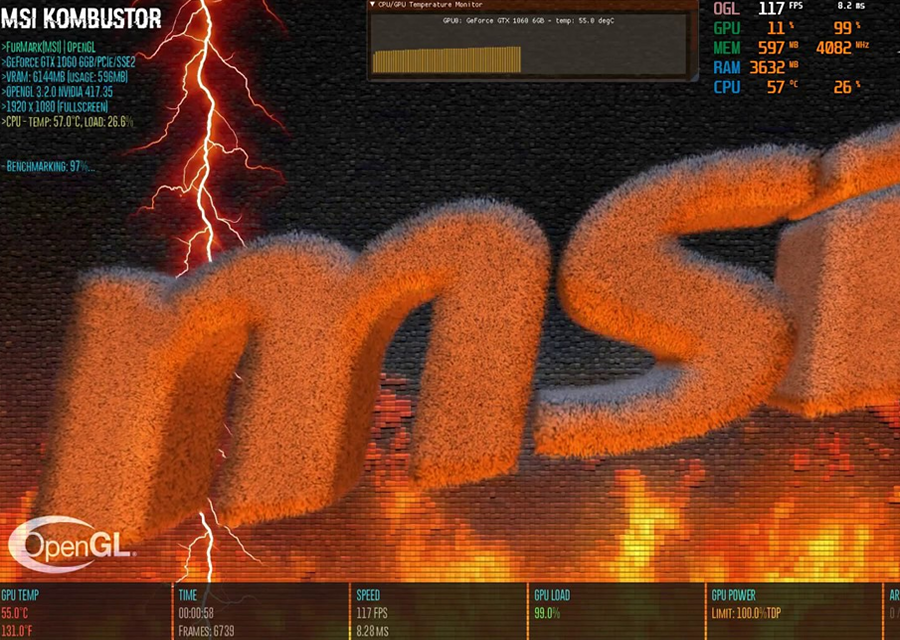 This stress test is super easy to use. It's a one-touch GPU stress test that simulates what you can expect from an intense round of gaming.
Paessler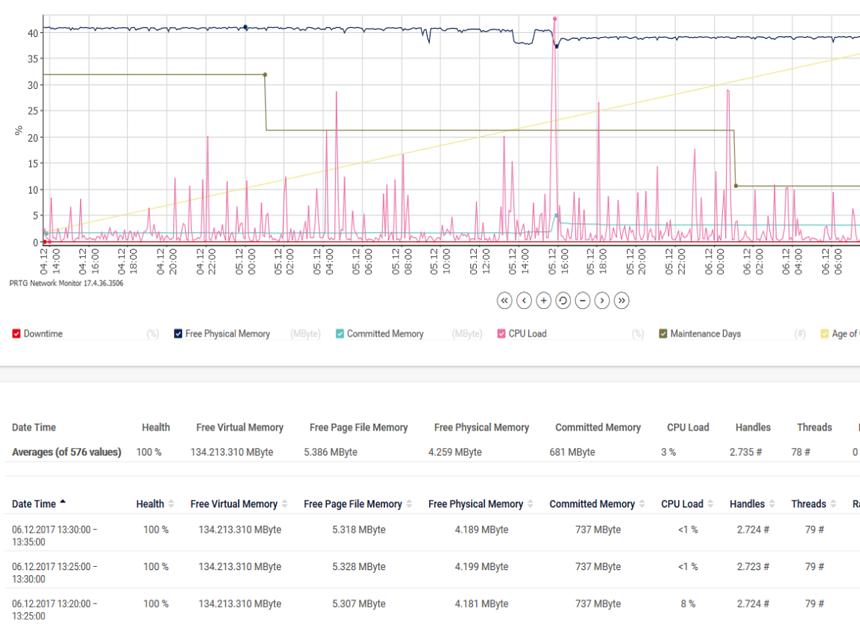 The Paessler GPU stress test comes with a free download so you can get started right away. There is also an unlimited version that you can pay for if you want even more access and benefits.
Unigine Heaven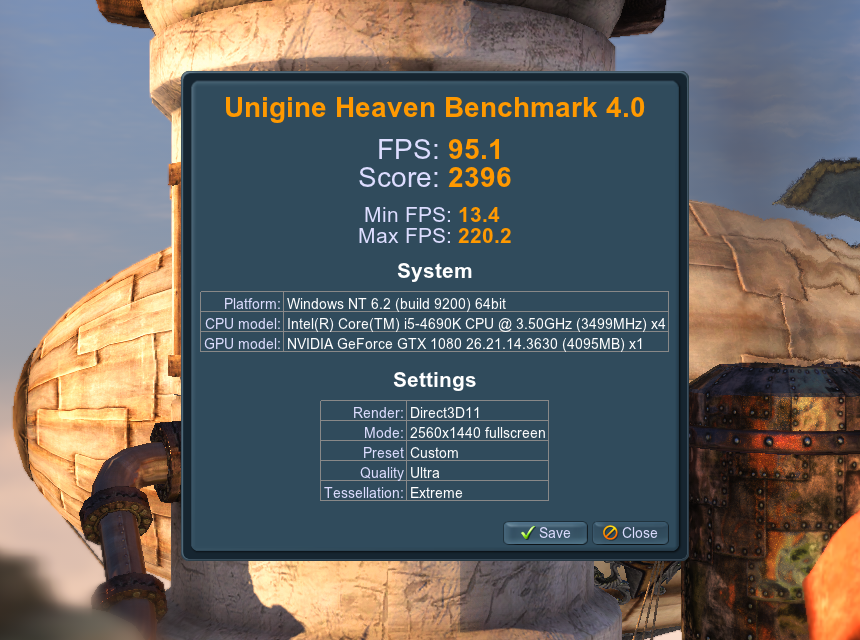 Another classic stress test, Unigine Heaven is an older benchmark but will put your GPU through all the paces. Again, you can be assured that if your GPU passes this test it will be ready for anything you use it for.
There is a free version of Unigine Heaven and you can actually set the stress test for a loop. This way you can test the GPU for as long as you want to. To access this option, head to settings and click the run option. The rest of the settings will process automatically so there isn't much for you to do.
3D Mark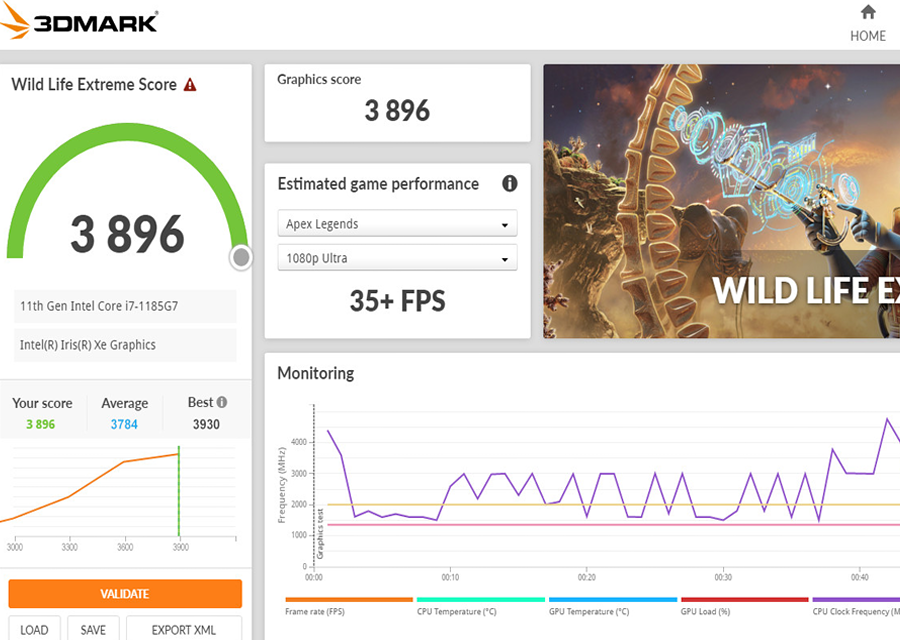 While 3D Mark is a paid option, it really doesn't cost too much. You can find it for between $5 and $10, depending if there is a sale or not, so the expense is limited. The result of paying for this stress test is that the benchmarks are severe and you can have complete trust in your GPU if it passes.
Games to Stress Test GPU
The gaming industry is now worth over $300 billion and many game producers are investing their revenue back into amazing graphic designs. After performing a specific stress test with your GPU, you can then start one of your favorite games to perform a secondary test.
Horizon Zero Dawn
This role-playing game is full of action and adventure, with beautiful graphics that you can easily get lost in. Horizon Zero Dawn came out in 2017 so the graphics capability is still really new. If you love this game, you can explore the open world while testing your GPU in the process.
Assassin's Creed Odyssey
The 2018 installment of this popular video game franchise again brought amazing graphics. You can continue your quest for vengeance while playing the game and simultaneously testing the GPU.
Red Dead Redemption 2
In 2018, the much-anticipated entry in the Red Dead series debuted. This prequel follows an outlaw captain and you can go on quest after quest in the lawless Wild West. Known for its amazing graphics, your GPU will need to work hard to keep up with the storyline.
Linux GPU Stress Test
If you're using Linux, you will need to access different GPU stress tests but there are still a few that you can choose from.
Glxgears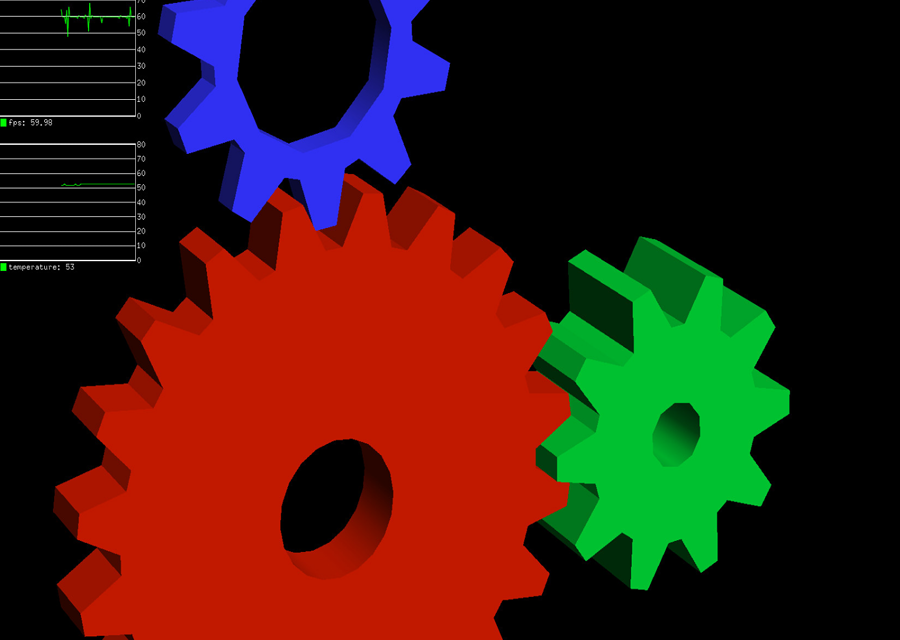 While a common option, there are a few restrictions that Glxgears has. Its framerate is more reduced than others. Still, it is a popular choice and should be good enough for any GPU.
GL Mark 2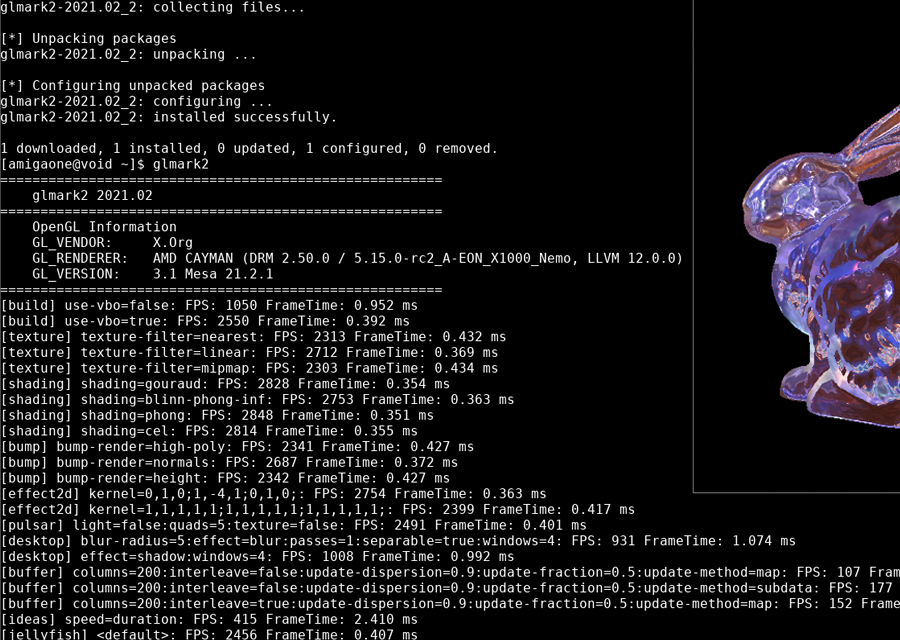 With a more complex function, GL Mark 2 is a solid option. It will test everything you need, including buggering, texturing, and lighting.
Phoronix Test Suite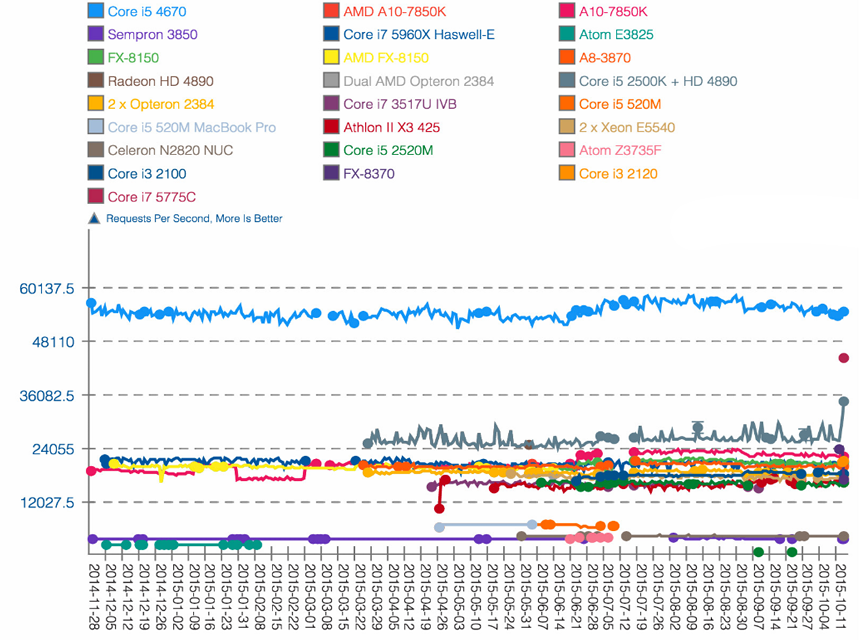 By using the Unigine benchmarks, the Phoronix test suite is a solid choice. It is pretty easy to use and mostly automated, so it is a decent choice if you aren't as familiar with the components of your computer.
FAQ
These are a few common questions you may have about the stress test process.
How long should I stress test my GPU?
The length of your stress test is usually dependent on what you want to use your GPU for. For mos people, a GPU is needed for gaming. In this case, a stress test that lasts 20 or 30 minutes is pretty standard. If you are really worried about your GPU, especially if it is used, you can test it for two hours.
Those that are into cryptocurrency might be more concerned about their GPU. In this case, you will want to run a stress test for 10 hours or more. However, this is not usually the case, so you don't have to worry about such a time commitment.
How to tell if graphics card is dead?
Your graphics card will try to tell you it is dying, so pay attention to some key signs so you can replace it before it completely dies.
The first sign is if you encounter more glitches. At first, you might think this is a product of a game, especially if you are playing it online. However, if the glitches become more frequent, the problem is usually with the card.
The same goes if your game unexpectedly crashes. Once or twice may be tied to a different issue, but after that, it is a safe bet to assume the graphics card is dying.
Finally, if you encounter the blue screen of death, you know your need to replace your graphics card. While annoying, this is a sure sign that action needs to take place.
How to tell if GPU is failing?
Sights and sounds are the common signs of a failing GPU. Any time your fan starts to make extra noises, it means it is working too hard to keep the computer from overheating.
Furthermore, if your computer crashes and you try to reboot it, but it won't work, then that is another sign. As we mentioned above, any time there are multiple graphic glitches, it means there is a problem with the graphics card or the GPU.
You may be going about your regular day-to-day activities and realize something isn't quite right with the video or graphics on your screen. For example, you may be using this list of the best YouTube to MP4 converters but have problems with the images. This is another sign that your GPU isn't what it used to be.

Final Thoughts
Even if you think the games you are playing on your computer are in-depth, they are not as strong as a GPU stress test. Before you use your GPU, especially if you have purchased it new, you should do a thorough inspection and test. Go over the parts, especially the fan and the thermal paste, to ensure they are still working well. After this, you can then perform a GPU stress test. There are many free or cheap sites you can use for the test. They only take 20 or 30 minutes to perform and will test your GPU to its limits. If your GPU passes such a test, then you can know with certainty that it will work well, no matter what intense gaming you have in mind.