How to Delete a GoDaddy Product? In-Detail Instructions
You can delete no longer needed products in your GoDaddy account. Alternatively, you can cancel auto-renew to use the product until the subscription expires. Once the subscription period ends, the select product is deleted from your account. Keep intact to read and learn how to delete products in your GoDaddy account.
Deleting GoDaddy Products – Step-by-Step Guide
Did you know once you delete a GoDaddy product, you will no longer use it? GoDaddy web hosting company was founded in 1997 and has over 17 million customers. Deleting a GoDaddy product even if there is subscription time remaining, the product might be unrecoverable. List of products that you can delete or cancel include;
Domain
Domain backorders and monitoring
Domain protection plan
GoDaddy payments
Incoming domain transfer
Apple app store/ google play store purchase
SSL certificate
Each GoDaddy product entails varying steps towards deleting/cancelling. A formal procedure is as follows;
Step 1: Login in to your GoDaddy account, and on the Account settings page, tap on "Renewals & Billing"
Step 2: Select all the active products.
Step 3: Tap on the checkbox next to the product or domain you would like to delete.
Deleting a specific subscription that entails multiple products means removing all the products since you can't delete products individually.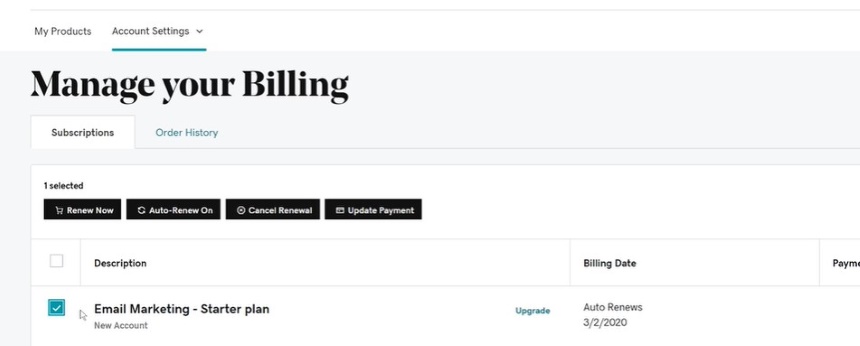 Step 4: Still on the page, click "Cancel renewal" (located at the top of the page).
Step 5: On the new information box, select "Delete My Product".
Step 6: Then, tap on the checkbox next to the confirmation alert.
Step 7: Upon ticking the checkbox, click "Send email".
Step 8: A "are you sure?" email will be sent. Open the mail and select "Yes, I want to Delete."
Ensure the email address in the account profile is updated. Especially if you don't receive the email.
Step 9: Select "Delete product" to confirm. GoDaddy will confirm that you successfully deleted your product from the account.
Wait for at least 24 hours before deleting your GoDaddy account.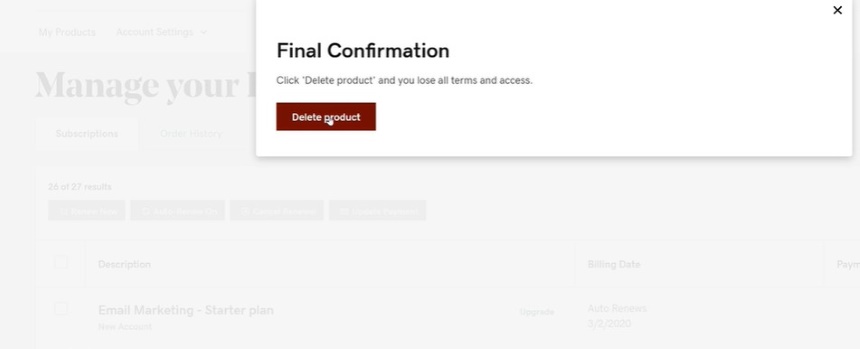 What You Need to Know When Cancelling GoDaddy Products
Did you know you can cancel a GoDaddy account? Log in to your account and select the "My Products" tab. Tap on " Cancel Account " from the "Account Details" menu, and tap on "Cancel Account." Once you cancel a GoDaddy domain, the domain will expire and will no longer be associated with your account.
You can cancel a domain purchase on GoDaddy by logging in to your account, visiting the domains tab, selecting manage orders, and clicking cancels order next to the domain you want to cancel. When cancelling domains with ownership protection plans, you must verify your identity. Upon selecting the option to delete a specified product, you're required to tap on "Verify and delete."
GoDaddy will send a verification code via SMS text message or authenticator app. Alternatively, you can choose "Send password" to get a one-time password via the registrant account email address.
Upon deleting all your products, you can opt to close the GoDaddy account. Once the account is closed, your account data is also deleted; thus, you can no longer be eligible for refunds.
Cancelling domain hosting requires you to contact your domain registrar. The support will help cancel your hosting and release it back to you.
How to Delete a GoDaddy Account

Upon removing your GoDaddy products, you can proceed to close the GoDaddy account after 24 hours. Depending on the domain, it can take about 5 to 7 days to delete a domain name. Before deleting the GoDaddy domain, you need to know that all data in the domain will be lost, the domain won't be accessible anymore, and the email links associated with the domain will be deleted.
Before deleting a domain name, it is advisable to transfer it to another registrar to deter losing it permanently. Domain names can be available for others to register when not transferred. Procedures to follow when deleting an account include;
Sign in to your account and go to the Account settings
Then, click the "Contact preferences" page.
A new page pops up where you need to scroll down to Account. Click "Edit" under the Account section.
Confirm by tapping the checkbox next to "I understand this action cannot be undone". You cannot delete the GoDaddy profile if you haven't deleted the products purchased on the site.
Now click "Close account". You will receive a confirmation message that the account has been deleted.
Specific instructions to follow to delete the GoDaddy account permanently
Sign in to your GoDaddy account and click on My Products
Tap on the products you want to delete, then select "delete the product."
Once the pop-up menu shows, click "Delete account."
Enter your password in the consecutive window. Then click "Delete account again." The account data will be erased, and your account will be permanently lost.
Deleting a GoDaddy Domain

If you no longer wish to have a domain name registered to your account, you can delete it from your GoDaddy account. Deleting the domain name will instantly remove it from the registrant account. Alternatively, you can turn off auto-renew to use your domain till it expires.
You can get a refund from GoDaddy upon following their return policy. Here are step by step guides to deleting a domain;
Use your username/ password to sign in to your GoDaddy Domain Control Center
Tap on the checkbox next to all the domains you would like to erase. Alternatively, click "Select all" on the checkmark icon
Click on the tab "More" and then select "Delete" on the pop-up box
Confirm to verify all the domains to be deleted. Check the box icon next to the phrase "Yes, I consent to delete the selected domains."
Then select "Continue."
Verify your identity if your domain protection is on. You will then receive a confirmation to let you know that the domain has been successfully deleted.
Conclusion
Deleting purchased products on the GoDaddy account follows numeral steps as mentioned above. It is crucial to delete products before deleting the profile permanently. Before deleting your GoDaddy account, it is imperative to back up your files and transfer the domain to a new registrar.
Looking for a First-Class Business Consultant?