How to Cancel a Bluehost Account? Step-by-Step Guide
There are numerous web hosting services available online and maybe Bluehost isn't the right one for you. Therefore, you're looking for an answer on how to cancel Bluehost web hosting.
When it comes to the top hosting providers Bluehost has maintained its position in the top 10. However, based on your needs maybe it is just not cutting out for you.
What to Confirm Before Canceling Bluehost?
Hosting a website involves a lot of technicalities and you must know everything about what you are doing. Whether it is buying a hosting plan, setting up a website, or deleting one.
Remember, canceling is not as simple as deleting a file and restoring it from recycle bin. In most cases, the changes are permanent.
Once you have made up your mind about cancellation, confirm the following:
Backup – Make sure all your data including files and emails are stored somewhere safe in a backup and you have it downloaded on your computer as well. In addition, you can download invoices or other important things from your account as well.
Deletion by Bluehost – Once you've made a backup of everything, the renewals department will cancel your plan and delete all the data associated with your account.
DNS Zones – Your DNS zone changes will no longer be available. If you want your domain to show a website, you'll need to point it to the name servers.
Understand the Consequences – Cancellation means immediate termination of each and everything associated with your Bluehost account. There will be no chance to ask the support to provide you with a copy of files or email from your deleted account later on.
What Are the Pros and Cons of Bluehost?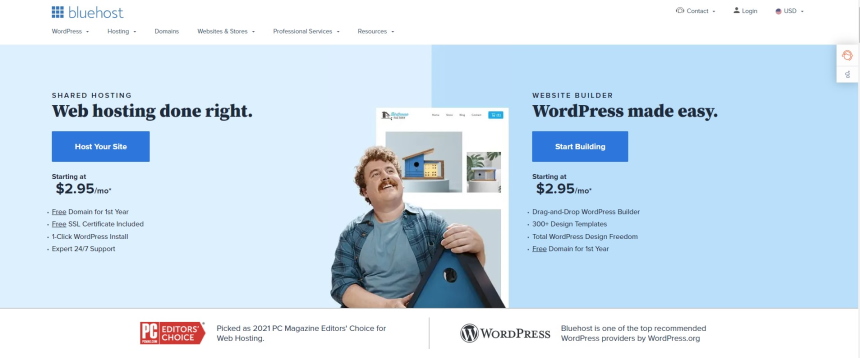 Buying a hosting plan is different than shopping for groceries online. To clarify, concise information about what you will get is already available on the internet.
Therefore, knowing the pros and cons of your hosting provider is something you should do before making a payment. Do a little bit of research, are they worth the investment or not.
Benefits of Bluehost Web Hosting
Bluehost offers a vast range of web hosting plans. Therefore, you can find one that meets your needs within your budget.
Downtime is not a good thing for your website. Bluehost guarantees 99% uptime and ensures your visitors always make it to your website.
Cloudflare is renowned for its CDN and is used by many websites. Bluehost has integrated Cloudflare support right at your dashboard.
It cannot be emphasized enough how many spambots and sites exist. If you are making a site with forms, you're bound to come across an unpleasant experience. However, Anti-spam solutions are built right into your Bluehost cPanel and they are completely free.
To protect your websites from malware and malicious scripts, Bluehost has essential security features such as SSL, SiteLock protection, and Ips.
Disadvantages of Bluehost Web Hosting
The one notable disadvantage of Bluehost is that it does not offer monthly shared hosting options. That is to say, if your goal is to either pay month-to-month or only for a few months, that will not be possible.
Most hosting providers offer you free website migration. However, Bluehost charges you a fee for migrating your site from another server. This does not portray Bluehost as a good company overall.
Bluehost does not offer windows hosting. The company only uses servers in Linux, so your choice of a server is quite limited. If you are looking for windows servers, this may not be a suitable hosting provider for you.
No daily automated backups. If you want full security and backup, you have to do manual backups yourself daily. Again, most other hosting providers offer this feature for free.
Even though the support is good. There are instances of user complaints that the support wait times are longer than they should be.
Moreover, the customer support representatives do not personalize the customer experience and that is another reason why customers are unhappy with Bluehost.
All the pros and cons mentioned are assessment-based. Some users may find the chat support experience rather pleasant compared to others. That depends mainly on who is your support agent.
The company does have a vital role to play and addressing these issues but then again some people love Bluehost and the company has over 2,000,000 sites hosted. That means they are probably doing something right.
Step by Step Guide – How to Cancel Bluehost
There are three ways for account deletion. The first method is through customer support, the second method is cancellation via cPanel and finally, the third method is to give Bluehost a call.
It's not a happy moment for a company to lose a customer. However, Bluehost still provides support till the very end, and that is one reason why it is considered a good hosting provider. For the phone call method, you can call support and request a cancellation.
With that said and done, let's take a look at the other two methods for canceling Bluehost account.
Cancel Bluehost Using Control Panel
This is the manual method where you just make a few clicks and your account is processed for cancellation.
Log in – The first step is to log in to your Bluehost account and navigate to the dashboard. Once logged in you will see a "user" icon on the top left, click that.
Products – Clicking the icon will append a section. From that section click on "Products".
Renew – Once you are on the products page, you will see a "Renew" button. Click that button and from the options, choose "Do Not Renew".
Furthermore, Bluehost has two navigations. If you are using Bluerock, you should be able to view the "user" icon. On the other hand, if you are using Legacy navigation, there should be a top menu item "account" instead of the icon.
That's all! By the end of the current term, your Bluehost account will be canceled.
Cancel Bluehost Via Customer Support
Contacting support for canceling your Bluehost account might be more helpful than you think. In other words, they can advise you on best practices to safeguard your data. In addition, they'll assist you throughout so you are satisfied you won't be billed the next time.
Log in – Same as the first method, you need to be logged into your Bluehost account. Once you're on the dashboard page, click on the "question mark icon" on the top-right corner of your screen.
Contact Page – Use the question mark icon to navigate to the contact page and click on the "Chat Now" button.
Form Submission – You'll be required to fill in a form. Choose the "existing customer" radio button and enter details such as your name and identifier. Once all the fields are complete, click the "next" button.
Provide Information – The next page will ask you for a topic, description, and additional information. Simply select "Close Your Account" from the drop-down menu, and select hosting in the description.
Start Chat – Click the "Start Chat" button and a customer support representative should join you in 2 – 3 minutes. You can request them to help you cancel your account.
Getting a Refund After Canceling Bluehost
Just because the account is canceled does not necessarily mean you will get a refund. Bluehost offers its users a 30-days money-back guarantee. That is to say, if you have been using Bluehost for several months, you may not get a refund.
On the other hand, if you are still well within your 30 days grace period after buying the hosting package, you are eligible for that full refund. For more information, you can have a look at the Bluehost refund policy.
Once you cancel your Bluehost, reach out to Bluehost support and request a refund. They will run some required checks and process your request. And that's it!
Moreover, your refund may not be instant. It can take up to 10 business days for a credit card refund whereas PayPal refunds take place within 24 hours.
Final Thoughts
Overall Bluehost has proven itself to be one of the best web hosting providers out there. However, it is more of a matter of preference.
You are already familiar with how to cancel Bluehost at this point. But it is an important decision and there are multiple factors to consider. In addition, if you are canceling within your 30-day grace period, all is good and you'll receive a full refund.
On the contrary, if you are 31 days in and now canceling your plan, it does not seem like a good idea. It's in your best interest to think things through.
To sum up, hosting is a purchase and you're paying for it. Therefore, before making a purchase you are not happy with, always look up its pros and cons first and compare it. Homework may be boring but it will save you a lot of time and money in the longer run.
Looking for a First-Class Business Consultant?