Google sites and Wix are both website builders on which you can create different types of web projects, from portfolios and web stores to small business websites. The two website builders offer different services regarding design customization options, functionality, and flexibility. Also, they have different values for money. These differences make the popular Google sites vs. Wix debacle a tough one.
Wix is popularly known as an all-around DIY website builder. It packs a punch with a robust set of features and tools that cover a wide range of users' needs. Google sites, on the other hand, is a simple cloud website builder. It has intuitive basic features that are best suited for ordinary web projects. This article has a detailed side-by-side comparison that reveals the strengths and weaknesses of each web builder. Read on to find the one that suits you best.
Google Sites Overview
Google Sites is a fairly popular DIY web builder on which you can create simple web projects for personal everyday use. Its system is relatively easier to use, especially for people who have no web design experience.
Google-sites is not feature-laden like most website builders and is thus suitable for ordinary web projects like intranets, school sites, portfolios, and events projects among others.
Main features
As mentioned before, Google Sites is not feature-packed, but it has a few praiseworthy features.
Integration with other applications: The best thing about Google sites is that you can easily connect to other web-based Google apps. This means you will be able to incorporate content from other Google applications like Google Drive, Google Docs, and Google Maps.
Direct search: This is another outstanding feature that allows you to search Youtube videos and Google images directly from the Google sites interface. Further, you can upload features and images directly to your website without opening another tab.
Google sites Image search: This feature helps you align images with your website's colors as it filters images by their dominant colors.
Logo creation: Google sites does not offer a Logo maker, but it allows you to add an existing logo to your website.
Announcement banners: You can use eye-catching announcement banners to direct your users to a certain resource. You can add the banners on the whole site or a single page; plus, you can customize its text and color.
Real-time collaboration: This is a unique feature that comes in handy if you are working on team projects. It is pretty similar to Google docs as it allows you to grant your team members permission to edit in real-time.
SEO features: Google sites is a bit lacking when it comes to SEO features. You only get to specify the website's title and URL, plus Google analytics that allows you to track traffic on your website.
Pros
It is easy to learn and use
It is free
Fast and convenient
Very secure
It has vast customization options
Enhanced media embed support
Control access for the creator
Easy to share
Allows integration of other Google applications
Cons
Limited design features
Poor SEO features
Wix Overview
Wix is a world-famous website builder. It is a top preference for many because of its powerful design customization features. It is also pretty intuitive, thus suitable for both beginners and professionals. It is a prime option for creating virtually all kinds of web projects, including a blog, landing page, a small business website, portfolio, or promo site.
Wix was created in 2006, but it has steadily gained notoriety over the years. The web builder has over 3.8 million paid subscriptions and 147 million system sign-ups. It has a vast plan selection that offers something for everyone. As it is a freemium web builder, you can use its free unlimited plan to explore and test the system for as long as you need to. When you find that the website meets your needs, you can upgrade to one of their paid subscriptions.
If you are already sold on Wix, you can go to wix.com to sign up and build a high-quality website. The page has clear guidelines on how to create a website.
Main features
Wix has a remarkable set of features that can help you build a worthwhile website. The prominent ones include;
Storage: Wix offers minimum storage of 500MB and a maximum of 50GB for the most expensive plan.
Bandwidth: Wix's main plans, 'Connect domain' and 'Combo', offer limited bandwidth of 1GB and 2GB, respectively. All the other higher plans offer unlimited bandwidth. 2GB bandwidth would be enough for a website with a traffic of 5000 visitors per month.
Free domain name: You get one free domain name for a whole year with the premium combo and higher plans.
Free SSL certificate: all the plans have this to protect your website and boost your SEO ranking.
Wix app market: this has a couple of widgets and apps that you can easily install with a single click. The apps include Wix music, Wix, store, Wix bookings, Wix restaurants, and Wix videos.
Wix Artificial Design Intelligence (ADI): this is one of Wix's most unique features. It makes the website building process much easier and more efficient. The ADI starts by asking you questions, and based on your answers; it automatically builds a whole website for you. You can make a few tweaks to the website to suit your preferences.
Logo creation: The Wix Logo Maker is one of the high-end features the website builder offers. You can use it to design and integrate an enchanting logo into your website. It is pretty easy to use. Once you tell it about your business, it will suggest some ready-made logos so you can choose one and customize it to your tastes.
SEO features: Wix offers an SEO wiz tool that makes SEO a breeze. It guides and allows you to adjust SEO parameters easily. You can add or edit meta tags, descriptions, headings, titles, and alt tags for images.
Pros
Intuitive interface
Multiple design features
Excellent site speed
Vast template collection
Wix app market allows you to get more site features
Exceptional SEO features
Excellent customer care
Cons
The templates are not interchangeable
The free plan forces Wix branding
Tracking and analytics require a paid plan
Wix vs. Goggle Sites Comparison
| | | |
| --- | --- | --- |
| | Google Sites | Wix |
| Templates | 10 free | 550 free |
| Ease of use | Limited functions | Automated modes available |
| Prices | Free | $14-$49/month ($500/month for enterprise) |
| Customer support | No live support | Help center |
Templates
When it comes to the quality of ready-made templates, Wix takes the lead. It is popularly known for the best designs in the contemporary web design market. The website builder has over 550 themes that are fully customizable and mobile-friendly. You can use the system editor to customize a template of your choice manually. Moreover, if you can't find a suitable theme, you can pick a blank template and customize it from scratch.
Google sites, on the other hand, doesn't have the most impressive template collection. It only offers 8 templates in the Work, Education and Personal categories. The design customization options are equally limited so there isn't much editing that you can do. Websites created with Google sites look similar visually. The only difference is in the content and formatting.
Winner: Wix is the better option regarding design development and customization. It has hundreds of mobile-ready templates that are 100% customizable, which is a tad better than Google sites' few themes with poor customization options.
Website building and editing
Wix allows access to its integrated mobile editor that allows you to set up and manage mobile websites from different mobile and desktop devices. With the mobile view mode, you can make edits on the go. The drag and drop editor makes the process such a breeze even for people who have no web design experience. All the edits you make in the desktop version can be viewed in the mobile mode, but all the edits you make in the mobile mode cannot be viewed in the desktop mode.
Google sites does not have an integrated mobile editor. Therefore, websites created by the website builder cannot be mobile optimized automatically. On the bright side, the system allows the manual activation of the mobile node in the control panel so you can view your projects on mobile devices regardless of their screen sizes or resolution.
Winner: Wix compares favorably to Google sites when it comes to easy and convenient website building and editing. Its integrated mobile editor sets it apart.
Extensions
With Wix, you can add extra performance to each project you work on without writing or inserting codes. It has a vast, advanced app market with versatile add-ons, widgets and extensions. You can pick and integrate any of the extensions that suit your project. All the widgets available are free and paid and all their names speak for their implication.
Moreover, Wix recently launched Editor-X, which is a responsive platform for website creation. It targets studios and web designers exclusively. The platform has extensive opportunities for launching complex website layouts and designs for mobile and desktop devices. Its interface is incredibly intuitive as it has the drag and drop feature and other higher-end design features like docking, custom breakpoints and grid layouting.
Another praiseworthy Wix extension is Wix Velo. It is an open full-scale website development platform that helps you accelerate the process of app creation. You can work in Wix visual editor, add custom functionality, and interact with Velo APIs.
Google sites has a vast selection of web-based Google applications like Gmail, Sheets, Calendar and Google Docs. The applications allow you to add content like charts, images, presentations, Youtube videos and maps. Essentially, Google cloud applications are Google sites' widgets.
Winner: Wix has more extension options than Google sites. Its app market has multiple free and paid widgets that Google sites can't match up to.
Ease of use
Ease of use should be your top consideration when choosing a website builder. According to a post by Business Queensland, ease of use is crucial because you will have to update the website even if you hire someone to build it for you. Be sure to go for one that makes building a website a piece of cake. Wix has a remarkably intuitive interface that even a beginner with zero coding or website building knowledge can handle. Its system features a dashboard with all the setting options for your website and an editor to work on your website.
The editor also has a simple drag and drop functionality that allows you to drag anything to the canvas and customize to your tastes and needs. Its control panel and interface makes website building a super-easy and fun experience. As a newbie you may experience a few challenges with the editor as it has a lot of options. The learning curve is not too steep but you will need a couple of hours to wrap your head around it.
Further, Wix features ADI (Artificial Design Intelligence) tool which builds a whole website based on your answers to the questions it generates. As much as the website is tailored to suit your preferences, you can customize it further.
Google sites is equally easy to use. First off, it doesn't bother you with a long and hectic registration if you already have a Google account. With just one click, you will be able to access the Google sites interface. All you have to do is choose a template and get down to work.
The Google sites interface is extremely easy to understand. Unlike Wix, you can wrap your head around the entire interface at first glance as it only focuses on the essentials. Plus, the interface is just one page with all the options categorized into tabs. You can drag and fix images, widgets, text boxes and other things on the screen.
Winner: Wix wins when it comes to ease of use because it offers much more flexibility and control, yet its interface is still intuitive. Google sites' overall simplicity and ease of use is due to the limited features and options it offers.
Logo creation
Wix has a high-end Logo maker that allows you to design and integrate a unique logo to your website. The Logo maker is very easy to use as it doesn't need any coding knowledge. Once you provide your business name, the system generates several logo options for you to choose from. You can customize the one you choose further before adding it to your website.
Google sites doesn't offer the option of creating a website logo. On the bright side, it allows you to upload one of your own.
Winner: although both Wix and Google sites allow you to upload a logo of your own to your website, Wix has an upper hand because it offers more extensive logo design and integration options. With Google Sites, you can only pick and upload the already existing logo.
Storage space
Wix offers a minimum storage space of 500 MB and a maximum of 50 GB for the most expensive plan. Google sites has different storage space for different plans. Their minimum site quota is 100 MB, while the maximum is 100 GB for their premium plan.
Winner: when it comes to storage space, the two website builders tie because they have different storage space for different plans that are more or less the same.
Prices
Before picking either of the website builders, be sure to check the one that offers better value for money.
Wix
Wix has the most versatile and affordable pricing policy that favors everyone. You can begin with a free plan to test the functionality of the system during the unlimited time interval. When you are ready to start working on your website, you can upgrade to a paid plan. You can choose either the standard or Business/eCommerce plans.
The standard plans include;
Combo at $13 per month- this has free hosting, free domain name connection, absence of system, and ad banners
Unlimited at $17 per month- 10 GB storage space and unlimited bandwidth
Pro at $22 per month- Google analytics and statistic tools, and 2hrs of Video storage
VIP at $39 per month- professional logo and first priority support.
eCommerce/Business plans;
Business basic $23 per month- allows online payments
Business unlimited $27 per month- special apps for entrepreneurs, business development tools, integrated eCommerce platform.
Business VIP $49 per month- unlimited video storage, unlimited bandwidth, complete Wix suite.
Enterprise $500 per month- Maximum amount of tools with the highest functionality.
Whichever premium plan choose, you will get the free domain connection option. You also get a 14-day money back guarantee in case you find your selected plan unsatisfactory for some reason.
Google sites
Google Sites is a free website builder. If you have a Google account, you can use the website builder to start a website. Once your website is ready, you can connect it to your own domain for free. You can also get a domain from Google for free. Furthermore, you can use all of the options the system offers at zero cost.
Winner: all considered, Wix offers better value for money. Although Google sites is free and a cheaper option, it has a very limited feature set. It is nearly impossible to build a scalable website with the builder. Wix has everything you need to launch a professional website.
Customer support
Customer support is also essential to building a fully functional website. A proper channel to solve your issues comes in handy when you face a problem building your website.
Wix has a reliable help center that you can turn to in case of any issues. The support center is complete with FAQs and dedicated video tutorials to guide you in building the website. The step by step guide has tips about the builder's elements and features to make the process more intuitive.
If you find the vast knowledge base at Wix help center unsatisfactory, you can approach specialists at Wix via Email. You will get an email response in a matter of hours. They also have a 24/7 callback service.
Google sites customer support doesn't stack up well against Wix's. it doesn't have any live support option, so you can't contact a real person to answer your queries or solve your issues. It doesn't have email, live chat, or call options. You only get a help center with comprehensively written articles and support documents that address common issues and error messages you may get and how to deal with them.
You can share your issues or queries on a community help forum and like Wix, you will get a few pop-ups that will help you build your website. The only downside is that there's a high chance you will be stranded with such limited support.
Winner: Wix dominates in this category again. Google sites' limited support can't match its complete and detailed support center.
Which Should You Choose?
Both Wix and Google sites have different strengths. The website builders use diverse approaches to the web design process. They also have varying sets of features that make them suitable for different uses.
Blogging
Wix has a feature-rich integrated blogging engine that allows you to connect a blog to your website. The blogging engine has features that allow you to write, edit, and update blog posts. You can also schedule blog posts, set up SEO parameters and integrate your social media. The only downside is that users can't leave comments on the blog unless they sign up with your website.
Google sites on the other hand, doesn't have a blogging engine. Therefore, you cannot run a blog on a Google sites website. The most you can do is create a news portal or work on an informational project for which you will have to pick a blank template and customize from scratch. One more thing to note; Google sites is perfect for designing internal and intranet websites which are ideal for team work on project development.
That said, Wix is clearly your best bet for blogging.
SEO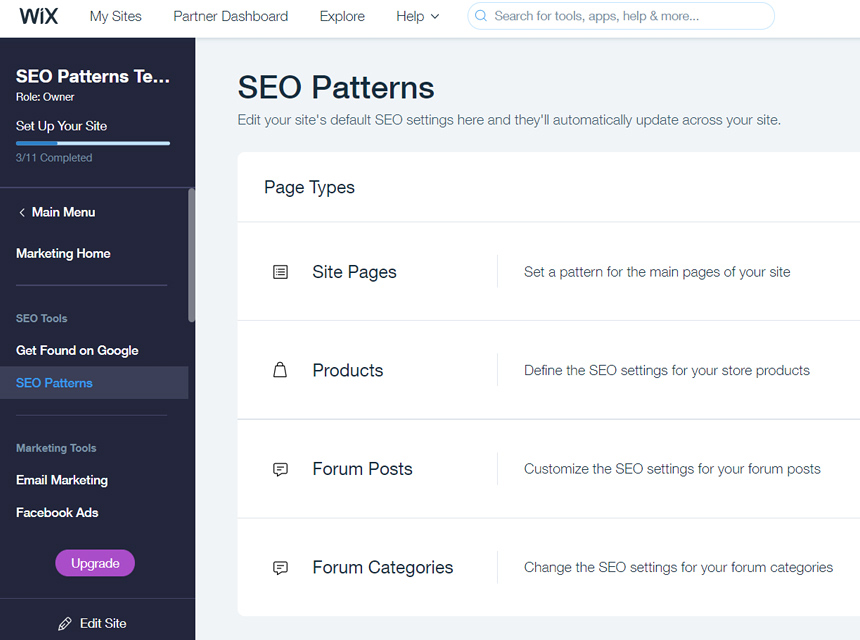 Wix is a SEO-friendly website builder that guarantees websites that are well-optimized for search engines. The website builder offers a high-end SEO Wiz tool that has useful guidelines on how to improve the SEO parameters of your project so that it is indexed well by search engines. You can use the tool to fill out and edit meta tags, anchors, headings, descriptions and titles for your website pages. As if that's enough, you can get more SEO widgets from Wix market for better results.
In contrast, Google sites offers poor SEO features. The most you can do with Google Sites SEO features is specify your web page title and URL. You can also set up Google Analytics and connect it to your account to track your website's statistics.
Wix is therefore the better SEO-friendly website builder owing to its powerful SEO Wiz tool and integration options.
eCommerce
Wix features a powerful eCommerce engine. Therefore, you can launch and manage small or medium online stores. Once you have your online store website ready, you can adjust the settings to suit your needs and requirements.
Some of the parameters you can set up for your online store include creation or management of product galleries, customization of eCommerce templates, order or web store management and introduction of special offers or discounts.
Google store does not come with an eCommerce engine. This gives Wix an upper hand as it allows you to run high-quality, feature-rich and informative web stores.
If you are looking to use social media for business but have no idea how to go about it, check out the popular Jason McDonald Social Media Marketing Workbook. It has step-by-step social media marketing guidelines for all the social media platforms including; Facebook, Instagram, LinkedIn and Youtube among others.
Portfolio
Wix's functionality and flexibility make it the ultimate solution for portfolio creation. It allows you to present your services or projects to your target audience in the best favorable way. Whether you are a creative, photographer, model or artist, the website builder allows you to easily showcase your talent and build a solid customer base. You can do this by choosing a portfolio template from the multi-niche options offered by the website builder then customize it to suit your needs.
Wix offers portfolio themes for stylists, journalists, photographers, creatives, artists, models, graphic and web designers, business consultants, and resumes. All the templates are mobile-ready, so you can view them on any mobile device. You can also design image galleries and create slideshows. What's more, Wix allows you to connect a blog to your portfolio so you can stay in touch with users. You will enjoy effective portfolio promotion thanks to Wix's features like eCommerce engine, SEO wiz tool, user testimonials, and HD video hosting.
Google sites doesn't quite match up to Wix when it comes to portfolio development. The good thing is that you can build a portfolio website with the platform. On the dashboard, there are templates that you can choose for further customization. All you have to do is fill out the required sections on the template, including your name, contacts, and description of your services or work. You will also need to upload your previous works or create a project to showcase your abilities to the target audience.
In the end, Wix is a better platform for creating a portfolio website. It has myriad templates to choose from, extensive integration options and SEO promotion tools that will help you win users easily.
Small business
Wix is a prime option for building a small business website. It has an extensive selection of templates suitable for various business niches including restaurants, cafes, and agencies. An entrepreneur looking to go online can make the most out of the multiple business apps and customization tools found on Wix's integrated app market. One notable feature that any entrepreneur can befit from is the Ascend platform. It is an all-in-one business solution with virtually all the business tools you may need to build a professional project. Wix Turbo is also a worthy mention as it has a set of technologies and tools that can cut down the website's overall load time significantly.
You can use Google sites to start a small business website as well, but it has limited niche-specific features and options. You can choose one of the business templates the platform offers then customize it to your liking. You can integrate some of the most useful Google suite widgets like Youtube, Calendar, online forms, and Google maps to your site, and upload a logo for your business.
Wix is the way to go if you are looking to build a small business. It is much better than Google sites when it comes to flexibility, pricing, widget integration, and template customization.
What Are the Alternatives?
Here are other top-rated website builders that you can use to create any type of website;
Squarespace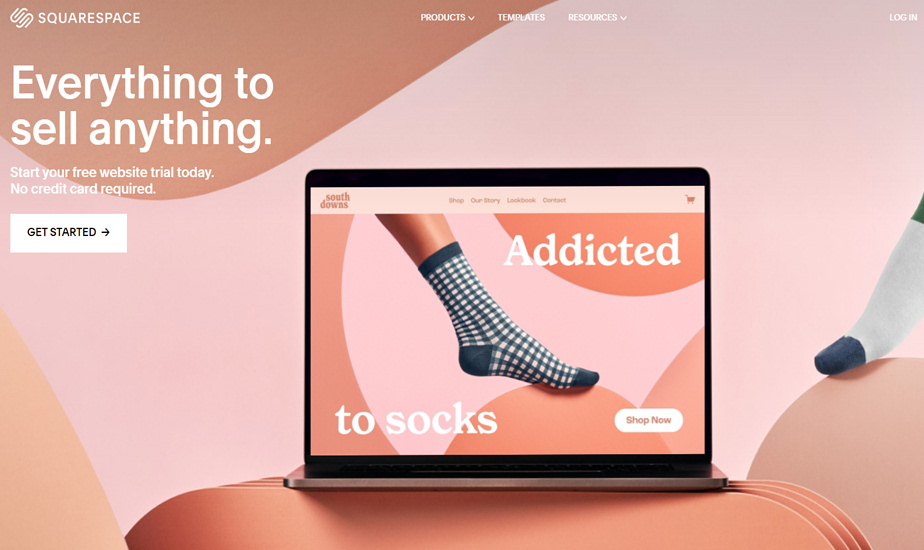 Squarespace is a website builder designed for creatives. It allows creative to showcase their work regardless of their technical ability. It is best suited for photographers, designers, and artists interested in a website that looks as good as the content they are showcasing online. According to Forbes, Squarespace is among the best-rated website builders in the website design market.
If your content is text-heavy, you may struggle to make the most out of Squarespace's visual designs. Moreover, the platform offers a wide range of eCommerce tools that make it a prime option for anyone looking to open an online-based store or a business with a small inventory. It is not the best for large or complex stores.
Overall, Squarespace is a pretty decent site builder and its 3.5 million subscribers are a solid testament to the quality of services the platform delivers.
Weebly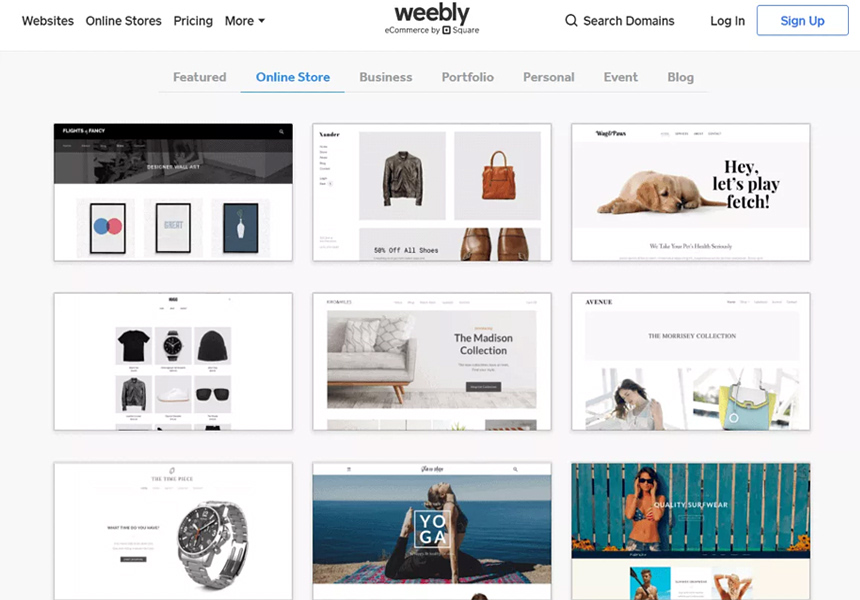 Weebly is a world-famous website builder. Over 50 million websites have been built on the platform. The company stood out with its unique aim of improving the platform's technology to offer better service to users. However, after acquisition by the eCommerce company Square, the developments stalled and the rollout of new features has been slower since then.
Weebly is a perfect option for small business that want to stay small. It is pretty basic but will get your website up and running in no time. Moreover, it has an app store from which you can get extra tools to add to your site.
Besides small businesses, Weebly is a fantastic website builder for personal websites like blogs and CVs. Its simple themes are ideal backdrops for your achievements or writing, plus it allows blog-specific SEO, comments, social sharing and multiple user profiles.
WordPress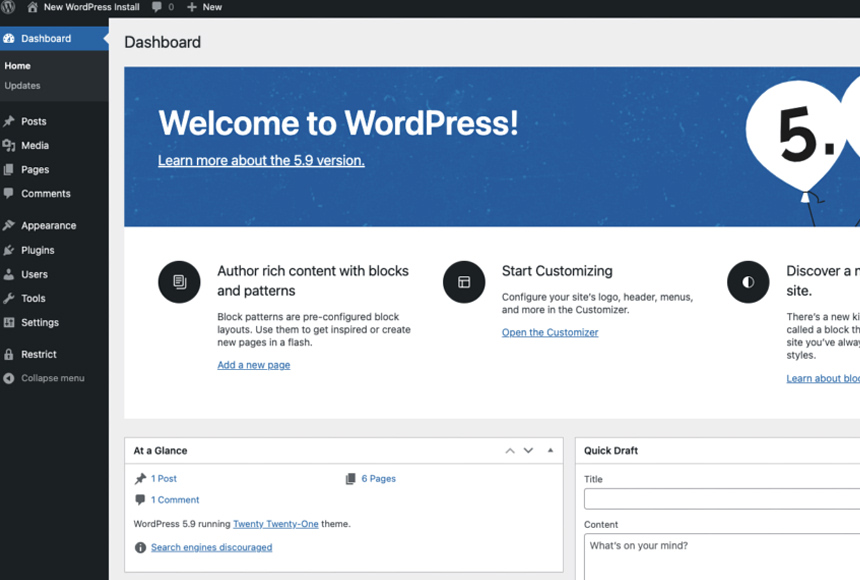 WordPress is the most popular website builder. Currently, it is being used by over 80 million websites. It started out as a basic blogging platform but quickly grew into a sophisticated website builder that you can use to create any kind of website under the sun. The platform offers unmatched flexibility that allows you to turn your content into a functional website.
WordPress has two versions; a self-hosted version WordPress.org and a fully-hosted version, WordPress.com. WordPress.org offers the ultimate control and flexibility but it is not the easiest to use. The fully-hosted version, WordPress.com, manages the hosting for you, this is a tad easier to use.
WordPress is a great website builder only if you can take full advantage of its power. It's not the best choice for a beginner who doesn't have any coding skills and is looking to have just a simple website.
Final Thoughts
From our detailed Google sites vs. Wix review, it is evident that Wix is the better option if you want to build a professional and scalable website. It wins in nearly all of the categories because it is loaded with impeccable features, a vast range of stunning templates, and awesome customization options. All the features allow you to enjoy great control over numerous aspects of your website.
Moreover, compared to Google sites, Wix offers better value for money with versatile plans at affordable prices. Both beginners and experts can benefit from the high-value plans. Google sites is basically free, but it comes with a few features and limited customization options. This makes it better suited to creating simple websites for small projects.
Looking for a First-Class Business Consultant?