GoDaddy vs. DreamHost - What's the Difference?
Both DreamHost and GoDaddy are popular web host providers. But does popular mean that they are good? This detailed comparison can determine which one has the best features and why. We will cover the features, plans and pricing, ease of use, performance, security, and customer support.
GoDaddy vs. DreamHost: Features Comparison
DreamHost has two plans for hosting: Starter and Unlimited. You can get 50 GB to unlimited SSD storage, host from 1 to unlimited websites, and have unlimited bandwidth. One nice feature is that you can get E-mail accounts for an additional charge. In addition, DreamHost comes with pre-installed WordPress, automatic daily backups, a basic website builder, and a custom control panel. On top of that, you get a free SSL certificate by purchasing the Unlimited plan.
On the other hand, with GoDaddy, you get from 100GB to unlimited HDD storage since it is based on Linux, 10 to unlimited MySQL databases, one to unlimited hosted websites, and one free Office 365 E-mail for the first year of the plan. Also, all plans come with a control panel, and you will get a free SSL certificate only with GoDaddy's higher-tier plans for the first year.
Plans and Pricing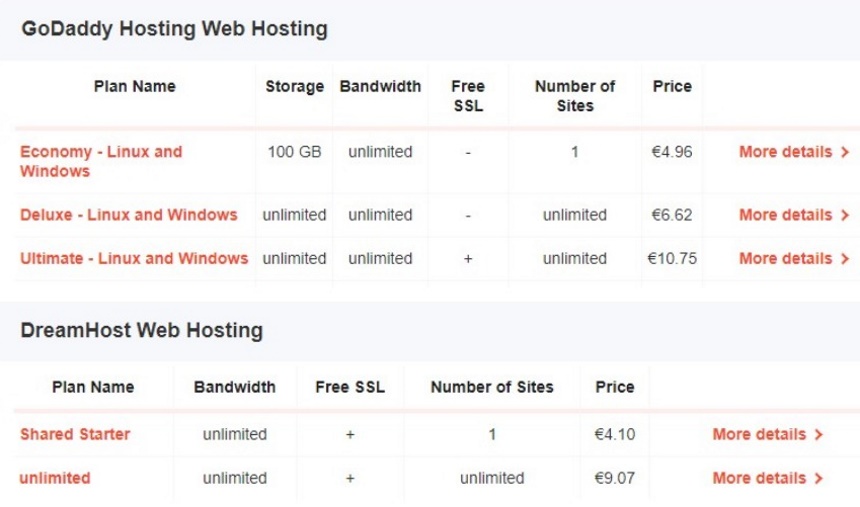 DreamHost Web Hosting starts at $4.95 for Shared Starter (unlimited bandwidth, free SSL certificate, and one website), and to purchase the unlimited plan, will cost $10.95 (everything the Shared Starter plan has but unlimited websites). Also, you get a Free Domain when you purchase any hosting service.
GoDaddy has way more plans, and the prices are of a wide range, starting at $5.99 for the Economy – Linux and Windows (100 GB of storage, unlimited bandwidth, no free SSL, and one website). For $7.99, you can get Deluxe – Linux and Windows (unlimited storage, unlimited bandwidth, no free SSL, and an unlimited number of websites, after that, the next one is Ultimate – Linux and Windows with everything the same, but you get a free SSL, and there is one more, the most expensive one being $19.99 and it offers everything, but you get two times CPU power for faster loading, and it is recommended for high-traffic websites. Also, you get a Free Domain when you purchase any hosting service.
DreamHost is the winner in this category since it offers more features than GoDaddy and is much cheaper.
Ease of Use
Both DreamHost and GoDaddy are easy to use. GoDaddy uses the industry-standard control panel interface, while Dreamhost uses a  custom-built control panel. GoDaddy helps you set up your website with the help of the native dashboard and control panel. One thing to mention is that when you first log in to your GoDaddy account, they will make sure that you install WordPress and that you have a working domain. After you have installed the WordPress, you can select one of the offered premium templates from the GoDaddy Starter plugin and use it as a simple WordPress-based editor to customize.
When you log in to the DreamHost dashboard, you can find the completely custom-made control panel, which is unique and not industrial-based standard. Inside, you will have various tools for domains, WordPress, FTP, and e-mail. Navigation through DreamHost's control panel might be different from most of its competitors. However, as soon as you get used to it, it will become straightforward to use and work. The best thing about DreamHost is that one-click WordPress installation is offered. Of many hosts, DreamHost is the provider that followed the claims and did that.
Both DreamHost and GoDaddy are simple to use and intuitive.
Performance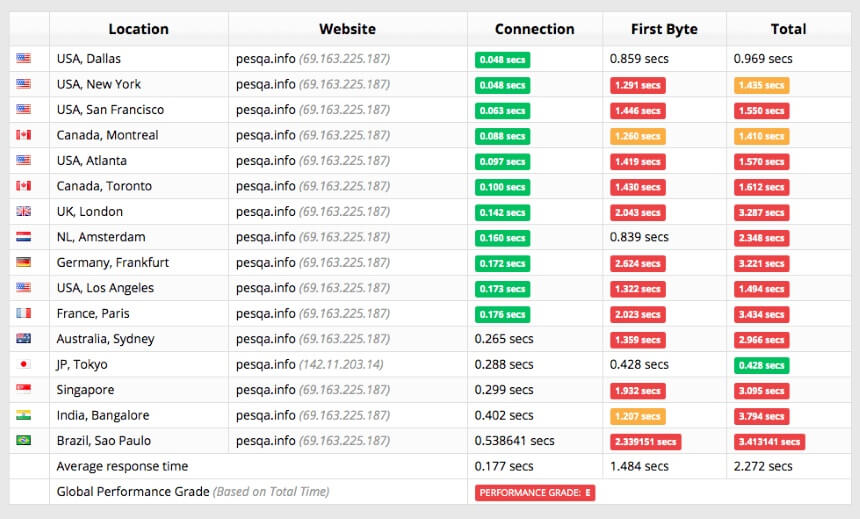 DreamHost's server location is only in the U.S.A. At the same time, GoDaddy has servers in India and U.S.A, which concludes that GoDaddy has an advantage in the global server locations. Hosting storage is very important since the data of the website is stored on a drive, which is why both GoDaddy and DreamHost use only SSDs. SSD increases the website's speed by more than double that of a basic HDD. Also, one more important thing that is increasing the performance is the CDN (Content Delivery Network). CDN improves the website loading speeds because it puts the website on a global network of cloud servers. The problem is that DreamHost does not offer CDN and GoDaddy offers it only with WordPress plans.
GoDaddy promises a 99.9% uptime while DreamHost promises 100% uptime. However, both hosts have downtimes, so the more realistic promise was from GoDaddy.
Both hosts have good performance, but the DreamHost is a bit faster.
Security
The main issue with GoDaddy is that the only basic security is given for the cheapest plan. At the same time, DreamHost offers the same high-end security even on the most affordable plan. DreamHost has a free SSL certificate which is the most important thing for website security. They also provide firewalls and domain privacy for free. You will have to pay for everything previously mentioned on GoDaddy to get those essential features.
Customer Support
Both GoDaddy and DreamHost have customer support. As a result, you can find a plethora of helpful information, tutorials, and guides on the website. In addition, DreamHost has live support and e-mail support. The E-mail support is available 24/7 while the live chat is open during the working hours (Monday to Friday, 8 am until 4 pm Pacific Time).
GoDaddy also offers support in live chat, which is available 24/7, and support over the phone. In addition, the phone channel is reachable through several worldwide global call centers operating in many different languages and regions.
We tested both supports from both hosts, and we can say that DreamHost has more knowledge-based support than GoDaddy. This point goes to DreamHost.
Conclusion
Features: Both GoDaddy and DreamHost offer similar features.
Pricing: The better option for this category is DreamHost. It offers a lot more features than GoDaddy, and it is way cheaper.
Ease of use: GoDaddy has the basic default control panel, which is used more than the custom DreamHost control panel, but when you get used to the DreamHost control panel, you will love it.
Performance: Both hosts have good performance, but the DreamHost is faster than GoDaddy.
Security: DreamHost is a clear winner in this category since it offers free features that some other hosts are charging for and are crucial to website security.
Customer support: GoDaddy offers 24/7 customer support while DreamHost does not. DreamHost support is fluent in English, while some of the agents from GoDaddy are not, which can cause some miscommunications.
When we take everything into account, the winner is DreamHost. You get a lot more and more affordable by opting for DreamHost. Security of DreamHost is on the next level, and the user-friendly custom control panel is a very nice feature that makes it a good option for both personal blogs and small business websites.
Looking for a First-Class Business Consultant?