9 Best Valheim Servers Hosting (Spring 2023)
If you're a gamer, you know that having a good gaming experience is all about the hardware. Your computer has to be fast enough to run the game smoothly, and your internet connection needs to be fast enough to download updates and keep your game running smoothly.
But what if we told you that servers and hosting could make your gaming experience during multiplayer mode? You don't want to host the game on your PC as it might not have the right internet speed and hardware to support multiple players. So, what is the best Valheim server hosting company? Well, there are many servers available on the internet, but not all are good for playing this game. You don't want a hosting server that takes too long or buffers. We tested some of the best Valheim server hosting companies with the most positive reviews. In our tests, we considered features such as ease of setup, customer support, price, player slots, server locations, and more. Here are our top 9 recommendations.
Name
Nomination
Overall rating

1. Apex Hosting

Apex Hosting offers a simple way to create your account and enjoy your Valheim gameplay without many setups and settings.

Editor's Choice
9.9

2. Shockbyte

Shocjbyte gives you guaranteed DDOS protection and 99.99% uptime. With this hosting, you do not need to worry about security or downtime while gaming.

Premium Pick
9.8

This provider has, by far, the best hosting servers. With a subscription here, you can forget about lags, periodic game freezes, or slow load times.

Best Quality Hardware
9.6

4. HostHavoc

HostHavic is by far the most reliable hosting on this list. They have an uptime of 99.99%, so you can be sure your gameplay won't be interrupted by downtimes.

Best Uptime
9.5

5. LOW.MS

As the name suggests, this provider offers the best ping time to make you play effortlessly. They have servers in all the major cities to reduce server response time and delays.

Best Latency
9.3

Bisect offers lots of features at an affordable price. You will get unlimited slots here to host as many gamers as possible. Their affordability doesn't mean their quality is low. They have some of the best servers around.

Best Value
9.2

7. Gportal

Gportal has all the features you need in a Valheim gaming server. From speed to availability in different locations, backups, and so on, you won't go wrong with this provider.

Best MOD Installation Easiness
9.0

XGaming has the best backups. They are usually sent to the cloud. Hence the chance of losing your gaming data here is almost zero.

Best Cloud Backups
8.7

9. DatHost

DatHost offers the best pricing structure that will not restrict your RAM or CPU usage. You can enjoy your gaming, and rest assured that you won't be overcharged for using extra resources.

Best Pricing Structure
8.5
Top 9 Valheim Hosting Servers Reviewed Winter 2022
Features:
Player slots: maximum of 10 players
DDoS protection: yes
Price: $7.49 a first month, $9.99 billed monthly
More features: one-click modpacks, 24/7 support, instant setup, automated backups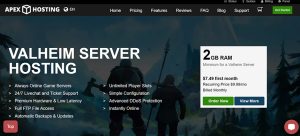 Apex Hosting is one of the best Valheim server hosting providers because it provides various features that make it easy for your team and you as a gamer to play. Apex Hosting offers an easy-to-use platform that makes setting up your game server a breeze. You can start using your game server in just a few minutes, and you won't have to worry about complex database settings!
We chose this provider as our editor's pick because it has advanced security features that keep your data safe. So you can focus on playing instead of worrying about losing your account or private information. Another impressive feature is its dedication to customer service: they have no problem helping you find your perfect match with an expert tech team if you need help with any issues or questions. Their interface makes it easy to book tickets at any time of day or night so that you don't miss out on gaming due to technical issues.
Compared to other hosting providers in this list, such as Shockbyte, Apex Hosting, gives a great experience that's simple enough for even beginners. It also has got advanced features to help experienced gamers make their games work better than ever. However, Apex doesn't match Shockbyte's unlimited storage and uptime guarantees.
What we liked
Mobile-friendly control panel
Free database
Easy setup
Best customer support
A range of hosting plans to match each group of users
What could be better
It would be better if the company offered dedicated hosting IPs with all the hosting plans
Features:
Player slots:10 max
DDoS protection: yes
Price: $14.99 a month
More features: unlimited storage, robust building system, impactful building system, global locations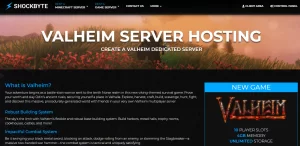 If you're looking for the best server hosting for Valheim, committed to the community, reliable, and affordable, look no further than Shockbyte. They have several locations across the globe and offer top-tier services. We chose this provider for its two-tier structure, which allows you to host your game on a high-performance virtual machine and a shared physical server; Shockbyte gives you perfect control over your hosting needs. Their power and flexibility make them the ideal choice for all kinds of games, not just Valheim. They have super fast servers with NVMe SSDs (that means shorter load times!), and they also have free subdomain and FTP access, which means you don't have to pay extra money to get this stuff. They even guarantee DDoS protection!
Compared to Apex Hosting, Shockbyte has the best DDoS Protection that gives you peace of mind knowing that your site will never be down due to a cyber attack. You also get free FTP access which is not the case for Apex Hosting. What's more, you will have unlimited bandwidth—that's right! And their powerful servers with NVMe SSDs ensure your site is fast and smooth.
What we liked:
Best DDOS protection
Unlimited bandwidth
Fully configurable servers
Superfast CPUs with a speed of up to 4.0GHz
Low latency speeds
What could be better:
It could be better if it had various hosting plans to match different budgets and users
Features:
Player slots: not specified
DDoS protection: not specified
Price: $14 a month
More features: free trial, instant setup, minimal lag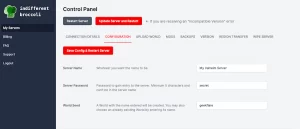 Indifferent Broccoli is a hosting provider that offers excellent services and affordable pricing. They have a simple design, which is easy to use but also gives you all the features you need to build a website or app. Their servers are high-speed and can handle up to 10 players simultaneously. With Valheim's two-day free trial, you can try out the service before you get stuck with any contracts or other commitments.
We chose this model because it offers excellent features that make it easy for you to start your business online. It's fast, reliable, and affordable—and it comes with a two-day free trial so you can try everything out without worrying about losing your money. It also has fast and reliable hardware so that you won't have any problems with your site loading or crashing. The customer support is also excellent—they answer all your questions in hours or less. With their affordable pricing and plans, anyone can access excellent hosting services without breaking the bank!
Compared to Shockbyte, the two don't have a wide range of server options at different prices. They have one server option and one plan, which disadvantages users on a budget or those who want to spend on many features. Indifferent Broccoli's customer support team is more friendly and knowledgeable about their services and products, which makes it easy for you to get what you need when you need it.
What we liked:
Friendly and knowledgeable support
Affordable pricing
One-click set up
Server locations in America and Europe
Two-day free trial
What could be better:
It has servers on two continents. Other users living away from America and Europe will experience massive latency times
Features:
Player slots: up to 10
DDoS protection: yes
Price: $15 a month
More features: 24/7 support, file manager access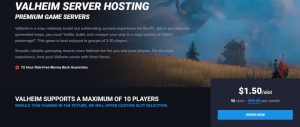 HostHavoc is the best dedicated server hosting Valheim. It is a powerful, established hosting provider offering various gaming services. In addition to having one of the best uptime guarantees (99.9%), HostHavoc also provides dedicated servers, FTP Access, Daily Backups, High-performance servers, Instant setups, and a powerful control panel.
We chose HostHavoc because it's one of the most reliable hosts we've ever gamed with, and it's also easy to use. In our opinion, this makes them an ideal choice for anyone looking for a reliable, high-performance server host. The dedicated servers are great if you need extra space or bandwidth. The daily backups feature is handy if you need to store large amounts of data for your game. The fact that they offer instant setup is also remarkable; you don't have to wait around while they set everything up for you before you can get started—you go! If there's any downtime during this process, it's usually only temporary and doesn't affect your service at all.
Compared to Indifferent Broccoli, HostHavoc has a more robust control panel and is easier to navigate. However, it has different pricing. You have to pay for each space if you need more user slots. You will also pay for additional RAM and storage. Indifferent Broccoli has one plan and price. There are no hidden fees or other confusing charges—just a fair monthly price that you can cancel at any time if needed.
What we liked:
One-click instant setup
Dedicated servers with no sharing
Their servers are monitored every second, so there are no downtimes
It has Steam Workshop
Custom slot selection
What could be better:
Their pricing can be confusing to some users. They have one plan but a lot of add-ons that you will need for gaming. It would be better if they had different plans
Features:
Player slots: 10 max
DDoS protection: not specified
Price: from $13.14 per month
More features: instant setup, mod integration, worldwide locations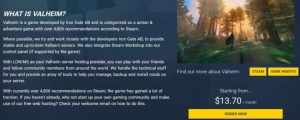 Next up is LOW.MS. This provider has the lowest latency, just as its name suggests. Having a low-latency server is the best feeling when you're gaming. Quick response time means your game will load faster, which can make the difference between losing in multiplayer games.
We chose LOW.MS for its low latency, unrestricted FTP access, DDOS protection, Instant setup, and switch locations as you wish. Another notable feature is their one-click mod or plugin installation. You don't have to spend hours installing plugins or modifying settings if you want to add new features to your game. If a feature needs to be added, install the plugin or install it manually through the admin panel. LOW.MS also offers cloud backups. If something goes wrong, you don't have to worry about losing your data because our free cloud backups will help save everything in case anything happens.
Compared to other hosting providers in this listing, such as Shockbyte, LOW.MS allows you to switch locations as often as you wish. So if you move somewhere new in the future, they won't charge you extra. They will ensure you get the best server response time and low latency without additional charges.
What we liked:
They offer free migration from other gaming hosting providers
Fast internet with low latency
Integrates with Steam Workshop
Instant one-click setup
You can switch locations anytime you wish for the best performance
What could be better:
To get a dedicated IP, you need to pay an extra amount
No uptime guaranteed given. It would be best if we were sure that the servers would be up 99.9%
Features:
Player slots: not specified
DDoS protection: yes
Price: $12.99 a month
More features: easy setup, mod support, multiple global locations, seven days of backups

Bisect hosting is another best-dedicated server hosting for Valheim. The company offers many features, including unlimited user connections (unlike most other hosts) and daily backups (you can restore your game data if something goes wrong). Security features such as DDOS protection (this prevents brute-force attacks) and a built-in anti-virus system protect your gameplay from viruses without installing anything on the server yourself!
We chose Bisect Hosting because it offers the best value. After comparing prices among all the hosting providers, we found that Bisect Hosting was the only one that offered unlimited user slots, log-free dedicated servers, and a free subdomain. We also chose this model because it is a great way to start gaming without worrying about paying for too much stuff at once. Finally, you get free FTP access and instant setup—two essential things when trying to manage any game on a server.
Compared to LOW.MS, Bisect hosting provides excellent value without sacrificing quality or reliability. Bisect has free subdomains available to customers who want them—you don't even have to pay for them. They also offer daily backups and DDOS protection as standard features on every server. As for LOW.MS, the number of user slots is restricted; you have to pay for a domain name, a dedicated IP, and no uptime guarantee.
What we liked:
The unlimited user slots feature will be helpful if you have a group of more than ten players
Instant setup
Log-free servers ensure that your game loads faster without experiencing server log errors
Daily backups, which are kept up to 7 days
Their servers are monitored every second, so there are no downtimes
What could be better:
This hosting provider doesn't have a live chat. If you experience any problems, you must get a ticket, which could be answered in hours. It would be better if it had a live chat
Features:
Player slots: up to 10
DDoS protection: yes
Price: $14 a month
More features: all-day support, backup storage space, customizable configuration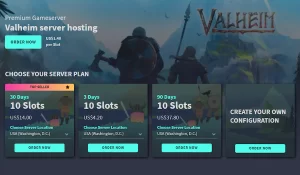 Gportal is another Valheim hosting service that was built by gamers for gamers. It uses a basic but effective template optimized for speed and performance. The servers are located in 14 different countries, so you can quickly get to all corners of the world. There's also a 99.99% uptime guarantee, which means your site will be up and running at all times.
We chose this model because it's an excellent place for beginners who are just starting and want to learn more about hosting games. It has a friendly support team that will answer any questions you have about your server or game hosting needs. Another thing we like is how easy it is to use their software! Their admin interface is very user-friendly and intuitively designed. The hosting can host mods without worrying about messing up the game or other players. It also has an easy way of installing mods which is excellent for people who want to learn how to mod their games without having to take time out from playing them!
Compared to HostHavoc, Gportal doesn't offer a variety of add-ons and plans like the former. However, if you're looking for an easy-to-use website builder and want to host your site on superfast hardware and SSDs with unlimited bandwidth, this could be the perfect fit for you!
What we liked:
Instant set up
Installing mods is easy
User-friendly interface and admin page
Superfast hardware and storage
Available in 14 locations across the world
Friendly support
What could be better:
No live chat. You can only contact the support team via email, ticketing, forum, or telephone
Features:
Player slots: not specified
DDoS protection: yes
Price: $10, $15, $25, $35, or $40 per month
More features: dedicated RAM, automated cloud backups, CPU cores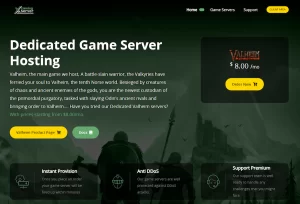 xGaming server hosting is a platform that gives you the flexibility to build your virtual world. You can choose from various gaming servers and host them on their cloud service. They offer a range of products, including dedicated servers, virtual dedicated gaming servers, and more. Their prices are reasonable, and they have a great range of features.
We nominated xGaming as the best server hosting provider because it is an excellent choice for gamers to back up their data. It's quick and easy to get started, and its automated cloud backups ensure your data is safe even if you lose a server. You also have access to a file manager and the ability to schedule tasks. The CMS is intuitive and easy to use so that you can set up your site quickly and easily without any complications. The admin panel makes it simple to manage everything from basic tasks, such as setting up users and adding files, to more advanced functions, such as adding online game servers. The provider offers top-notch performance for players and developers alike—you'll never have any problems with lag or slow loading times!
This provider compares fairly with Gportal servers. Both offer automated network backups, so you don't have to worry about losing your data in case of an accident. xGaming goes further to allow you to create schedules and add users. It also offers accessible MySQL databases, Valheimplus Mod support, and excellent FPS performance.
What we liked:
Free MySQL database
You can access your files with a click of a button
High-speed servers with SSD storage
High FPS performance ensures you have the best gaming experience
Easy-to-use interface and admin panel
Easy to install mods
What could be better:
Not available on all continents. Users might experience high latency
Features:
Player slots: 10 players max
DDoS protection: yes
Price: $10.43 a month
More features: unlimited usage, 7-day guarantee, easy modding, high performance

DatHost is one of the best hosting providers in the world. It won our nomination because it has a great pricing model that doesn't limit your RAM or CPU usage. Its pricing structure is flat, so you won't be charged extra for using more resources. This is especially great for gamers who need to host more people at once, as DatHost makes sure you can use all of your hardware without paying extra.
We ranked DatHost on this list because it has 24 server locations worldwide, so you can be sure that if there's any downtime anywhere on earth, you'll still have access to another nearby server! And if something goes wrong with the servers? DatHost offers an auto backup feature that lets you set up backups every 15 minutes so that when something goes wrong, you can restore it without much fuss.
Compared to the xGaming server, DatHost is our top pick for hosting with the best pricing structure. When you sign up, you get a flat rate that doesn't limit your RAM or CPU usage. The service also has a seven-day money-back guarantee, 24 server locations worldwide, and auto-backup features, which are missing in the xGaming server.
What we liked:
Available in a lot of locations worldwide
Automatic backups after every 15 minutes prevent data loss
The 7-day money-back guarantee makes you confident about your purchase
Easy to configure
What could be better:
Offers one plan, which limits users who need expensive or cheaper plans
Things to Consider
Before investing in a Valheim server, there are some things you should consider. These factors will dictate what type of server will serve your interests best.
What Is Valheim and Why Do You Need a Server?
Valheim is a survival video game, which means the game's objective is survival. The player must gather resources and craft items and weapons to do so. Game hosting providers help you host the game on their servers. This means that you don't have to worry about setting up your server and managing it, which is a big plus for people who are not tech-savvy. It also means you can play with friends without worrying about lag or connectivity issues that could ruin the experience.
One of the most critical aspects of game hosting is keeping your data secure and private. When you're playing a game online, there's always a risk that someone will hack into your account and steal all the information stored there—from credit card numbers to personal information like addresses or phone numbers. Hosting providers take care of this by encrypting all data in transit between their servers and yours, so even if someone could hack into one server, they wouldn't be able to access any other accounts connected to it.
Important Features
When looking for the best Valheim server hosting, you do not just purchase from any provider. There are some features you should consider before making your decision. They include the following:
Setup
The setup process is the time it takes to get your game server ready. If you're looking into a game hosting service, this is something you should look out for. Game hosting servers require much setup time and effort, which can be frustrating if you try to set up a server quickly. However, if you choose a provider with a good setup process, it will be much easier for you to get started with your own server. In our case, this is the Apex Hosting company with an instant setup feature. Your gaming server will be ready with just a click of the mouse.
Backup
The key to a successful game hosting server is quickly and efficiently restoring your game server in an emergency. Choosing a provider with a robust backup process will keep your site up and running when you need it most. In our case, this is the DatHost. This provider has automatic backups after every 15 minutes. If anything goes wrong with your game, you can recover all the data saved for the past 15 minutes.
Modding
Modding is the process of modifying the game files that make up your game, allowing you to add or change new features. Anyone can do Modding with the necessary skills, but it's usually done by game developers and community members working on mods for game features that have not been released yet. A good host will allow you to set up mods easily. They should give you an easy way to customize your games. We recommend the Gportal hosting provider, which has a one-click mod installation feature.
Number of players

The number of players your server can support is a significant factor in deciding on a game hosting provider. If you're running a server for your friends and family, you'll probably want one that can handle at least ten players. This will keep your experience enjoyable for everyone involved—and it'll be easier to troubleshoot issues if they arise.
If you're planning on hosting an online competition with tens of participants, it's essential to choose a provider with enough resources to handle the load. The hosting provider should have no limits. For this, we recommend Bisect Hosting, which lets you play with unlimited users.
Protection
Protection is one of the essential features to look for when choosing a game-hosting server provider. When you're playing online games, you want to be able to play with other people without having your information stolen or used against you. That's why your hosting provider must protect your privacy and personal information from different players who might try to hack into your account.
If a hacker gets access to your account, they can use it to steal credit card numbers, passwords, social security numbers, and more. They can also use it to get access to private information about themselves, like medical records or bank accounts!
Storage
Storage is the amount of space your game server provider has available for you to store all of your game files. You probably want to choose a hosting provider with enough storage space to store all of the files for your game, but you also want to make sure that it's not too much. If there isn't enough space, it can slow down how quickly you can upload new updates and make it harder for players to connect to your server. For this, we recommend Shockbyte from our Valheim server hosting reviews above. The provider gives you unlimited storage, so you don't have to worry about running out of space.
Support
When choosing a game hosting server provider, support is the most important thing to look for. It's not just about how long you will get in touch with them but also how well they respond to your queries and questions.
You'll want to make sure that there's someone you can reach out to if you have any issues or problems with the website, whether that's just a question about how to use it or more severe concerns such as hackers trying to access your account. If your provider doesn't offer good support, they might not be the right fit for you.
Pricing
The price is a critical factor in choosing a game-hosting server provider. It is the service's cost, which can vary from provider to provider. The price will be based on the type of package you choose and how many resources you want to use. You should ensure that the price is reasonable for your needs so that you will not have any problems with it later.
FAQs
Where do you begin with server hosting?
When you first start looking into server hosting, you will want to ensure you do not pay for what you do not need. This is a common mistake most people make when first starting out in the game hosting industry. It would be best if you always looked at what features your server provider offers and tried to find one that will meet your needs.
It would be best to look for a company that offers dedicated servers, perfect for those who want their own space to run their games without worrying about affecting other players on the same server. The more features a service provides, the more likely it will be able to meet your needs.
Why do you need to create backups?
Backups allow you to recover your files if anything goes wrong with your server. The most common reason for a backup is to ensure that you can quickly restore your game in case of an outage or other problems. If your server fails, you can use the backup files to get everything back up and running quickly.
Is it safe to use a hosting server?
Yes, hosting servers are safe to use. However, you should always ensure that your chosen server has a good reputation and is well-maintained. Most providers use the latest technologies to protect your data from hackers. They have a team of experts who monitor our servers daily to ensure everything runs smoothly. Their servers also have 24/7 support, so you'll have someone to help you if anything goes wrong.
Our Verdict
At the end of the day, you want your game to be as smooth and easy to run as possible. We hope this guide has helped you get started on your path to hosting an excellent game server! The best game hosting servers provide a great online gaming experience, and they have excellent customer support—all at an affordable price. Our Editor's Pick, the Apex Hosting company, gives you an instant setup upon purchasing a subscription. The provider also offers one-click modpacks and 24/7 support. Our Premium Pick, the Shockbyte, offers unlimited storage, several global locations, and it's the best Valheim server hosting provider.
Bisect hosting is the provider that gives you the Best Value. With a subscription here, you will get more features for less and host unlimited users in your game. Now that you know which server is best for your needs, it's time to start playing the Valheim survival game on it.
https://www.techradar.com/web-hosting/web-hosting-uptime-guarantee-what-does-it-really-mean
https://www.digitalocean.com/community/tech-talks/dealing-with-latency-in-realtime-online-multplayer-video-games